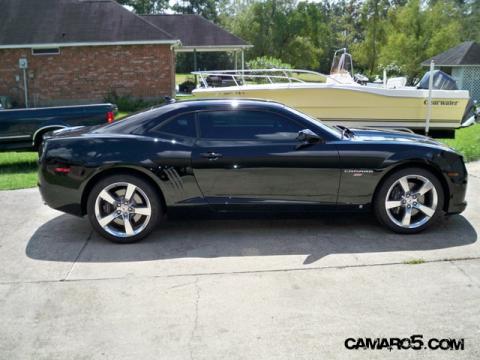 General Details
Lasted Updated: 11-10-2010
Year: 2010
Model: camaro 2ss Rs
Color: black
Transmission: a6
Interior seat/trim color: black
Package Options: 2ss Rs, polished aluminum wheels
Exterior Modifications
black billet grill, side ss badges, stainless side gills, blue aac led halos,afterburner tailights & led sidemarkers , tinted windows.
Interior Modifications
aac blue lighting, aluminum floor mats, barton shifter handle, dash emblem, garmin nuvi navigation. i-pod, 8 gig usb nano drive. innovate ot-2 wideband.
Performance/Handling Modifications
american racing headers to borla exhaust, G5CR CAI. dod delete, ported heads, cam, magnacharger, elite oil catch can, sphon chromoly trailing arms. dyno tuned 501/463 rw
walker muffler - exhaust
thunder racing - engine
eps -dyno tune
Future Planned Modifications
rear end gears 3.73 or 4.10 set. stall converter, fastlane twin fuel pump, aem meth inj, more boost. more suspension work and drag radials.
Vehicle Images
click for full image
click for full image
click for full image
click for full image
click for full image
click for full image
click for full image
click for full image
click for full image
click for full image