Drives: 2012 Grand Sport Convertible Vette
Join Date: May 2011
Location: DD MODS Kieler, Wi
Posts: 569
CTEK US3300 $69.99 - Free Shipping and Free Cig Lighter Adapter!
---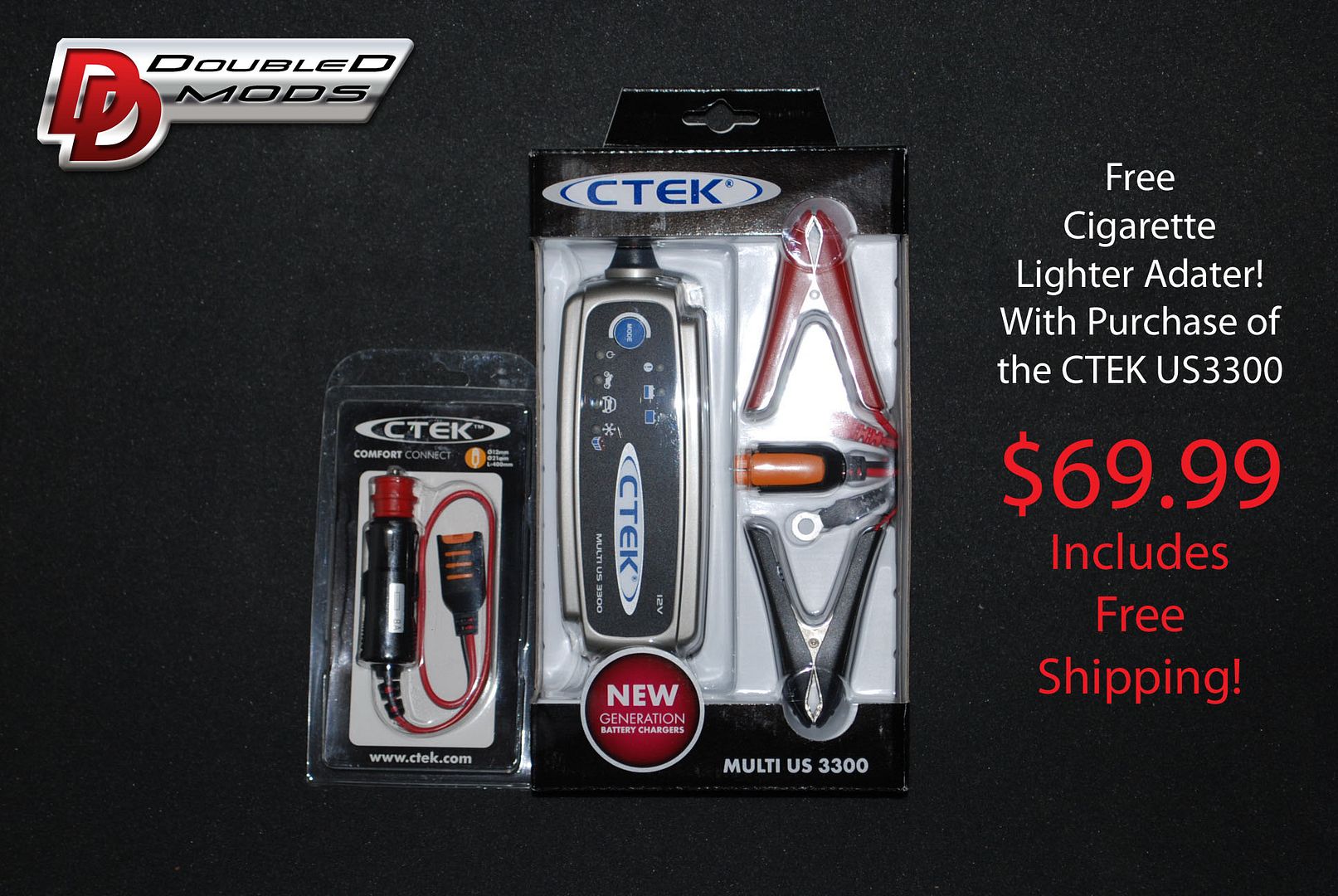 CTEK MULTI US3300 BATTERY CHARGER
CTEK US3300 battery charger is perfectly suited for charging all types of lead-acid batteries.
The CTEK US3300 battery charger is easy to use. It can be connected for an extended period gently maintained by pulses.
The CTEK US3300 battery charger is electronic safe, which means you do not normally need to remove the battery from the vehicle when charging. In addition it is reverse polarity protected and short circuit proof.
The charger also has spark protection system. CTEK battery chargers are approved for outdoor use. - CTEK US3300 battery charger can be used for cars, boats, gardens, motorcycles, RV's, snowmobiles, trucks, agricultural applications and more.
FEATURES & BENEFITS
Four step, fully automatic switch mode model.
Charges lead-acid batteries (Wet, MF, Gel and AGM) from 2Ah to 90Ah. Maintenance pulse charging increases battery life and gives superb performance. Charges even drained batteries. Pulse recover of slightly sulphated batteries.
Three unique charging modes for use on small batteries, large batteries and a special cold mode that is also suitable for AGM batteries. Low back current drain, low ripple and input voltage independent (85-125V).
High efficiency: 85% Delivered with two interchangeable connection leads, one with clamps, and one with eyelet terminals. The charger can by connected for months, ideal for seasonal vehicles.
Compact design with mounting holes for permanent assembly. FEATURES FOR SAFER USE Electronic safe, the charger will not damage vehicle electronics. The battery does not normally need to be disconnected from the vehicle when charging.
Minimal gas build-up and a patent-pending spark protection system. Short circuit and reverse polarity protected. Double insulation. Splash and dust proof. Progressive temperature protection.
CHARGING CHARACTERISTICS
The MULTI US 3300 has a fully automatic, four step charge:
- Runs a complete charge cycle within a fraction of a second. The cycle repeats during the whole desulphation phase. Every cycle recovers some lead sulphate into useful material.
- Charging where 80% of the energy is returned. The charger delivers a constant current until the battery voltage has reached the set level.
- Final part of the charge up to 100%. The battery voltage is kept constant at the set level, during which time the current drops gradually.
- Maintenance charging. The state of charge varies between 95% and 100%. A pulse is sent out to the battery if the voltage drops. This keeps the battery in trim when not in use. The charger can be connected for months at a time.
- Using the MULTI US 3300 gives your battery an optimum service life and operational reliability. - BATTERY TYPES & SETTINGSThe MULTI US 3300 can be set very easily to charge Wet, MF, Gel and AGM lead-acid batteries.
You will find an explanation of the various battery types under Charger University, Battery Types.
You can use the MULTI US 3300 to charge a range of batteries, from small 2Ah to large 90Ah.
SETTINGS EXPLANATION
Mode14.4V/0.8A This mode is normally used for batteries less than 14Ah. Mode 14.4V/3.3A Normal setting for wet batteries, MF and for most GEL batteries.
Mode 14.7V/3.3A This mode is recommended for many AGM batteries voltage Nominal. This mode is also useful for charging batteries in sub-zero temperatures.
BULK CHARGE TIME BATTERY SIZE (Ah) FOR ABOUT 80% CHARGE (h) 2 2 8 8 20 5 60 15 10025TEMPERATURE PROTECTIONTo protect the charger from overheating, the MULTI US 3300 is fitted with power limitation.
The power reduces when the ambient temperature increases. The power also reduces if the charger were to be covered, which protects the charger from damage. The charger continues to work, but at a lower output. When the ambient temperature drops, the power automatically increases again.
TECHNICAL DATA
MODEL MULTI US3300
Input voltage AC 85-125VAC, 50-60Hz
Output voltage Nominal: 12V Efficiency 85%
Charging voltage 14.4V/0.8A, 14.4V/3.3A, 14.7V/3.3A
Charging current 3.3A max Back current drain* 1.3m - A Ripple** Max 50m - V rms charger Four, 0.13A Ambient temperature -4°F to +122°F / -20°C to +50°C, output power is reduced automatically at higher temperatures.
Type of charger Four step, fully automatic switch mode with pulse maintenance. The MULTI US 3300's extremely low back current drain corresponds to 1Ah per month. Many other chargers have 1Ah per day. **) Ripple denotes the amount of interference there is to the current and voltage. A high current ripple heats the battery and shortens its life. A linear charger has a current ripple of 70 - 400% which is much larger than the maximum 5% for a modern sealed battery. Voltage ripple could harm other equipment, which is connected to the battery.
The MULTI US 3300's ripple is only 2%. The battery gains a long service life and there is no risk of damage to other electronic devices connected to the battery. -
MOUNTING
The charger is easily fitted in place using two screws.
The diameter of the mounting holes is 4.5mm .
The image shows the dimensions of the charger.
EQUIPMENT
The MULTI US 3300 is delivered with two different battery leads, one with clamps and one with eyelet terminals, all colour coded for easy +/- identification.
You can also purchase additional leads allowing you to have one lead with eyelet terminals fixed to all your vehicles with batteries that are difficult to get at, and charge them simply from the same charger.
Watch some CTEK videos The Smartest Battery Chargers in the World Battery Charging Made Easy Battery Chargers for all Demands Advanced Technology
FREE Cigarette Lighter Adapter with this purchase!!!