new record. I had a better time but i lost the slip. i think its under my seat but i cant find it. Personal best is actually 8.83?? but when i find it ill post it. here is my first run of the day after a 1 hour drive there. no breaks, engine wasnt shut off to cool. top 10 for me
) and on crap LS tires. On this run i lost, and was my only loss of the day which was against a 1980 something truck with turbos and nitrous haha. I beat 2 v8 camaros by .9 and a hemi 300 by .8
so many people thought i had something in my car, i dont understand but trust me, the v6 is underrated on the track. I can for sure make top 10 on these tires and my LMR tune. Next weekend!
Tires used on the pass: Stock 245/55/R18 Radial T/a spec (crapppy tires)
Performance Mods (if any): Custom LMR Tune, OBX Longtube headers with no cats, vararam, ported throttle body, black ice, mrt v2.0, no res, LT rims on LS tires
Transmission: Auto
Category submitted for: Top 10 in 1/8 Mile
R/T.......... .4460
60'............. 2.0465
330'........... 5.8280
660'........... 8.9127
660' mph... 79.82
Name of the track: Houston Motorsport Park (HMP)
Date of pass: 9/27/2013
Weather conditions: Humid. DA: 2073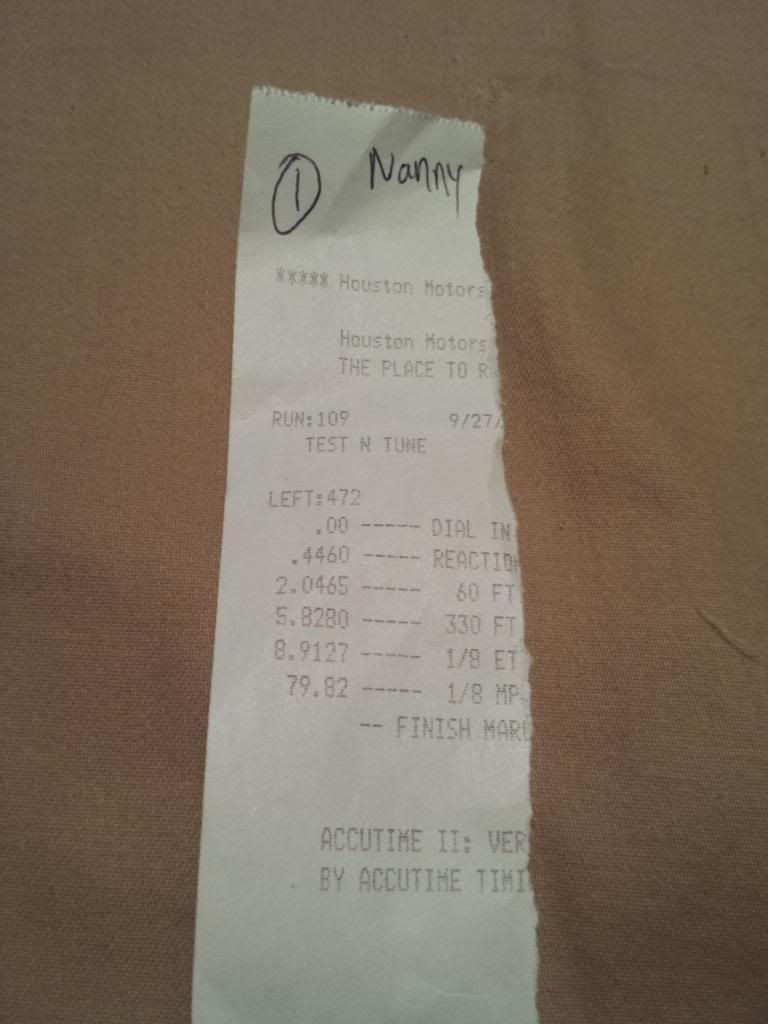 __________________
Performance Mods: Vararam Intake, MRTv2.0 exhaust, Elite Engineering CC, Vmax Black Iceolator, Vmax Ported TB, OBX LT Headers w/ no CATS, LMR Tune
Visual mods: Eagle Eyes w/5k hids, Custom Hood Spears, Heritage Grille, Stage 2 LED Dome lights,Transformer Emblems, PD Bezels, 19in Chevy rims with pirellis, Blue painted calipers, GM GFX Front Splitter, 35/20 % Tint, TailLight Tint(charcoal)
1/4 Mile: 13.65 sec @ 102.53 mph R.I.P.