Is your Camaro looking a little too high? Do you still feel insecure powering through a corner? Is your current body kit not doing the job of creating that AGGRESSIVE appearance? Treat your vehicle and yourself with the best suspension system out there--BC Racing's BR type coilover! Not only does this system lower your car perfectly, but it provides HUGE performance benefits.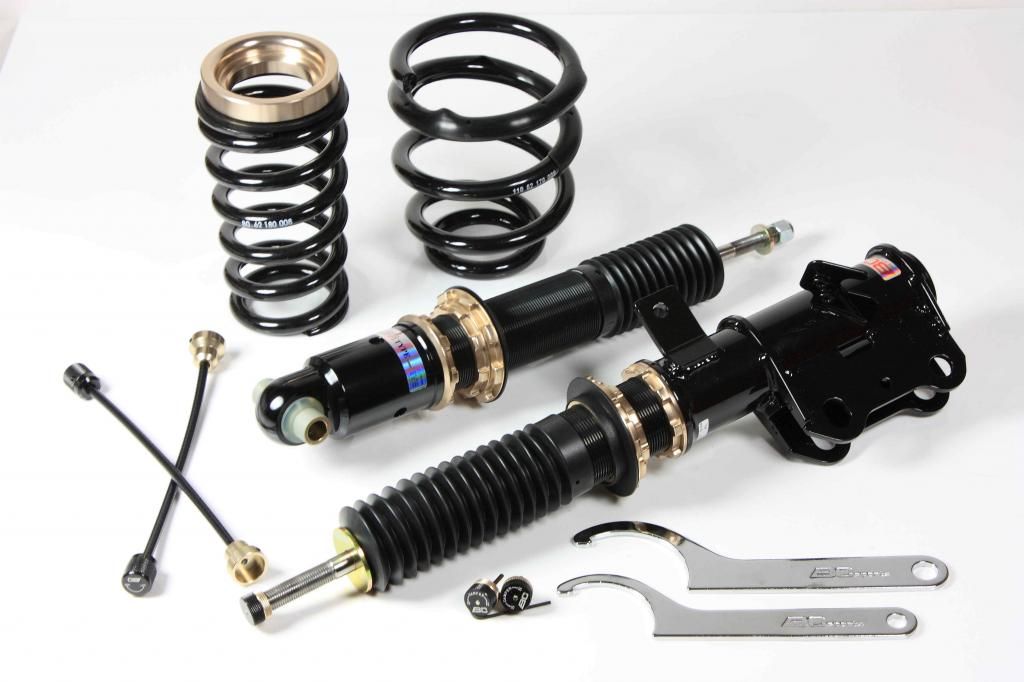 - Mono-tube shock design
- Full height adjustability through shock body, not spring
- 30 levels of dampening adjustment (compression/rebound)
- 1 Year warranty against manufacturer defect
- Completely rebuildable and individual parts are available
Why You need compression/rebound adjustability
-Compression
Compression damping controls the unsprung weight of the vehicle. It designates the speed of the upward movement of the suspension caused by hitting a bump in a corner or during acceleration.
Depending on the vehicle, the ideal compression setting can occur at any point within the adjustment range. When the ideal setting is achieved "wheel-hop" or "walking" in a bumpy turn or straight away will be minimal and ride will not be extremely harsh.
-Rebound
Rebound damping controls the transitional roll (lean) as when entering a turn. It does not limit the total amount of roll; it does limit how fast this total roll angle is achieved. Simply put rebound dampning controls over or understeer. Too much rebound control in relation to spring rate will cause a condition known as "jacking down." This is a condition where, after hitting a bump and compressing the spring, the damper does not allow the spring to return to a neutral position before the next bump is encountered. This repeats with each subsequent bump until the car is actually lowered onto the bump stops. Contact with the bump stops causes a drastic increase in roll stiffness. If this condition occurs on the front, the car will understeer; if it occurs on the rear, the car will oversteer.
Questions? Need Help? Give me a call here at 714-582-330 x 8011 or ask for Eric