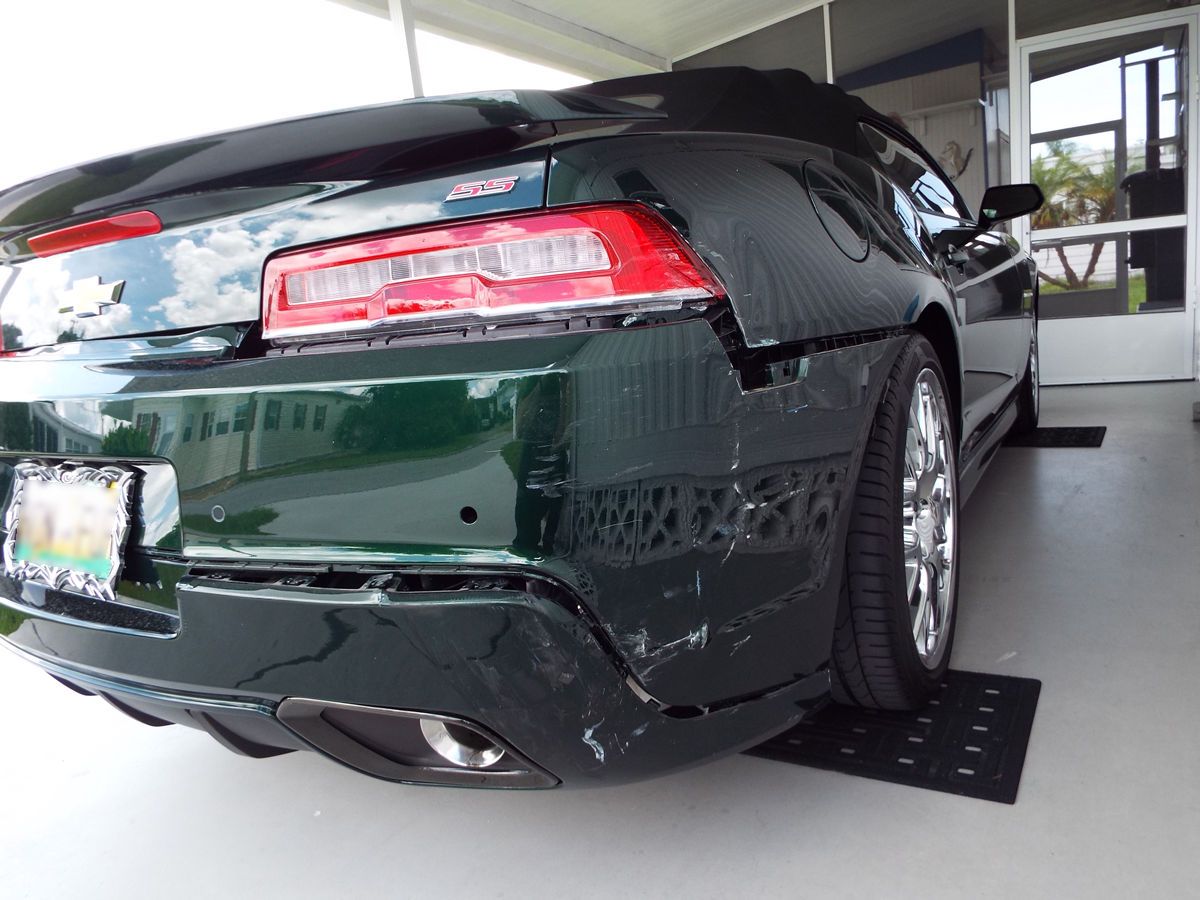 It wouldn't be so bad, but there's a dent on the metal next to the tail light.
I'm getting it fixed at a dealership, so I don't know if they'll pound that out, or if they'll just replace the whole panel.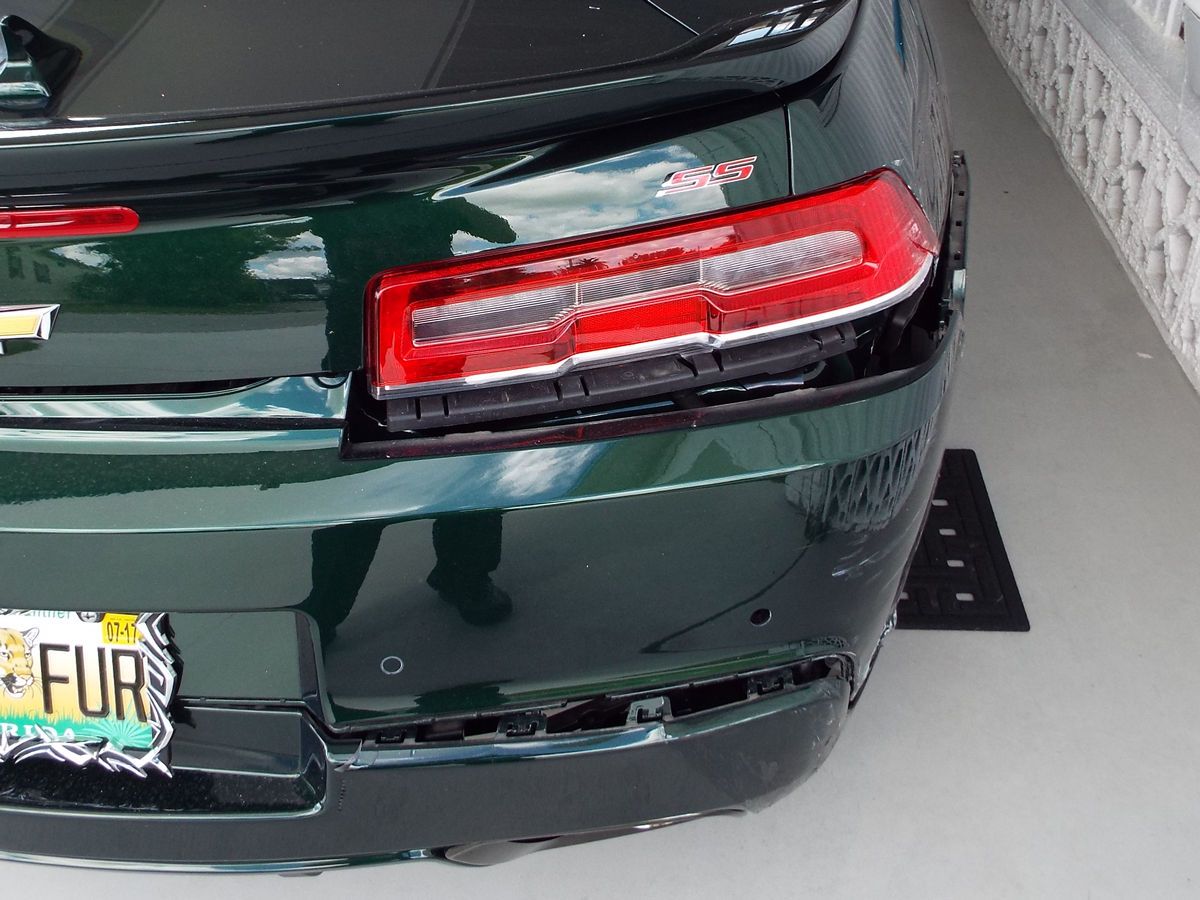 Details to follow. My questions: once the repair work is done, is there anything I should know about caring for freshly installed/painted parts?
Is there anywhere not so obvious that I should look for other damage, for example, I checked that the hood is still lined up properly.
So here's what happened.
Some time between 3:00 and 5:00 in the morning while I was at work some dirtbag hit my car in the parking lot and took off. I don't know how fast they were going, but the impact moved the back end of my car about 2 feet, and there were pieces of debris up to 20 feet away. I work in a grocery store, so at that hour there were no other cars parked within 50 yards of mine, and the space where I parked, the side that got hit was next to a median - only a few feet of my car was exposed, and they hit that. The weird thing is that among the debris was red plastic from tail lights. Mine weren't broken, so it came from their car, which means they
backed
into me at that speed. What's weirder is that there was a piece of their car about 2' x 2' leaning against my car like it had been placed there after the fact, so that, plus the angle they would have had to hit my car makes me think it might have been done intentionally. Some people just see a nice car and bash it out of jealousy. Maybe they were driving a beater that they didn't care about or even a stolen car and decided to play demolition derby. I'll never know. Here's the piece of the other guy's car (rear left fender):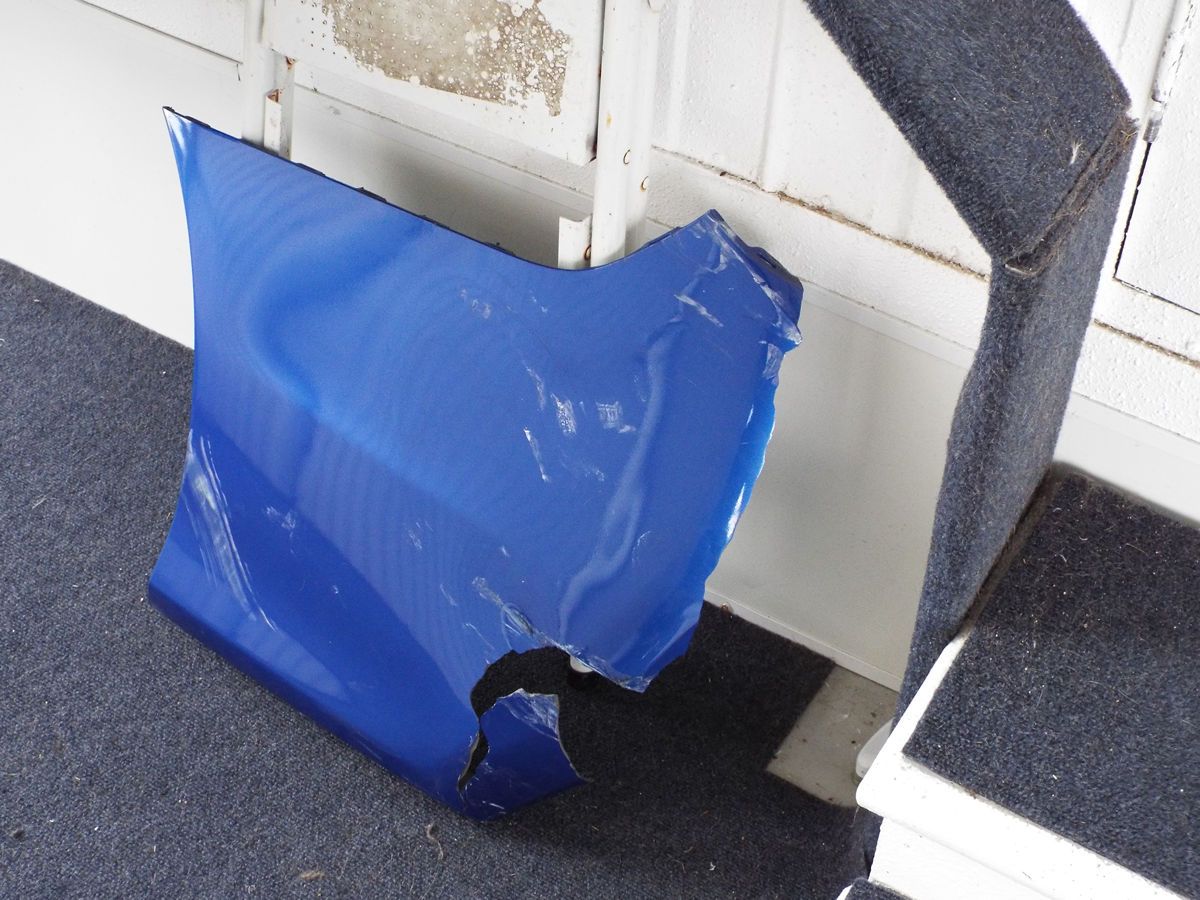 I know what you're thinking. Can't the cops use that piece of car to find this person? The cop said it wouldn't matter, because I would have to prove that he/she was behind the wheel at the time. He said he's had plate numbers of hit and run drivers, but without a positive ID of the driver there's nothing that can be done.
Fortunately the fallout won't be as bad as I thought. The cop said that since it happened on private property he doesn't write up a report and instead gave me a "self-report" form to fill out and give to the insurance company. That's good because now it won't be registered as having been in an accident. Only police reports get filed with the DMV in Tallahassee, so once it's fixed, no one will be the wiser. Also, he said that because I'm not at fault it shouldn't make my insurance rates go up. I haven't confirmed that yet. My insurance policy includes a rental car while mine is being repaired, so this is only costing me my deductible and personal time. I know,
only
costing me?... but it could have been much worse. If they had hit me 18" to the right they would have hit the rear wheel, which would likely bend the axle and possibly do frame damage, maybe even totaling out the whole car. And since the top was up I seriously doubt any of those mechanisms got bent.