I revved her up to around 3500rpm and popped the clutch to do a burner the other night. Unfortunately the clutch stuck about halfway up and although I realized the tires weren't spinning and let up quickly, I still smoked the clutch a bit (that great smell filled the cabin).
I drove normally the rest of the way home and it seemed fine, I've been driving like I usually do (aggressive, but not jerkwad) and that all seemed fine too. This is the first time this has happened, it didn't happen a few months back when I took it to the strip and did 12 runs in relatively quick succession. I popped the hood and checked the brake/clutch reservoir and found this: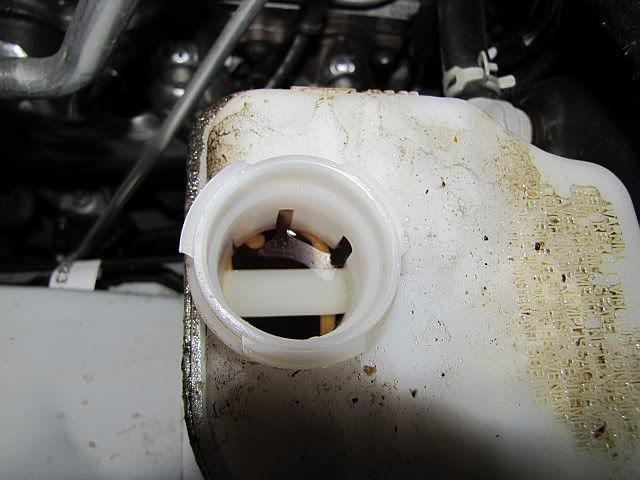 So obviously I boiled the fluid and it relieved itself out the cap. The level still seems fine now so I'm just thinking of ways to prevent this from happening again. I have a couple driving technique questions for you guys:
When I begin slowing down for a stop or a corner, I usually downshift and smoothly engage the clutch to engine brake. Is this adding significant heat to the system that might cause a boil situation like this next time I launch hard? Do you typically try to rev-match when downshifting?
Some of the other threads suggested a separate reservoir for the clutch fluid. It seems like this is a cheap and easy mod so I figured I might as well. I'm not too keen about hunting through a junk yard, is there a new reservoir I can buy online inexpensively that will be a good fit for the car?
Any other tips to be nice to the clutch without driving like a granny?