Here is a video of what I had installed. I used the Nitrous Outlet Camaro kit with their Progressive controller, window switch, purge and NANO. I had them make me a custom switch panel that goes in the center console that has buttons for the arming, purging, opener and line lock. And so people who get in the car can't play with the switches it has a master switch that activates the switch panel and line lock.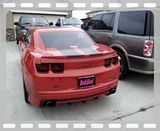 http://s47.photobucket.com/albums/f1...t=MOV01180.mp4
Have ran a best of 10.9 on a 200 shot on the street while tuning it according to the G-Tech. Later that day I managed a couple of 11.3's at the track and the G-Tech showed 11.4 so it is pretty accurate. Also, the runs at the trach were without the NANO helping because we ran out of air. I ended up using my cousins extra nitrous bottle and it did not have a gauge on it so I do not know what pressure it was at or how much nitrous was left in it.
__________________
2005 Dodge Ram 2500 RCSB Thunder Road Hemi Sport w/STS Turbo
2004 Dodge Ram SRT-10 - Silver - Stock
2003 Chevy 1500 RCSB Stepside 400SS - 408 in now awaiting Turbo