CAI Inc. intake systems are IN STOCK and shipping daily at APEX Motorsports, Camaro5's source for the #1 intake system for the 5th generation Camaro!
$399.99 shipped!
No shipping, no "handling", no waiting, no games!!!
Scoop and APEX washer bottle replacement kit packages now available!!
Guaranteed best price and FREE SHIPPING on the Cold Air Inductions Inc line. Got a quote from another vendor? Bring it to us!
Click Here
to order!
Don't forget to check your factory MAF sensor.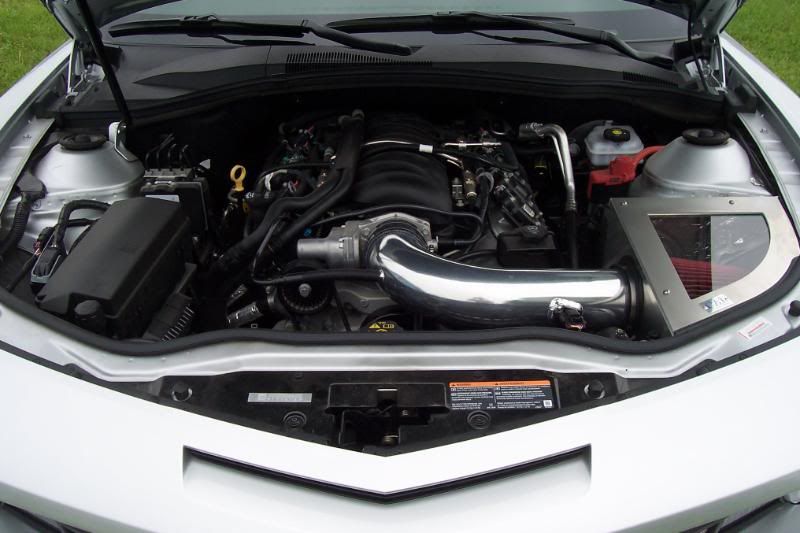 Boost your Camaro's performance with the CAI Inc true cold air intake. This intake system surpass our competitors with superior quality and craftsmanship while achieving outstanding performance gains. We see on average, a 13 rwhp horsepower gain on otherwise stock 6.2L's.
Intake System Includes:
- Aluminum Insulated Air Box
- Air Box lid with 1/4 turn fasteners
- 4" (101.6mm) Ceramic Coated Intake Tube
- CAI, Inc. Cone Filter
- Black Silicone Coupler / Stainless Clamps
- Installation instructions
Forget all your preconceptions about how filter boxes and intake tubes look and perform. CAI Inc has smashed those expectations, and your vehicle will never be the same.
CAI Inc boxes are .08'' aluminum, not plastic.
3/8'' thermal insulation on the box prevents heat transfer and keeps the incoming air as cool as possible.
Each Air Intake is TIG welded by hand.
Clear viewing window allows filter inspection without opening the box.
Box opens easily with just a quarter turn for quick cleaning.
But the attention to detail and performance doesn't end with the box. CAI Inc is only just getting started. Their tubes come fully insulated with a ceramic coating, smoothed down to a high polish to facilitate maximum airflow. They even use a thermal-imaging camera to look at our filters and the temperatures at which it handles the air coming in. They also use dyno readings to make sure that they are getting the best performance from the machine. This means we know immediately that our unique design features deliver benefits that are real and measurable.
After you've installed the air intake, you might notice that the outside of the intake system is hot. Don't fret. That just means our intake is doing the job of keeping the heat outside the tube and not inside it. The aluminum exterior surface on the box reflects the radiant heat under the hood, while thermal insulation adds another layer of protection from thermal energy, absorbing it before it enters the tube.
But they are not done! The tube features a ceramic coating that continues keeping radiant heat from penetrating and keeps the air moving smoothly.
What does this add up to? The air inside the entire intake system flows swift and cold. What's more, the exterior coating won't rust or discolor.
Here is what APEX customers have had to say: