Well the EZ Detail Brush works very well, but take at look our new Eimann Fabrik Wheel Wool Wheelies! Take a look below:
Eimann Fabrik Lambs Wool Wheel Woolies for Any Opening Size Wheel.
Eimann Fabrik Lambs Wool Wheel Woolies are the perfect tool for getting into those tight areas of your wheels, front grill, door jambs, and just about any other tight spot. Busting knuckles trying to clean your wheels is a thing of the past. Reach the far side of the deepest wheel around.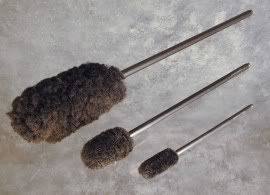 The lambs wool head on the Wheel Woolies will clean the toughest dirt and grime. Just add your cleaner, or dip it into your wash bucket.
Eimann Fabrik Lambs Wool Wheel Woolies come in three different sizes. The longest Large Wheel Woolie is 19" long and has a 3" diameter wool head. Use this long handled Wheel Woolie to reach deep in the wheels or clean the wheel wells of any vehicle, from cars to motor homes.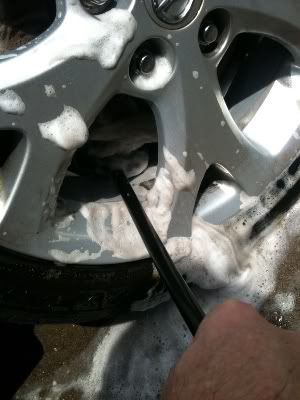 The Medium Wheel Woolie is over 12" long with a 2" diameter wool head. This one is great for smaller wheel gaps, air diffusers, door jams, engine areas, etc.
For smaller gaps like grills, the Small Wheel Woolie isn't just for wheels. This one is 8" long and 1" in diameter, but like the others, will shrink into a much smaller gap.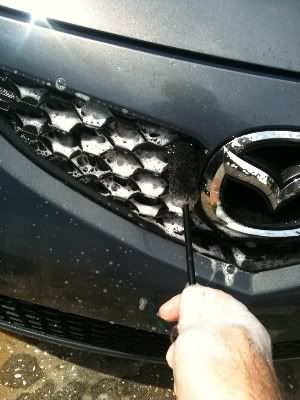 I can't begin to get a wash mitt or sponge into the gaps of my grill. This Small Wheel Woolie is the perfect size to get into the front grill opens to get the bugs and grime completely washed away.
Use Eimann Fabrik Wheel Woolies with any Eimann Fabrik cleaner, such as Eimann Fabrik Tire Cleaner, Eimann Fabrik Engine Degreaser, with just Eimann Fabrik Gentle Shampoo, or with your favorites.
Wheel Woolies are available individually or in a package of all three.
Only from
ProperAutoCare
!.............