Shifter Sale!!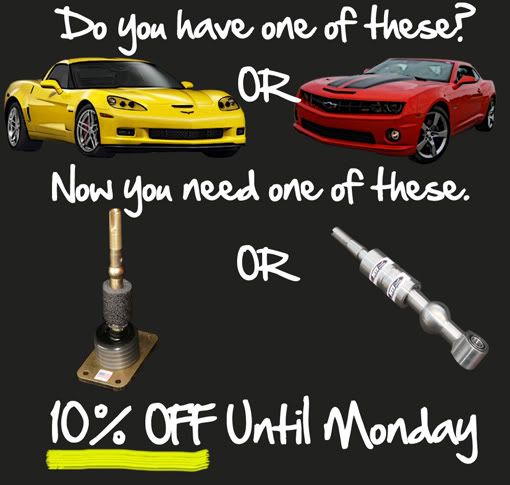 MTI Racing is running a SALE on our famous Six Shooter Shifter!
10% off from now until Monday, November 8th at midnight!
The
MTI Racing Six Shooter Shifter
is an engineering masterpiece, using the best materials and technology available to make the best feeling, most precise shifter for the 2010 Camaro. By using professional engineering staff and manufacturing experts, our MTI Racing Six Shooter shifter addresses each and every "compromise" of the shifter system. The enhanced precision, direct feel, and super-smooth action cannot be duplicated by any means other than our precision shifter components. How is this accomplished?
The MTI Racing Six Shooter Shifter requires no extra effort when shifting, and instills confidence with its solid structural feel. It is a HUGE improvement in feel over the stock shifter. It actually shifts better than stock. 99.9% of customers report that they finally have a good solid connection between them and the transmission with great results. We accomplished this with thorough engineering and maximizing the feel, and redesigning certain elements of the linkage that make the entire assembly stronger and last longer. A throw reduction of 25% was chosen because that is where the data shows the optimum feel, combined with the best "total feel", combined with the easiest shifting effort. Any more than this, and it is not optimum because it further shortens the throw at the expense of a stiffer feel.
CLICK HERE for VIDEOS of Shifter:
Knobs:
Shift Knobs are also on SALE at 10%!!
Our shifter also accepts either the stock Camaro knob, our retro style
Cue Ball
knobs,
Blackhawk
knobs, and most threaded
aftermarket knobs
.
Once again...
10% off starts
NOW
and ends Monday, November 8th at midnight, or while supplies last!
You can purchase directly from MTI Racing,
or
from any of our dealers:
- Hennessey Performance
- Lingenfelter Performance
- Southern Car Parts
- Late Model Racecraft
- ADM Performance
- LM Performance
- US Muscle Mods
- Brad's Custom Auto
- Apex Motorsports
- Findlay Customs
For more information visit
www.mtiracing.com