Sorry it took me so long to get back on here. I was going crazy with SEMA builds and work. Ok let me try and cover all these questions.
Ian is right with the weight gain, depending on the management system its gonna be about a 20lb gain.
We are really a performance teamed company. Everyone dedicated to the Life Style and Performance segment of Air Lift Company, is some sort of racer. All gearheads at heart we love to have fun.
Here is a video of our 2010 Camaro on stock tires. It see's over 1g through some of the turns.
The same car also did the Silver State Challenge in Nevada, in the 150mph class, it finished 11 and averaged a speed of 157mph. That was also driving from Grand Rapids, MI all the way to Nevada and Back. With 2 quick trips to Vegas for cage changes and to replace a blown tire.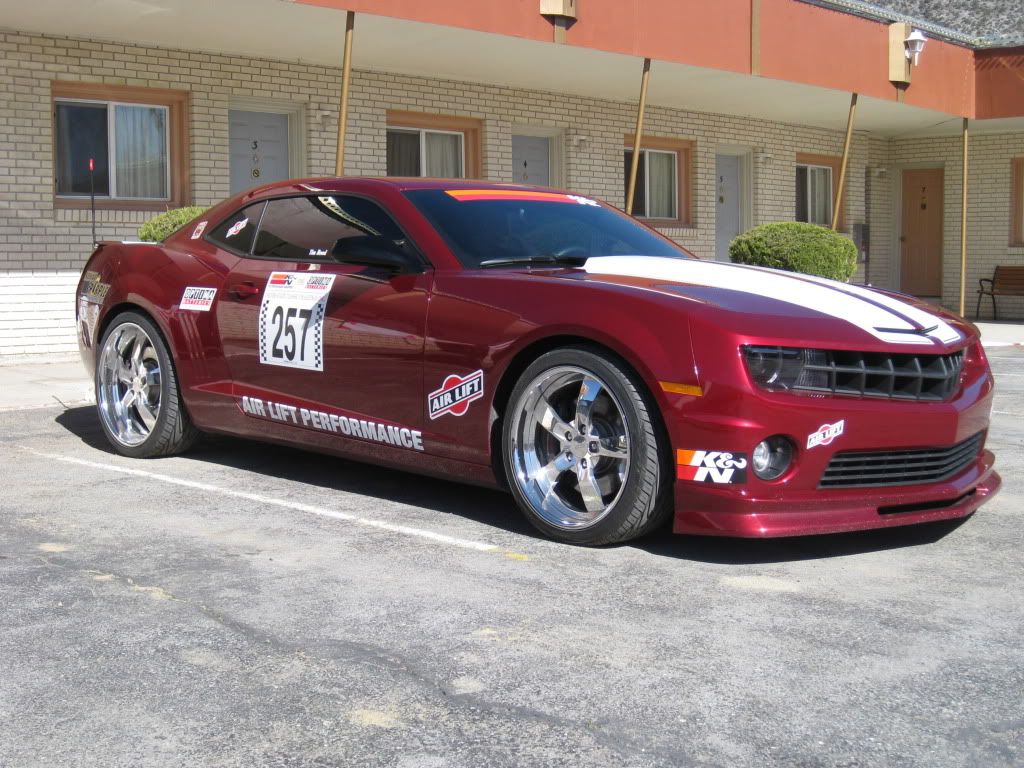 Not to talk about Mustangs, but our 2006 GT, hit 1.34g's at the same track on our kit.
You will def hear some compressor noise in the cabin. You can always deaden the sound some with damping material like a piece of dynamat. The compressor usually runs for 45sec to a minute and a half. Aside of that its more of a hum and the radio at low volume will drowned out the noise.
The install of the struts and rears is cake. The fronts are a direct bolt on, and the rear requires a little bit of trimming in the top pocket. This is to clear our upper mount. We moved away from the factory stud mount and went to a bushing with a through bolt to better help with articulation and improve handling.
No cutting to get the car low. To get it as low as the red camaro from status, you would have to go with a mustang 2 style front end and a solid axle rear with some mini tubs. But it does go low with out any cutting.
As for wheels I have seen a lot of sizes ran on these beast. The widest I've really ran into is 22x12 rear and 22x10 front. I can get the off set of these wheels if you'd like.
You can hit me up with questions anytime at,
jjenson@airliftcompany.com