Here's my thoughts and some pictures on my install from this weekend:
The fit and finish on both the washer bottle and the scoop are excellent. The washer bottle went in easy and the pump is secured in a great spot. Roto-Fab's attention to detail makes this install pretty much idiot proof. I did end up using a few more zip-ties to secure everything, but I am anal.
The scoop was relatively easy to install and as many have said previously, the hardest part was cutting off the plastic shield. My scoop was supplied with a longer 6mm horn bolt and an extra nut, which made it easy to get the tab secured. Many of the install pictures I have seen have shown the scoop tab on the other side of the horn bolt nut, which would be very difficult to secure. Make sure that you get a bolt and nut with your kit or buy one prior to the installation.
I have driven the car a bit since the install and I will say that it is hard for me to tell what kind of peak horsepower this mod picked up. 5-6 HP on a 450 HP car is almost negligeable and would probably only show up on a dyno. What I can tell is that the powerband on the lower end is much smoother. Before this mod and with my cam, the car would tend to really wake up at around 2.5k to 3k and give you a swift kick in the pants. Now the power transition from the lower RPM ranges to that magical RPM range is much smoother. For me, this mod seemed to help the low end a lot and that was just what I was looking for. I'll be heading back to ADM sometime soon, and when I do, I'll re-dyno and post more additional thoughts.
On to the pictures (please excuse the poor iPhone pictures):
This is a picture with just the scoop installed. You can see how I was able to secure the tab using the supplied bolt and nut.
A couple pictures of the pump installed with the scoop:
A view of the filter area sans washer reservoir:
A view looking down into the filter area. You can see the pump, the scoop, and how much more room there is for air to get to the intake.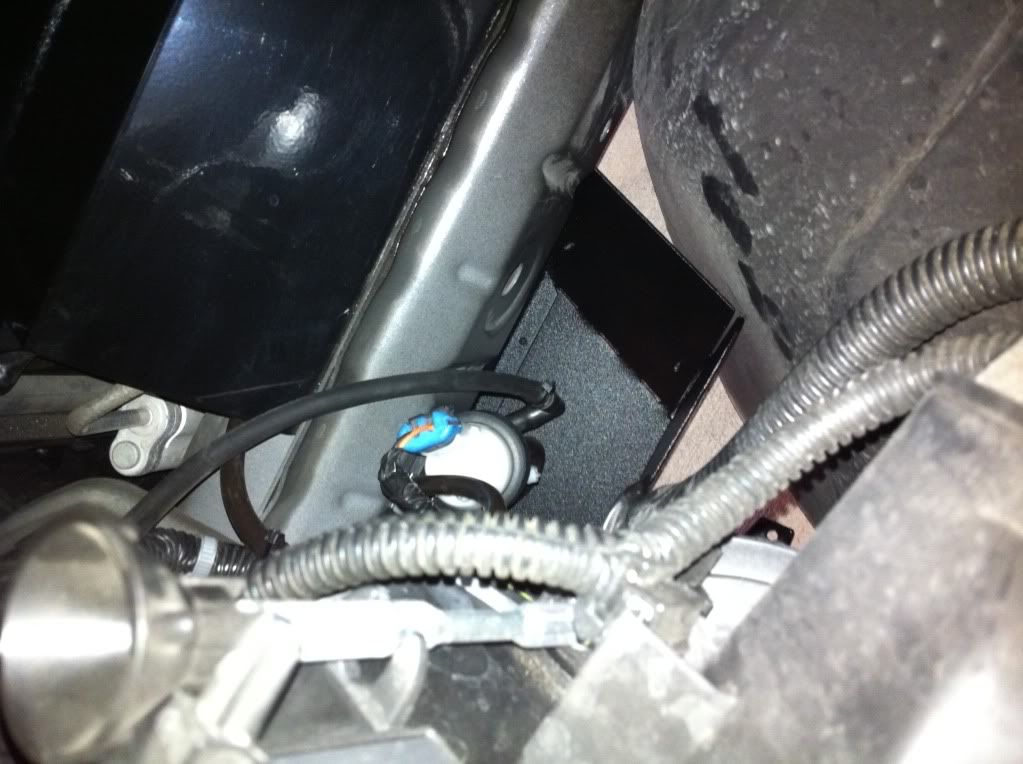 A few pictures of the final overall product. It looks OEM and I am extremely happy! Thanks ADM and Roto-Fab!