No Oil Pressure?!
---
car: 1987 5.7L iroc
issue: no oil pressure at idle, but it shows there's pressure while driving...
recent attempt at solution: new oil pressure gauge
recent fixes: engine & tranny tune up, tie rods, heater core bypass.
this issue happened prior to tune ups & bypass, and is still occurring
notes: the engine is NOT overheating, nor performing oddly, aside from seeming to need a new idle air control - to possibly prevent it from dying when switching to reverse, and a bar bushing so the tranny doesn't clunk when switching gears.

suggestions greatly appreciated, thanks in advance!
__________________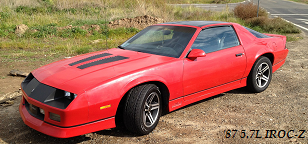 "
Camaro
Z/28
is back. Gentlemen, Don't even bother to start your engines."