I just put up a tire rack that I bought from Tire Rack in my garage.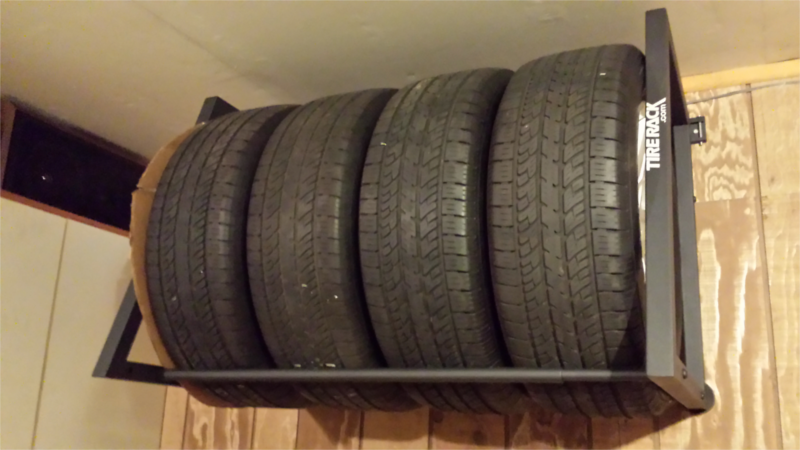 The install was fairly straightforward. Or at least it would have been if my walls had studs every 16" like a normal house. The top bar that supports all of the weight has hole drilled every 16", so that's kinda required. I found enough to work in my garage, but I would have liked to have mounted it one stud further away from the cabinets. I couldn't though, because that stud is more than 16". <sigh>
Once this is put together, it's sturdy as hell. I did a dip in it before I put the tires up there. It's supposed to support up to 400 pounds, and I believe it. It can also be expanded to fit wider tires, or more tires, but I didn't need it any wider.
The packaging was very nice on this. Everything is a black, crinkle finish. All of the parts came wrapped in thin felt to keep them from getting scratched in shipping. The instructions are pretty easy to follow. It took me about an hour and a half (including unpacking and cleanup of tools) by myself.
There's a couple of tricky bits to the install. The top bar is two sections. I mounted one level before I messed with the second. That whole process would have gone much quicker and easier if I had help.
Don't overtighten the bolts.
Check the height you are mounting it at before you drill. I didn't think about it and got lucky that those pointy corners are about 2" above my head at 6' 4". If I try to stand under it, I hit my head on the tires. I could probably move one of the bottom bars to have them sit higher, but it's not a big deal. Just make sure you will have clearance when you mount it.
Putting the crossbars in was the toughest part. The side panels slide in a groove in the top bar and have a pad to rest on the wall on the bottom. Therefore, they move all over when those bars aren't in. Attaching the first side is easy. The second side is more tricky without cross threading the bolts. Use a level and a square (and help) and it will go much easier.
All in all, I'm very happy with this purchase. Tire Rack had it cheaper than anywhere else I found. It's high quality. It beats the hell out of a stack of tires in the corner.