Year: 2013
Model: 2LT/RS
Color: Crystal Red Metallic
Purchased: 4/6/2013
I joined Camaro5 when I purchased this beauty. I last posted when my wife bought her black one and we became a two Camaro family. Things have been busy with work and school. My wife knew what she wanted - hers will be the Batmobile (sadly, she doesn't like the term Batmaro). I will start another member journal thread for her Camaro and the progress on the Batmobile. For now...
A New Avenger is Born!
I have been planning the theme of my car and decided on an Iron Man look. I have only seen one or two others that have done Iron Man (Stark Industries by Tysen and ThatKidWil). I think the Crystal Red Metallic is the perfect color to start with. I have been doing some research on gold colors and designs. This weekend I was able to do some exterior detailing and mods.
Original Look:
I decided to start the Iron Man conversion, I would Plasti Dip the wheels, badges, and rear light bezels Vintage Gold. I bought 3 cans of Black and one can of Glossifier from Walmart, and 4 cans of VG from dipyourcar.com. I applied 3 coats of Black, 3 coats of VG, and 1 coat of Glossifier for a "semi-gloss" look. Pictures of the dip progress:
After cleaning and detailing - getting ready to paint: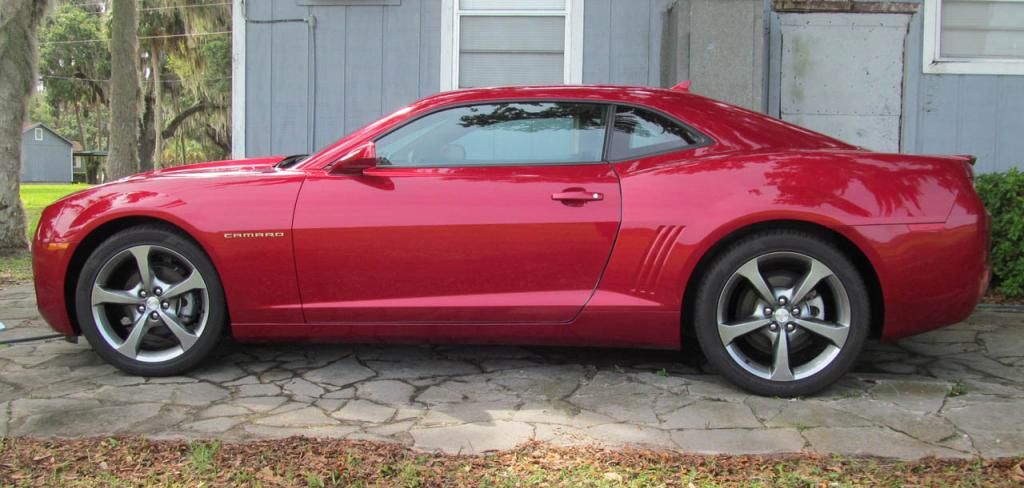 Covered and Taped: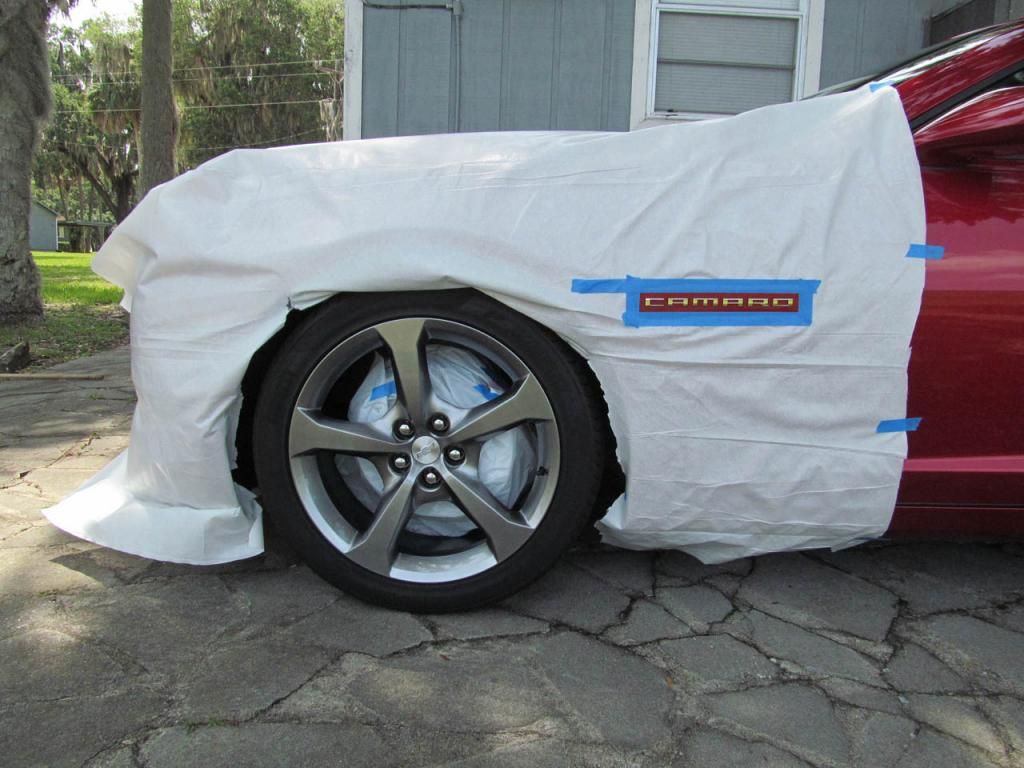 1 Original, 1 Black: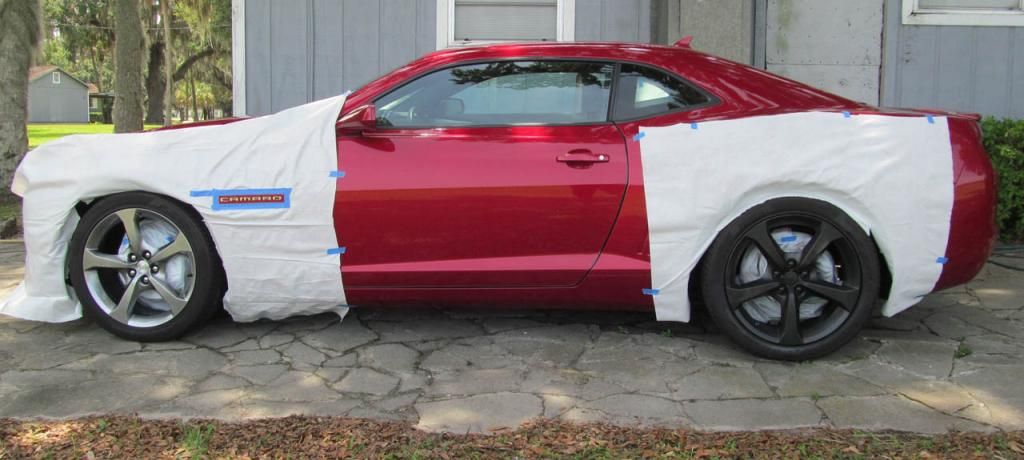 1st Coat of Black: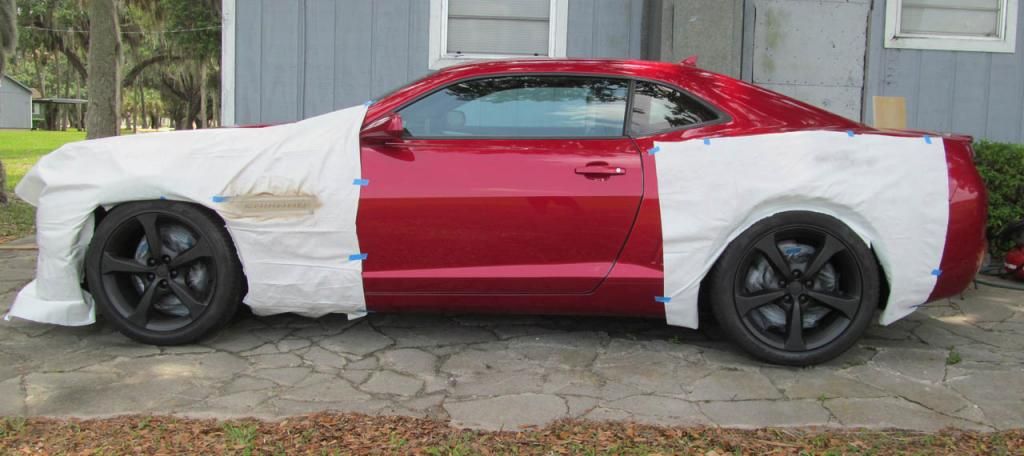 3 Coats of Black - Closeup (For those thinking of 20" Blackout Rims):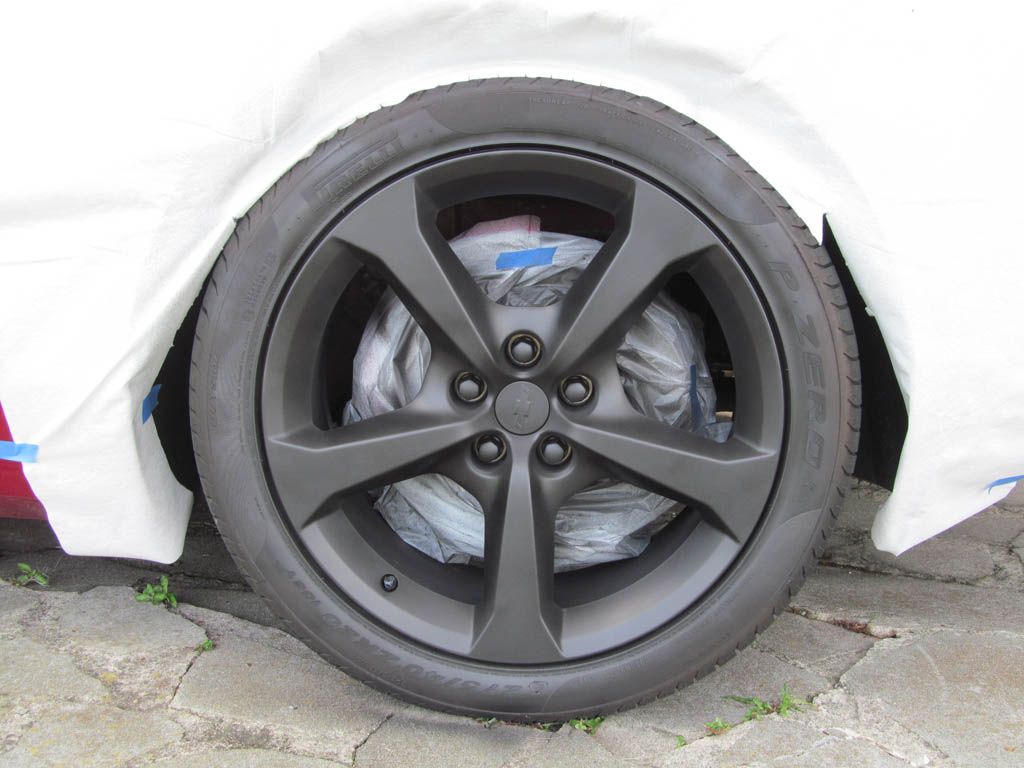 3 Coats Vintage Gold: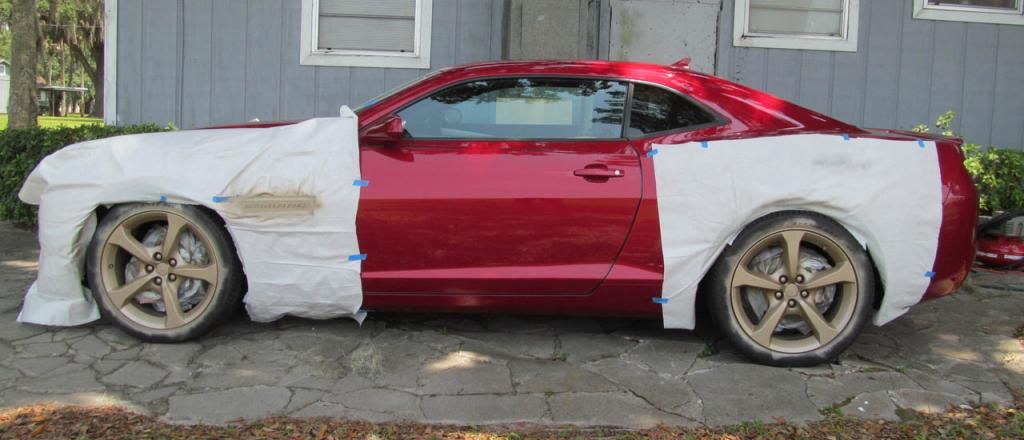 After Tire Cleanup (WD-40 and a scrub brush works well for thin Plasti Dip areas that won't just peel off):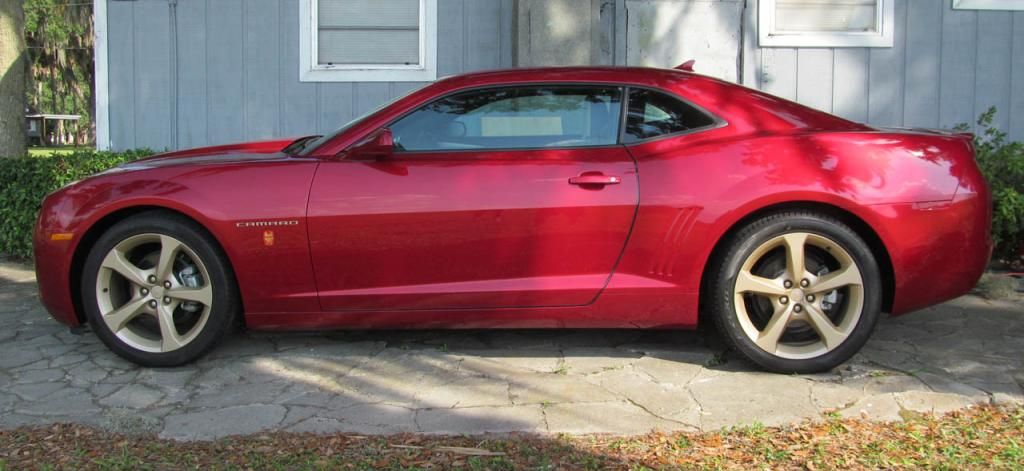 Closeup of Tire, Badge, and Iron Man Badge: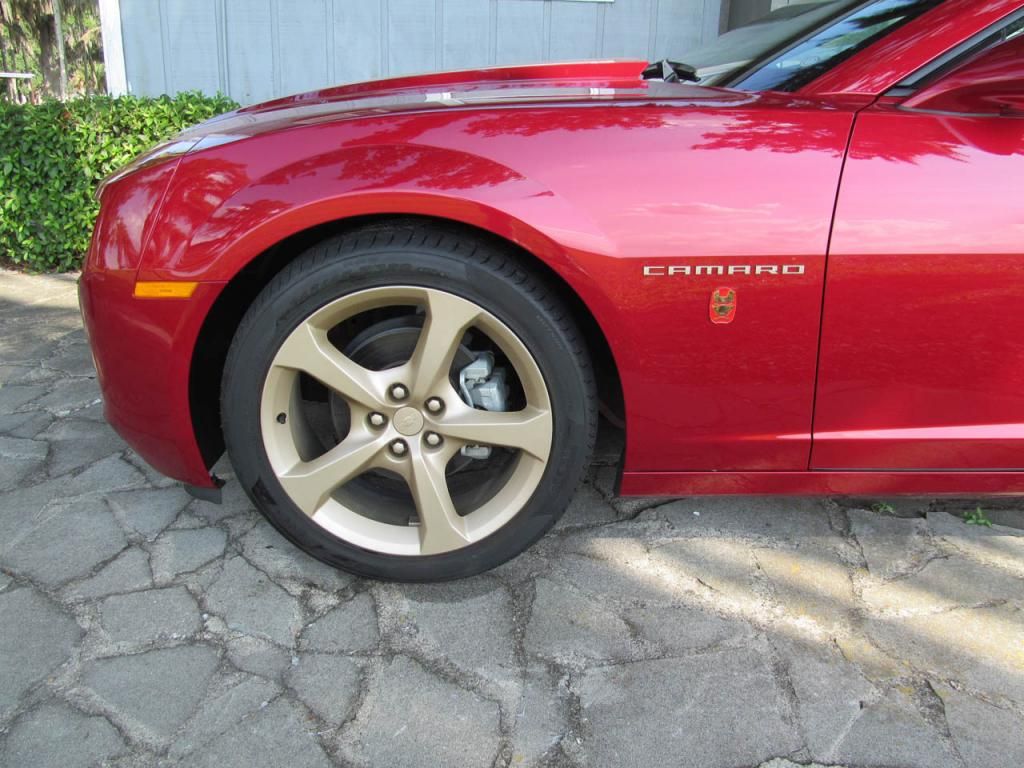 Camaro Badge Before and After Plasti Dip Peel: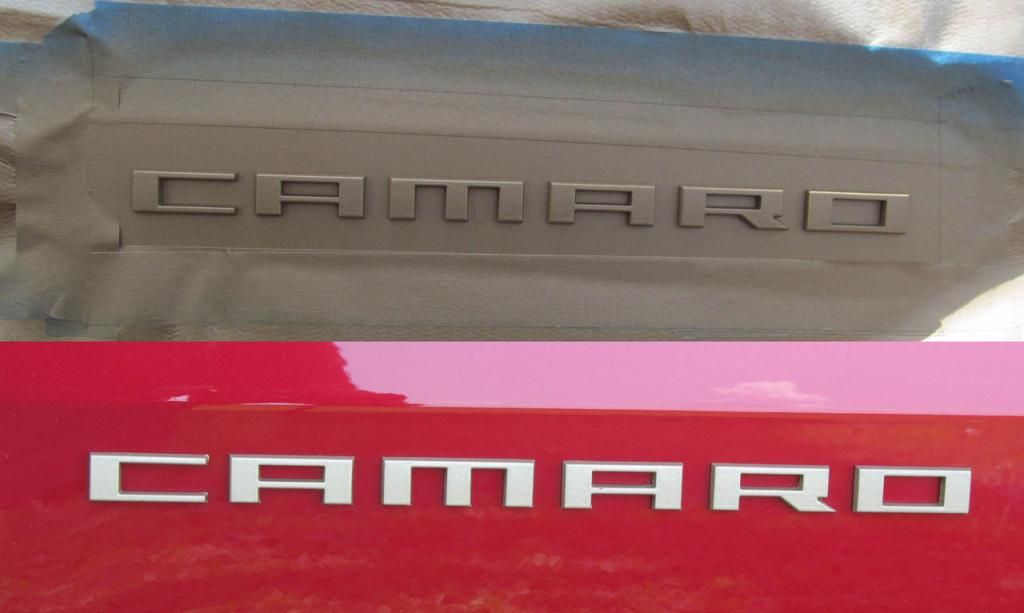 Tail Bezels Removed - DIRTY Underneath!: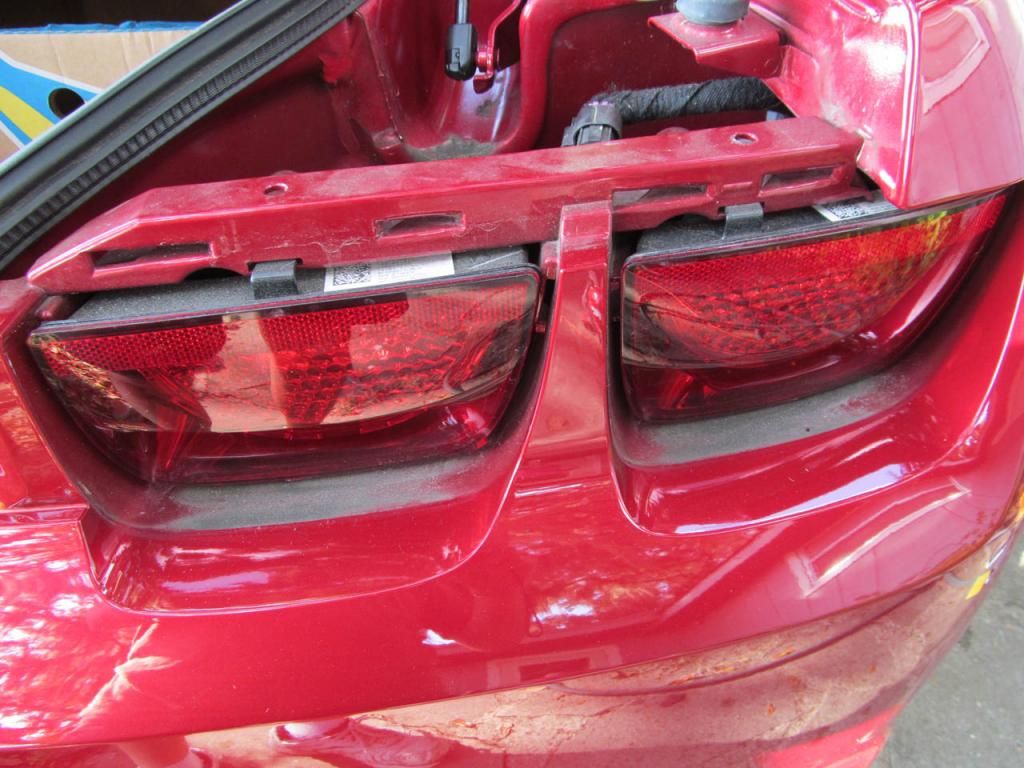 Chrome and Gold Bezel Before and After:

Finished and Installed Bezels:
I have not done the Bowtie because I have other plans for that space. I have things coming for the car - interior and exterior, and many ideas on how to roll with the Iron Man theme. I will update this thread as I progress.
Comments, suggestions, and criticism welcome!
================================================== ==============================
=== 6/21/2014 Update ===
================================================== ==============================

Hi again. I finally had another Saturday to do some work on Iron Man. I've been playing in Photoshop with ideas on how to paint the front of the car to look like the Iron Man mask. After a lot of tweaking I think I came up with what I like, something that would really stand out and be worthy of showing off.
I decided to get more Plasti Dip in Vintage Gold to do this project for now. If I really like it I will make it permanent with a professional paint job. At least with the Plasti Dip if I don't like something I can peel off what I don't like, or change the lines. On a side note, for those looking for Plasti Dip locally, I have found Black and White at Home Depot (cheapest at $5.98/can), Lowe's, and Walmart, which also carries Glossifier. Any other colors you can to get from DipYourCar.com. There is also a new product I saw at Home Depot by Rust-O-Leum called FlexiDip. It comes in black, white, gray, and red.
Anyway, back to Iron Man. Here is the front of the car before anything was done: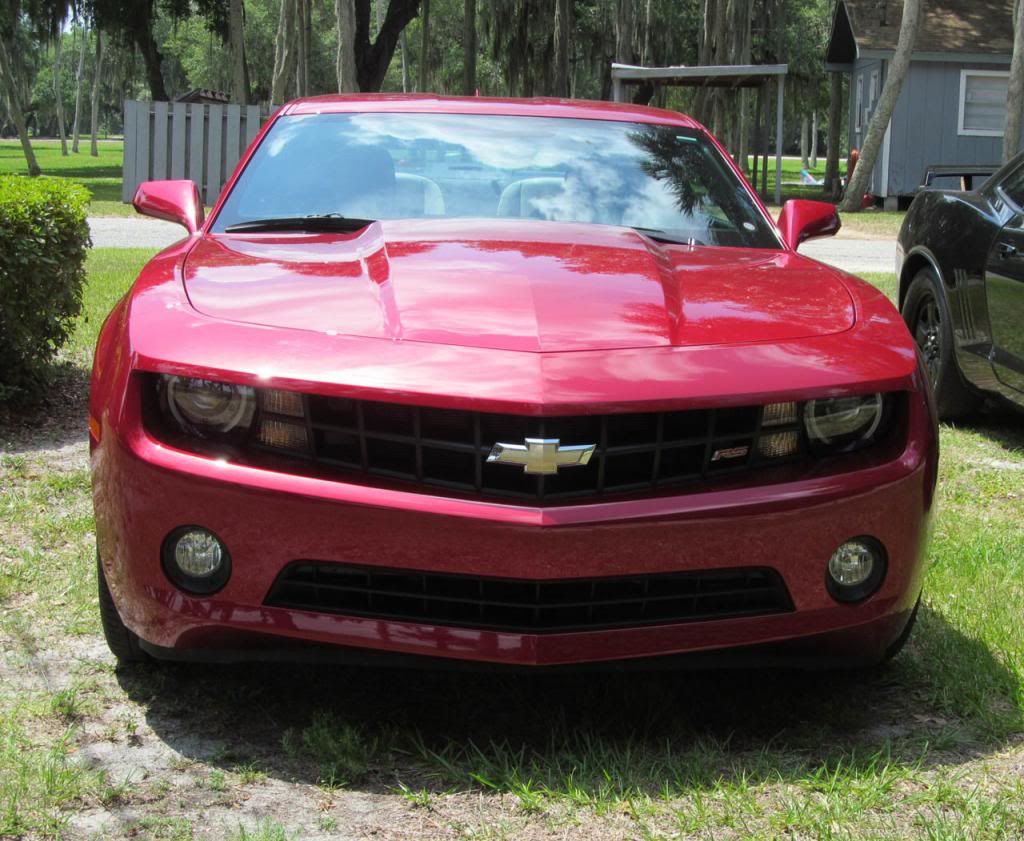 3 hours later, all prepped/taped up:
2 hours later, 4 coats of Vintage Gold: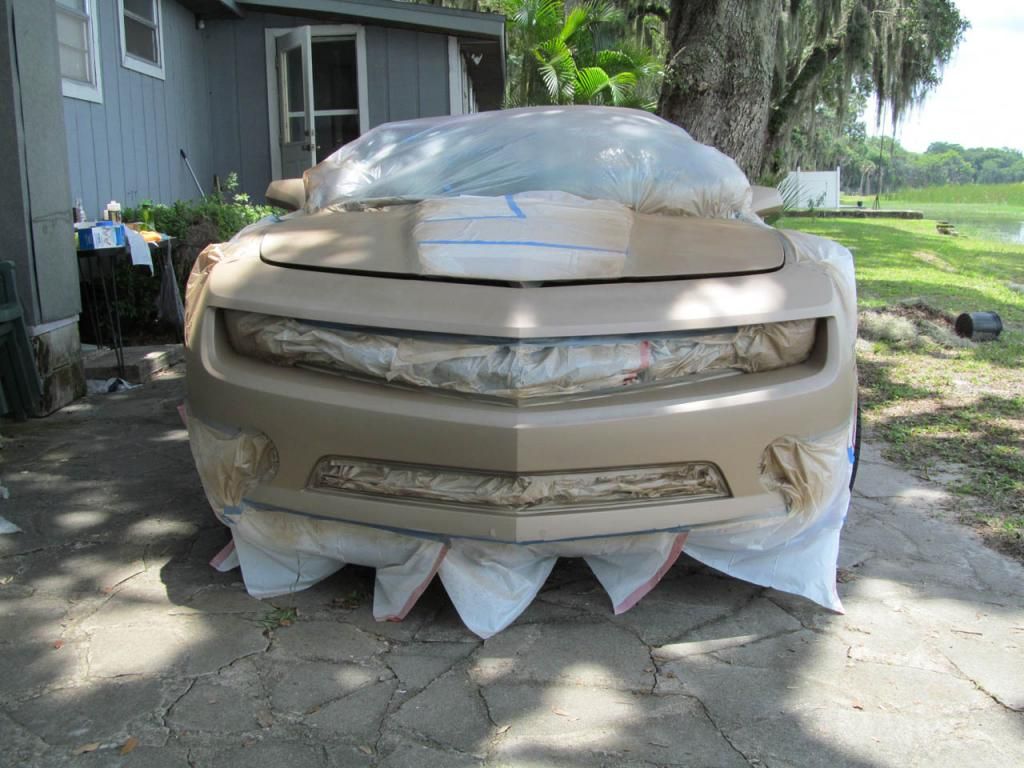 I also decided to add more VG accents to the car - here are the door handles with 3 coats before and after:
I also did the side mirrors - in photoshop I thought I could make them look like the the shoulder pads: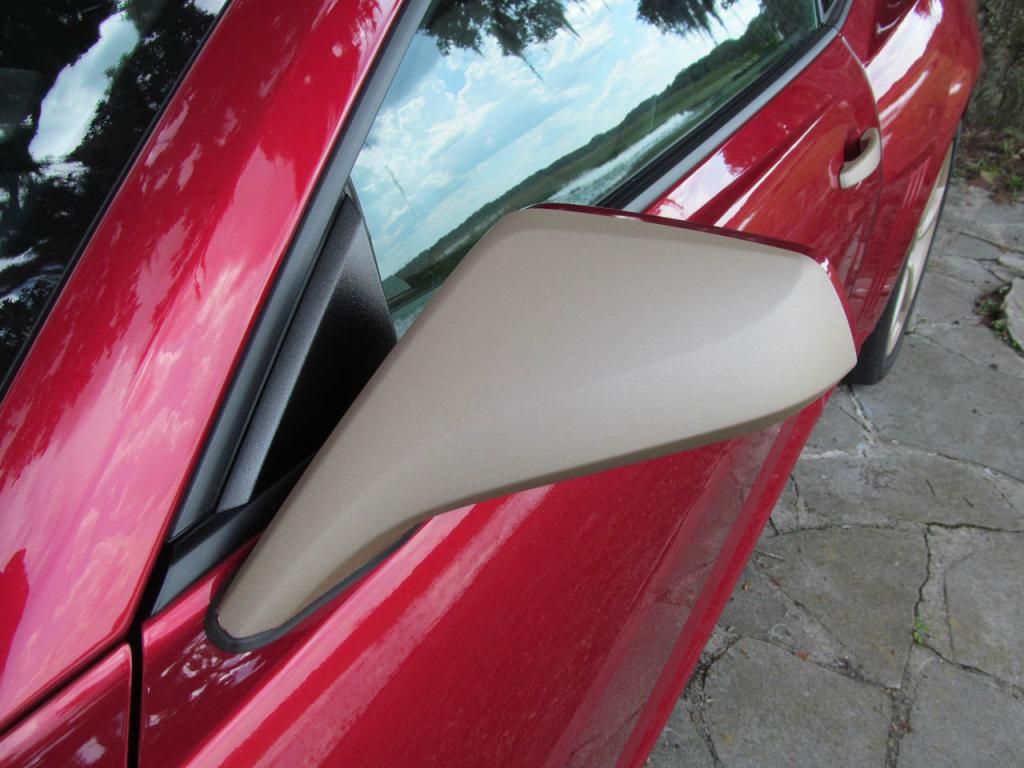 Removing the hood tape: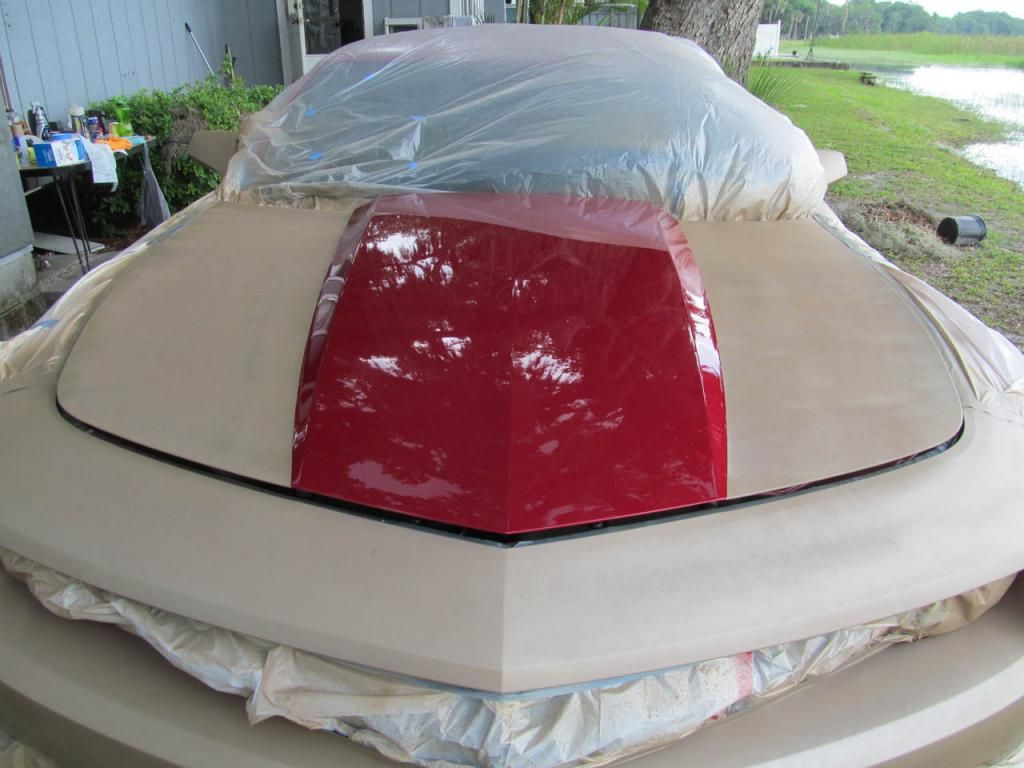 All tape and plastic covers removed:
At this point I thought it looked good, but not complete. When I had it to this point in Photoshop, I wanted to make it look more "mask-like". I decided to steal the top part of my wife's billet grill that I had not installed yet and use white and vintage gold Plasti Dip to complete the mask and eyes:
Here's a front-left shot: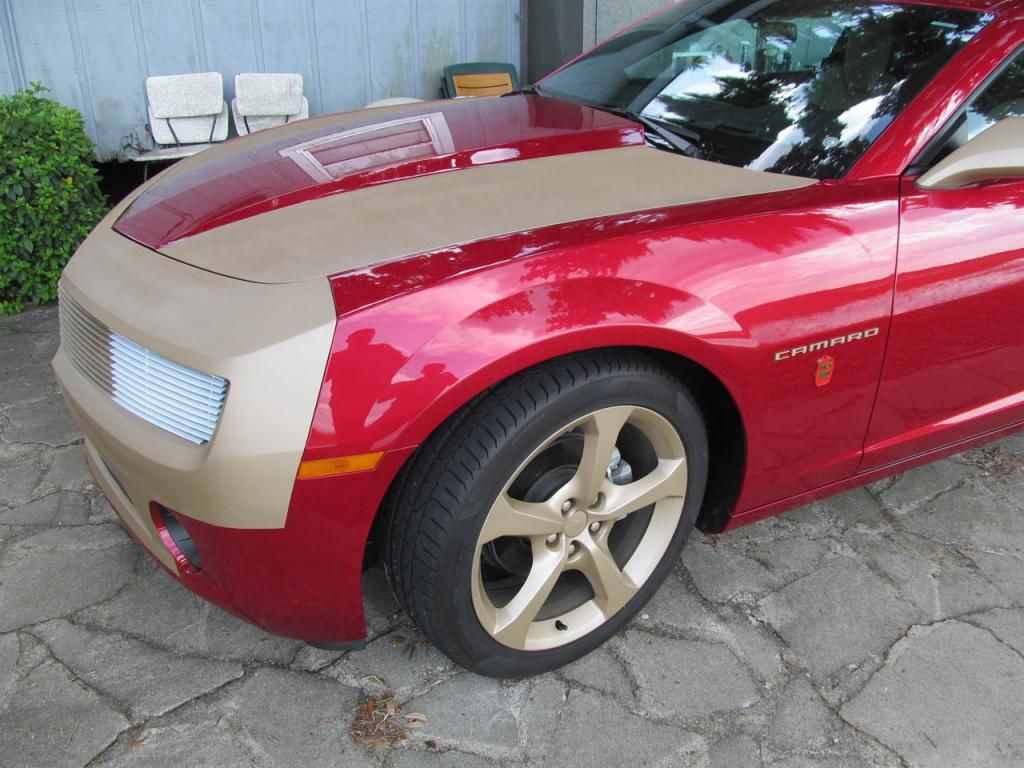 Another left side shot with a different view of the side mirror:
And here's the current side view:
And a comparison of the mask used to inspire the VG lines on the car:
I only wish I had an SS hood to match the scoop on the top of the helmet!
As people say, the pictures don't do it justice. I really like how it turned out and may do a little fine-tuning. The lines are not perfect as some of the Plasti Dip pulled away when removing the tape. Nothing major but not as clean as a professional paint job. I like how the billet grill creates the eyes. I'm thinking of putting some blue LED's behind the grill to light it up. I'm deciding whether to paint the ground effect strip below the door on each side VG as well. Back to photoshop on that one.
I'm also still deciding on what to do for the Arc Reactor. I do have some things to do on the inside, and may put it in the center console, like some that have put a light-up transformers logo there. If not, maybe put one in each headrest. Also want to put IRON MAN in gold Camaro lettering on the dash.
Again, comments, suggestions, and criticism welcome!