We are having a sale on everything to help your Camaro STOP! Hawk and EBC brake pads are some of the best in the business, a pad or combination for all types of driving! PM us with any application questions, and we will gladly point you in the right direction.
Hawk Performance HPS Front Brake Pads Part # HB453F.585
MSRP: $152.45
Camaro5 Price: $129.00 Shipped
These Hawk Performance HPS brake pads are designed to ensure performance, safety, and quality on the street. Hawk Performance HPS compound provides advanced braking characteristics to enhance your driving experience. This unique compound combines the safety and quality of aerospace design with the braking technology of motorsports.
Features of Hawk Performance HPS brake pads include:
* Extremely low dust
* High friction/torque, hot or cold
* Gentle on the rotor
* Virtually noise-free
* Greatly improved braking over OE
* Extended pad life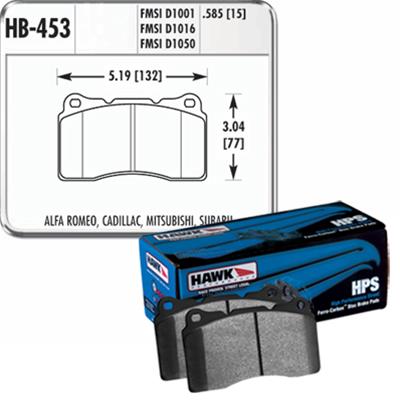 Hawk Performance HPS Rear Brake Pads HB194F.570
MSRP: $132.69
Camaro5 Price: $115 Shipped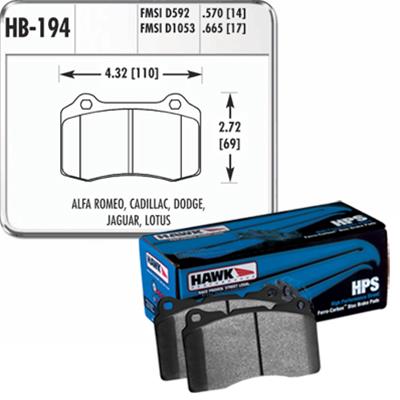 Hawk Performance HP Plus Front Brake Pads Part #HB453N.585
MSRP: $177.76
Camaro5 Price: $150 Shipped
Hawk Performance HP Plus compound brake pads can take the heat at the track and get you home safely, without your having to change your brake pads in and out. They feature high-temperature resistance and are designed for the serious street and autocross enthusiast. Due to the dramatic friction levels necessary to achieve "race-level" braking, rotor wear, noise, dust, and pad wear may be increased.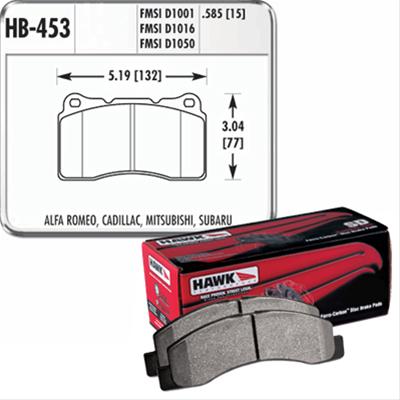 Hawk Performance HP Plus Rear Brake Pads HB194N.570
MSRP: $162.60
Camaro5 Price: $140.00 Shipped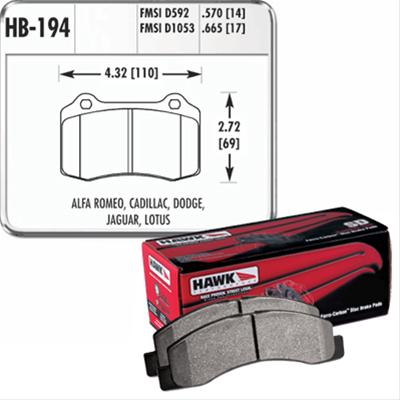 Hawk Performance Ceramic Front Brake Pads Part #HB453Z.585
MSRP: $156.93
Camaro5 Price: $133 Shipped
Hawk Performance has introduced a premium, high performance, ultra-low dust, low-noise compound called Performance Ceramic. Performance Ceramic is engineered to reduce brake NVH (noise, vibration, and harshness), creating a quieter performing brake pad. Furthermore, the ceramic brake pad formula has a linear friction profile that allows your ABS brake system to work more effectively. With Performance Ceramic, you can expect reduced brake pad wear, lower dust output levels, and rotor-friendly brake pads.
Key features include:
* Increased stopping power
* Increased rotor life
* Extended pad life
* Ultra-low dust
* Extremely quiet
* Stable friction output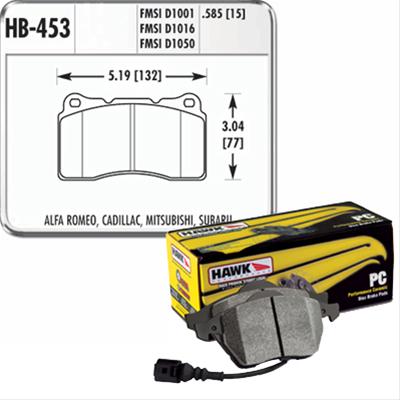 Hawk Performance Ceramic Rear Brake Pads HB194Z.570
MSRP: $136.59
Camaro5 Price: $120.00 Shipped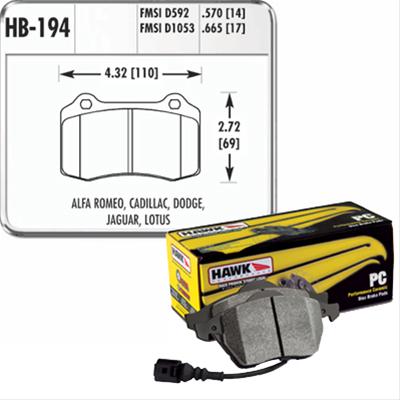 Hawk Performance DTC 60 Front Brake Pads HB453G.585
MSRP: 299.34
Camaro5 Price: $260 Shipped
These Hawk Performance DTC 60 brake pads feature high torque with less initial bite than DTC 70 pads. With their superior release and torque control characteristics, Hawk's DTC 60 brake pads are designed for cars with high deceleration rates, with or without down force.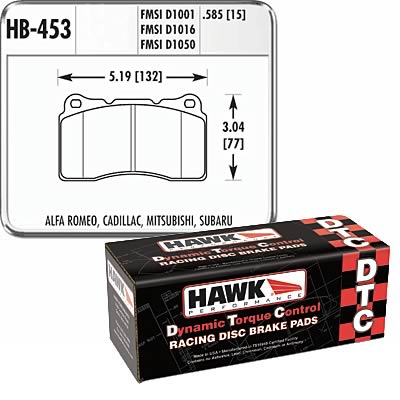 Hawk Performance DTC 70 Front Brake Pads HB453U.585
MSRP: $354.98
Camaro5 Price: $305 Shipped

These Hawk Performance DTC 70 brake pads have extremely high torque with aggressive controllable initial bite. Their superior release and torque control characteristics are perfect for the high performance racing industry. These DTC 70 brake pads were designed for cars with high deceleration rates with or without down force.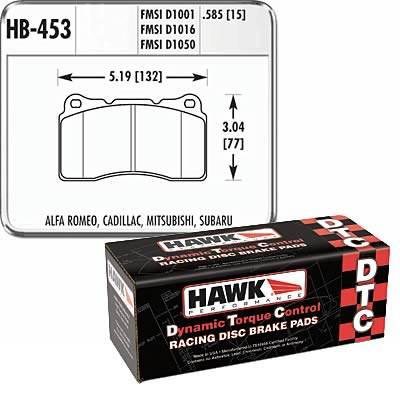 EBC Redstuff 3000 Series Ceramic Brake Pads DP31210C
MSRP: $167.20
Camaro5 Price: $160.00 Shipped
Make EBC Redstuff ceramic brake pads your low-dust option. Redstuff pads reduce dust approximately 80 percent compared to OEM pads and less dust also mean less rotor wear! So, you'll enjoy longer lasting rotors and pads plus great braking performance! These EBC pads are made with Kevlar fiber-based brake compound enhanced with ceramic particles and superb for your fast street car, highly-tuned import, musclecar, and even your luxurious European car. There are a lot of choices in brake pads; opt for clean wheels, no noise , and less dust with EBC Redstuff 3000 Series ceramic brake pads.
EBC Yellowstuff KEVLAR« Brake Pads DP41210R
MSRP: $177.65
Camaro5 Price: $170 Shipped
EBC Yellowstuff KEVLAR« pads are the perfect pads for your daily driven race car or ultra-friction truck upgrade. They are made from a full race material and are capable of high-temperature use with a very good wear life. Their "bite" from cold is superb, which is uncommon with race materials, which normally require warming-up, making these pads safe for use on the highway as well as on the race track. EBC makes increased stopping power available for your performance race machine and your demanding truck or SUV. These are not "low-dust" pads, but are similar to or better than OE pads.
EBC Bluestuff 5000 Series NDX Brake Pads DP51210NDX
MSRP: $188.06
Camaro5 Price: $180.00 Shipped
EBC Bluestuff 5000 Series brake pads are made with Bluestuff NDX, a high-friction sport and race material that can be used for aggressive street and certain track applications. Bluestuff 5000 Series brake pads feature great bite when cold, a progressive brake feel, and the ability to bring a car to a complete stop. Deep V-grooves assist in venting and catch the dirt, dust, and debris that are inevitable in track use. The EBC chemical interlayer system used on Bluestuff NDX range pads is a harder material designed for heavy-duty race applications requiring that extra security of bond strength. The effect of the interlayer is to triple the shear strength of common organic brake pads over non-interlayer versions. These pads bed in quickly and easily, wear evenly, and are less harsh on rotors than other race pads. For true race-quality braking that can go from the track to the street, EBC Bluestuff 5000 Series brake pads are the way to go.
Goodridge G-Stop Brake Lines - 12219
MSRP: $270.56
Camaro5 Price: $200 Shipped
Replace those mushy rubber stock hoses with braided stainless steel performance brake lines. Whether you're flying around a turn at the local track or just going for groceries, G-Stop brake lines offer better performance and greater safety.
Not only does the stainless braiding eliminate volumetric expansion, the root cause for spongy braking, it also reduces obnoxious ABS brake chatter. What's more, these Goodridge brake lines will significantly shorten your stopping distance.
The G-Stop kit sets your vehicle up with Goodridge brake lines on every wheel. All the necessary hose ends and brackets are included, so installation is straightforward for the do-it-yourselfer or weekend mechanic.
Of course, with a name like Goodridge, you can count on the kit being D.O.T. certified and T.U.V. approved. And, your G-Stop Goodridge Brake Line Kit is backed by a Lifetime Warranty.