OK fellow vert owners, the wait is over. There are countless threads about this subject so I think this will help a lot of people. I went to see Nick at American Racing Headers for my vert. They ship to anywhere in the US, but luckily for me they are located here in Long Island. I already had the Borla catback on the car. The headers are a no brainer for them but Nick hadn't installed his full exhaust on a vert yet so he made me an offer I couldn't refuse. Headers, hi flow cats, 3 inch X pipe to the mufflers and chrome tips. The experience was extremely easy and they were very accommodating. Everything went in perfectly. The only thing they had to re evaluate was the extra bracing on the convertible underneath the car. AKA the two tunnel braces. They fabricated a really cool looking main brace that allows any 3 inch pipe to fit. Once it was powder coated and put in place, I was good to go. I recommend the brace for the coupes also. The holes are already on the coupe to mount it, so why not. A little extra strength couldn't hurt. I got the full system but any part of it can be purchased separately. Call them directly. A big thanks to Nick and the American Racing Headers crew. Best of all, 100 percent american made!
Once finished, I took the car down the block from ARH to The Vette Doctors to re tune it. I had them tune the car when I first got it a few months ago. Carmen was very gracious to tune it again to make sure I was completely satisfied with how it performed. He listened to all of my concerns and did his best to accommodate me. I realize that tuning is a very delicate procedure and everybody prefers their car to run differently. I told him what I wanted and he delivered. A big thanks to him and The Vette Doctors also.
The car starts up nice and powerful with a deep rumble, then settles into a quite purr. At normal cruising the engine sounds are there but very comfortable to talk over and best of all, no droan. It's when you hit it that the sound comes alive.
Check out the new brace in the pics and a quick video of the exhaust sounds in and out of the car.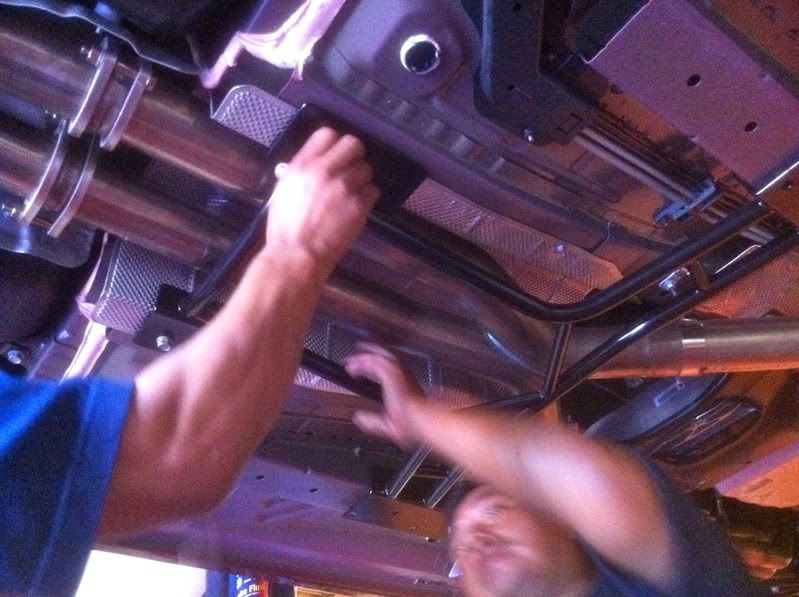 Here are my dyno results.
This first photo is based on the Airaid Intake, Borla S-Type Catback Exhaust and a tune.
The second photo shows the major improvement of adding American Racing Headers, Hi Flow Cats and swapping the Borla for their 3 inch X pipe and mufflers.