Low budget NPP Dual Mode exhaust flaps control project.
Results:
Pressing the Homelink overhead console button -or- the wireless remote keeps the exhaust flaps open all the time.
Was able to do the project without cutting or splicing any factory wires.
Steps:
On ebay found a heavy-duty wireless 12 volt relay/switch with remote (special deal for $10) and added that in trunk near fuse box.
This is the one I picked (opened up sealed case, quality looks real good) >
Fimco 12 Volt Remote/Relay ($10 deal -- full price around $20):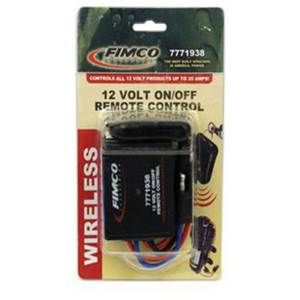 another view of the 2-piece set: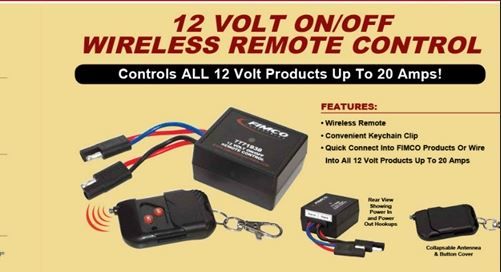 Power Source tap (~$1.00 ebay or more at most any auto parts store):
Power Source - trunk fuse panel on passenger side fender well:
Pulled fuse F3 (RDO) and plugged that fuse in to the tap (in diagram lower slot position where it says your original fuse goes here).
Then plugged tap in to empty F3 fuse position (
IMPORTANT:
with tap red wire facing down).
Pulled F8 fuse (Exh Flap) and plugged that fuse in to remaining empty slot in fuse tap (where diagram says fuse for your new circuit goes here).
The tap red wire (marked power out here in above diagram) connects to positive input on Fimco, i used a push on connector (Fimco is rated at 20 amps plenty more than what is needed).
The red wire out of Fimco I connected to fuse block, here is how I did that:
Made a longish wire with terminal connector that plugs in to output positive wire from Fimco; at the other end of the wire I soldered on a flat lug/terminal (pulled out of an old spare fuse) and shrink wrapped the solder joint ...
then pushed the single soldered lug/fuse terminal into the
bottom
of the empty Fuse F8 slot in the fuse block to power the Exh Flap. Put a dab of silicone glue near connection at fuse block so it does not ever get jarred loose - but can easily remove at later time if need to.
Connected the negative wires on Fimco together and joined to a longish wire with a round ring terminal lug soldered on; and then fastened that terminal lug under the bolt at the ground screw located next to the fuse box, where existing wire harness runs to ground.
Zip tied wires on to factory harness.
Used the Fimco wireless remote transmitter to learn/program my overhead Camaro console Homelink buttons to mimic the frequency from Fimco remote (twice - one time for each button).
The
"ON"
makes NPP work like factory with flaps open to 1000 RPM then closes until 3,000 rpms (or something like that - the algorithm is complicated last I read about it).
The
"OFF"
keeps the flaps open all the time.
Also added a switch in the trunk in case I ever want to "permenantly" disable it all (attached the switch up hidden on stiff trunk liner wall fabric so it was out of the way - did not want to drill holes in the car).
Now I can set Dual-Mode On/Off using either the overhead console buttons or the Fimco wireless remote buttons.
Ron