Everybody knows these cars are heavy but where is the weight? Better crash safety standards bring more air bags, sensors, and electronics, along with double and triple layered uni-body sheet metal panels and more rigid sub-frames. Higher luxury requirements requires more insulation and again more electronics and gizmos. The progressive trend towards larger diameter wheels makes a 65 lb. wheel/tire common place and now it takes a 26 lb. 14" rotor on all 4 wheels just to stop the thing. 14" rotors used to be the ultimate upgrade while now they have almost become the minimum standard necessary to stop these modern 2 ton cars.
It used to be physically possible to get a 4th Generation Camaro to 3100 lbs. while retaining a full interior, A/C and street wheels/tires. The 5th Gen is a different story and while all technological aspects of the 5th Gen are superior, it comes with a price. So how do they offer all of these new technological advances in the Z06 Corvette yet it only weighs 3100 lbs loaded? Aluminum, Magnesium, Titanium, and composites. It's hard to even find a steel component on a new Corvette, in fact I would be willing to bet that the majority of steel used in a Z06 is in the hardware holding it together! These exotic materials cost money of course and are the reason why a Z06 costs $80k and your Fifth Gen is under $40k.
Throughout the process of our suspension development, testing, and various forms of racing using our Project TriloG Camaro, we have had practically the entire car apart multiple times testing different combinations. We have a TH400 that we use for drag strip testing and a built T56 for road course and drivability testing. Over the last month the car was being built for a specific track and we wanted to get the car as light as possible. Along the way, if a part was off the car it was weighed. This is not a complete list of items, some of them were just weighed and re-installed or replaced but I figured you guys would like to know some of this information so I made a weight chart below:
ITEM
WEIGHT (LBS.)
LOWER REAR SEAT
10.2
UPPER REAR SEAT
28
DRIVERS SEAT
54.6
PASSENGER SEAT
44
A/C EVAPORATOR CORE ASSY.
13.4
A/C COMPRESSOR
13.2
A/C CONDENSER
6.4
A/C-HEAT BLOWER MOTOR ASSY
4.2
A/C LINES AND DUCTING
7.6
A/C FIREWALL COVER
3.6
DRIVERS AIR BAG
1.6
PASSENGER AIR BAG
5.4
SIDE AIR BAG (EACH)
3.2
FIREWALL INSULATION
2.8
FLOOR INSULATION
12
TRUNK CARPET AND WELL COVER
15.2
TRUNK COMPRESSOR
6
TRUNK-LID STRUTS (PAIR)
1
FRONT BUMPER
14.6
REAR BUMPER
26.4
RADIO
4
DOOR SPEAKERS (PAIR)
3.6
FLOOR MATS (FRONT PAIR)
4.8
CENTER CONSOLE
8.2
EMERGENCY BRAKE LEVER W/CABLES
6.2
FRONT SEAT BELTS (PAIR)
6
REAR SEAT BELTS (PAIR)
3.6
FRONT BRAKE ROTORS (EACH)
25.4
REAR BRAKE ROTORS (EACH)
24
FRONT CALIPERS (EACH)
11.4
REAR CALIPERS (EACH)
7.4
HOOD
25.3
HOOD INSULATION
1.2
HORNS (PAIR)
1.4
WIPER ASSEMBLY W/MOTOR
8.6
WINDSHIELD COWL PLASTIC
3.6
DRIVESHAFT – 6 SPEED MANUAL
24
FUEL TANK SHIELD
2.8
DRIVE SHAFT HEAT SHIELD
.8
STOCK AIR BOX
7
ENGINE COVER
4.4
CLUTCH ASSEMBLY (INCLUDING FLYWHEEL)
57
Of particular interest is just how light some of these components are. In the past you could save over 100 pounds by removing the air conditioning but with today's highly efficient systems the weight is down to just 48.4 pounds for the entire system! The wiper motor, linkages, and wipers was only 8.6 lbs. combined and if you remove all 6 air bags out of the car you only save 13.4 lbs.
For this particular event the car did not need any creature comforts so the common weight loss tactics were employed (rear seats, one light weight drivers seat, A/C delete, etc) along with some other questionable weight removal such as insulation, sound deadener, etc. Keep in mind that a lot of these items will be going back in the car but we were able to shave 269 lbs. off the car! Basically everything that wasn't necessary was removed. We also removed the bumpers which dropped 41 pounds by themselves. The rear bumper can be removed without any issues (off highway only) since the bumper cover does not use it for support. The front however, requires some sort of support to hold the nose stable at high speeds. We fabricated two "bumperettes" to accomplish this (shown below) and they only weigh 1 lb. each.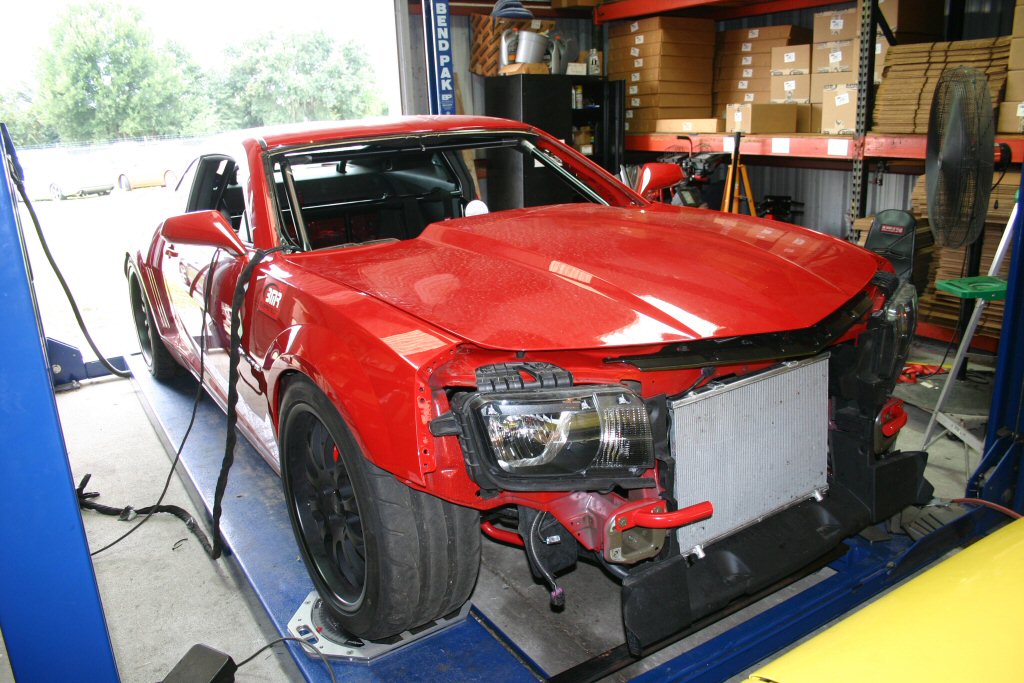 Our car has a custom 10 point chrome moly roll cage, Magnuson TVS supercharger, and Snow Performance alcohol injection kit adding a combined weight of 180+ lbs to an already heavy car. We at least wanted to offset that weight and get it back to the OE weight if possible. We were pleasantly surprised when we scaled the car and it weighed 3650 when all was said and done. While the current configuration is set up for the road course, this gives me a little hope that you could easily get these cars down below 3400 lbs. in drag race mode.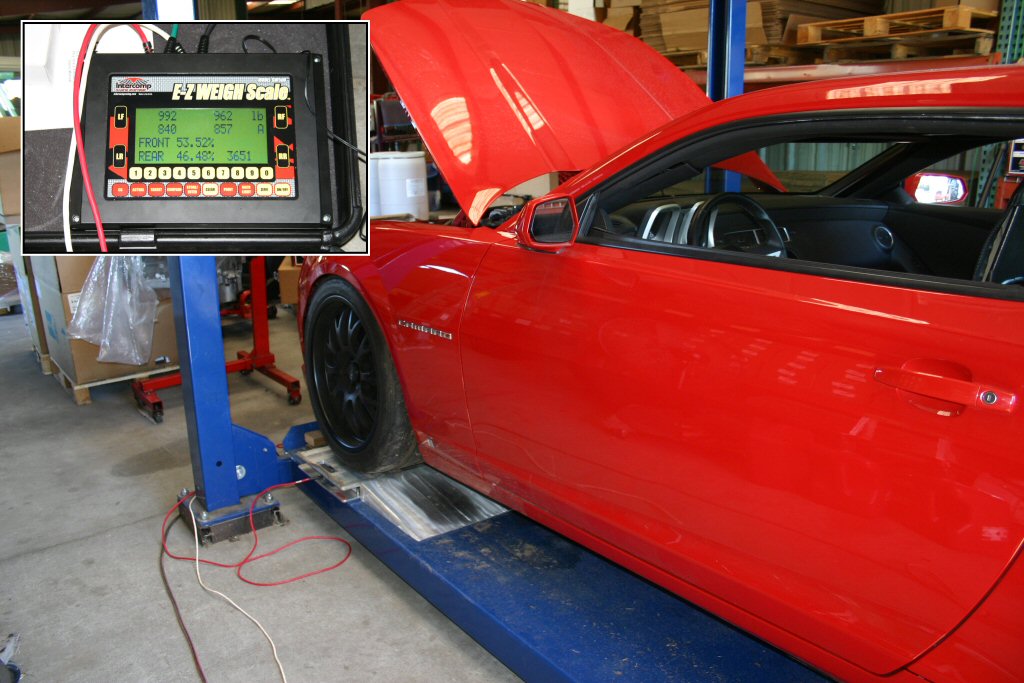 We achieved 3650 lbs. with all of the above components and the car outfitted with 20" CCW wheels and Wilwood 14.5" diameter brakes. A set of 17" Weld Drag wheels and tires can easily drop another 100 lbs. Lightweight brakes and a naturally aspirated motor could pull another 150-180 lbs. off the car bringing it down below 3400 lbs. I am also convinced that a 3-link or torque arm-equipped solid axle conversion using a 9" rear with aluminum center could knock another 100-200 lbs. off the car if someone was building a hardcore street/drag car. This is finally getting the car down into 4th Gen territory.

Most people will never go to these extremes but regardless this information is interesting and since we are gathering this data anyways I figured I would throw it out there for you guys to use however you wish. Ultimately, the lighter the car is the more responsive it will be while
handling, accelerating, and braking.