Hello all! Welcome to the build thread for my 2010 2SS/RS, Elma. I've been dreaming about these cars since I saw the concept photos leaked in, what, 2006? I have had a practical car for the last three years, and when my mom bought a Camaro a year or so ago, I was consumed with jealousy! Even so, I helped her build it never knowing she'd be selling it to me... but on October 28, 2011 at approximately 1:30PM Pacific standard time, I became the proud owner of this beautiful car. I've waited a long time, and a lot of years to get this beast. My mom now has a grand-sport to match my dad's ZR1... but I think I got the better end of the deal.
Here are some photos to show the transformation. So far we've done:
-Signed by Mr. Scott Settlemire himself at the XXX All Chevy show 2010
-Cold Air Inductions intake
-Rear black-out vinyl
-Rear chrome reverse light bezels
-Black vinyl gills
-Heritage grille
-Kooks 1 7/8" long-tubes with high-flow cats
-Dyno tune from Tom Wong's Performance of Vancouver, WA
-'Race Spring Mountain' decal after attending Spring Mountain Motorsports driving school March '11
-Front end, mirrors and gills clear bra'd
The plans are to lower the car and swap in some Pedders suspension parts in the near future... but for now I am facing budget constraints from the car-payment. Well worth it, though! Stay tuned. I promise I will get some more 'scenic' shots with the car as the weather warms.
It all started with some parts and a dream...
My dad (right) and good friend Joe (left) installing the headers while I kick back and snap some photos...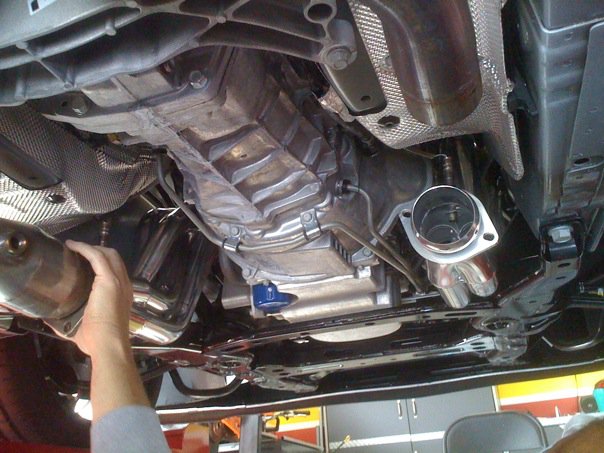 ... and then there was the dyno tune (shameless plug for Tom Wong, great tuner!)...
423RWHP and 411 lb/feet (mustang dyno)
And then there's the heritage grille install:
... and as she sits today