Hey guys I've been on this form for quite a while now and finally decided to start a build thread for it. I currently own two Camaros my 2011 IOM Camaro SS and a 1968 Camaro currently receiving new ride tech suspension and an LS3.

I look forward to showing you all the mods on both of the cars as they come along.
2011 Camaro 2SS received August 31, 2010 at Sunset Chevy in Sumner Washington.
Planned on keeping it stock for the most part.
December of 2010 I purchased the K&N Air intake and installed it with my son.
Loved the look of the heritage grill so I had to order one along with the Hurst Short throw shifter my son and I installed.
Happy where it is now, but who knows when I will find the next mod I fall in love with!

Now to the 1968 Camaro. This car started as a grotto blue 327 that was repainted with some ghost flames about 15 years ago
. I purchased the car 2 years ago and it was running with a very tired 350. We ran it through the next summer and decided to take it in a get it painted lemans blue. Half way through the painting process we decided to purchase an LS3 480hp crate engine. This is when we decided to go the pro-touring route. We pulled the car from the paint shop right when it got into primer. Currently we are installing sub-frame connectors and full ride tech coil over suspension. Then it will go back to be painted in 3 weeks. After that we are going to put Rushforth Rated-X wheels with Baer brakes. We plan to finish this car and run it all summer. I will post more pictures as both builds come along.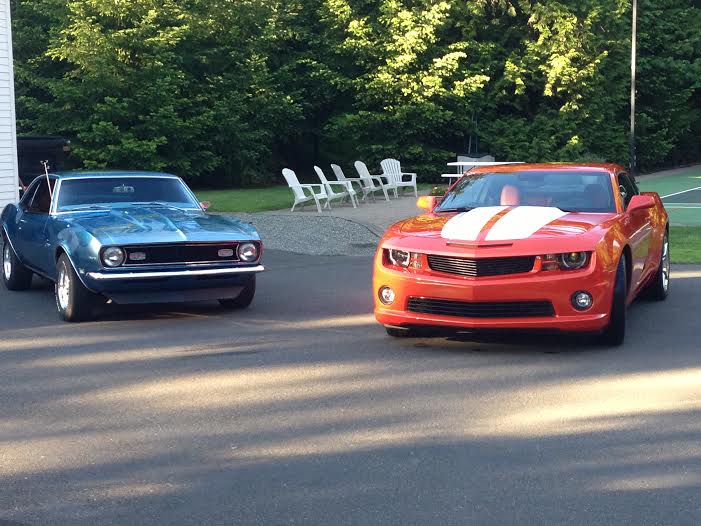 Now to take the sub-frame off and powder coat it also adding sub-frame connectors, full ride tech suspension, and a Ford 9 inch rear end.