I remember when I first saw a 2012 ZL1 getting unloaded off a truck at the local dealership. All I could think to myself was how much it sucked that I would never be able to get one. I can't tell you how thrilled I was to actually drive off in one this past November. Granted I had to trade in my 2010 Camaro SS and an old 2002 Corvette Convertible I had in order to make it happen....lol. But hey.....I got one. And granted....I bought it used with 8k on it....but hey....I got one...lol. So I've decided to start playing with it and see what I can get out of it. Hope you guys enjoy the following.
This is my baby.... I drove her around for a few thousand miles before I decided to take her to the track. Bone stock on factory tires she turned an 11.95 in the 1/4. I was happy/impressed with that.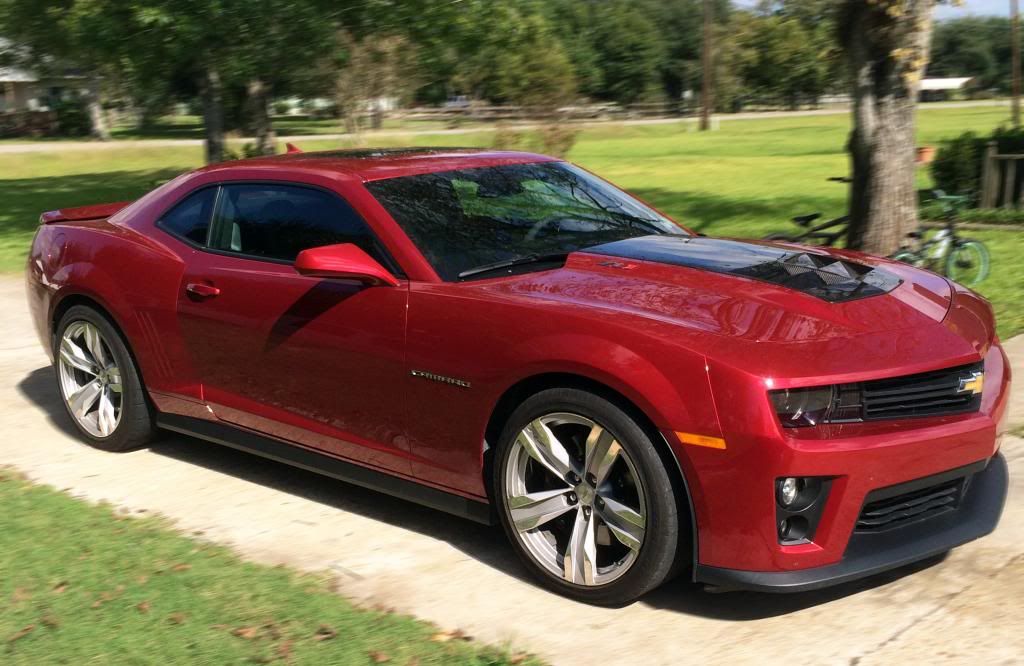 Now I've gone and developed a plan for the ZL1 and picked up a lot of the parts already. Just need to finish up another project before I dive in. But here's the basics of what has been picked up already. Some of it is left over stuff from a previous projects planned and some is new. But it's all going to the ZL1.
Stuff that's sitting in the garage already.....
LSA 416
WCCH LSA Heads
Got two cams that I wanna try
(One has gone low 9's in a buddies CTS-V.)
(The other is a custom BTR cam that's a little larger.)
Rockers arms are just upgraded trunions (trying to keep it simple this build)
Morel Street Link Bar Lifters
Katch Billet Timing Chain
Schumann's Dynamic Oil Pump (LSPROXV)
2.3 Supercharger Upgrade
FIC 1000 Injectors
102mm NW TB
4.5" Custom Intake from G-Force Motorsports
Meth Injection
Custom Nitrous Setup
Moroso Catch Can Kit from Janettty Racing
Squash Performance Twin 450lph Fuel Pump Setup (Gonna try E85)
Kenne Bell Boost-A-Pump
Aeromotive A1000 Regulator
Innovative Dampner
Metco 9.10 Crank Pulley
LPE Supercharger Hub
LPE 2.55 Blower Pulley
Metco Idler Relocaiton with 100mm/50mm Pulleys
LPE Heat Exchanger w\ Dual Fans
1-7/8" Kooks Headers
3" Cat Deletes
Magnaflow ZL1 3" Cat-Back Exhaust
Stuff that I'm hoping to be able to pick up in the near future....
Rear Suspension BMR Components
17" Drag Pack Setup
All the 6L90e Tranny Upgrades. I haven't really decided whether or not I want to go with a stall or not...
Anyway....I hope to do some of the upgrades in a staged fashion so I can see what the improvements are on the dyno. Some of them will actually get done to my stock motor before I pull it out and put it in something else. One of the first things I want to check out is the Magnaflow Exhaust. Can't seem to find any good example in vids. Some people have been interested in the same thing. So I hope to get some good clips.