We had an issue with the inner race for a short time, the issue was the races were not as hard as they should have been and i am very sorry that some of you have had this issue. being most of the cars are lowered the ball runs in a different spot and it causes the inner race to wear pre-maturely.
This being said we are always trying to improve the product and have been working with a new material that will be strong enough and also not have the problem with the balls. below is the prototype that we are actually doing destructive testing on later this week (will post results when done)
here is the prototype race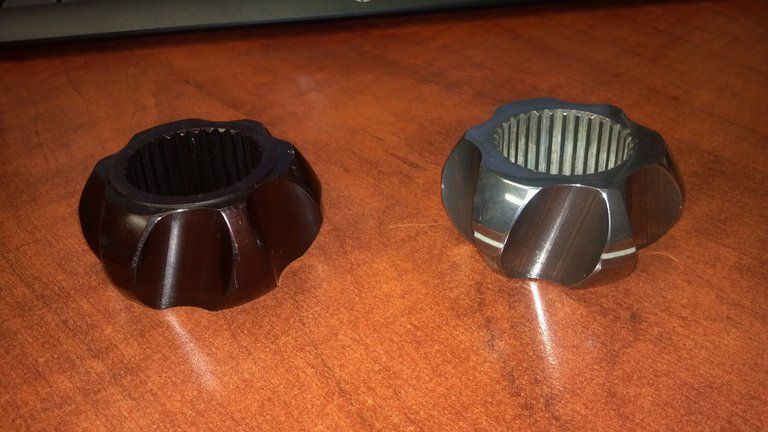 race to the right is the new material we are going to be testing, its able to be done at a higher Rockwell but still have the strength needed.
keep in mind this set of axles we designed for high Hp cars at the track, it has been tested by the best and currently is
in every record breaking Camaro
. We have not not had a single 300m axle failure (the 1st design with big and little bars did) The issue we have is this. if we go back to the smaller bar and a standard race the axle bar will break at higher Hp (we have had the smaller 28 spline bars break in many platforms) so the trade off was to make the race from 300m and use the larger 30 spline bars, We have seen the need for a more of a "street" friendly axle and this is why the new "Street Sense" axle is being released very soon it has a more street friendly design for DD cars (along with the new races for the 1400hp version)
Being the car is 4000lbs and the axles run at a high angle it has caused more issues than anticipated but we never give up. if any one has an issue send me a PM and ill let you know of the progress personally and keep you up to date, then take care of the issue as needed. We will always make good on our products and strive for the best in customer service.
thanks Frank