So I have been really wanting to make one of these threads, so this is what I have so far. My name is Blake, I'm from New Smyrna Beach, FL and this is my 2011 Synergy Green Camaro RS.
Exterior Mods:
Carbon Fiber wrapped bowtie
badge delete
tinted side-markers
BMR 1.25" lowering springs
ZL1 10-spoke wheels 20x10, 20x11
Black 3.5" quad-tips
quad-tipped diffuser
matte black taillight bezels
ZL1 spoiler
Zl1 Grille
ZL1 front bumper
ACS Side rockers
ACS side rocker winglets
Full matte black vinyl wrap (installed by myself)
Matte black windshield banner
Interior Mods:
Cipher Auto Harness bar
4-point cam-lock harnesses
Aqua footwell lighting
Suede shift knob
Suede sift boot
Matte black wrapped door panels and dash inserts
Matte black wrapped gauge surround
Matte black wrapped center console
Performance Mods:
Brand new LLT engine
Muffler delete
Injen CAI
Block ICE-olator
Short throw shifter
I bought this car used and it was completely stock.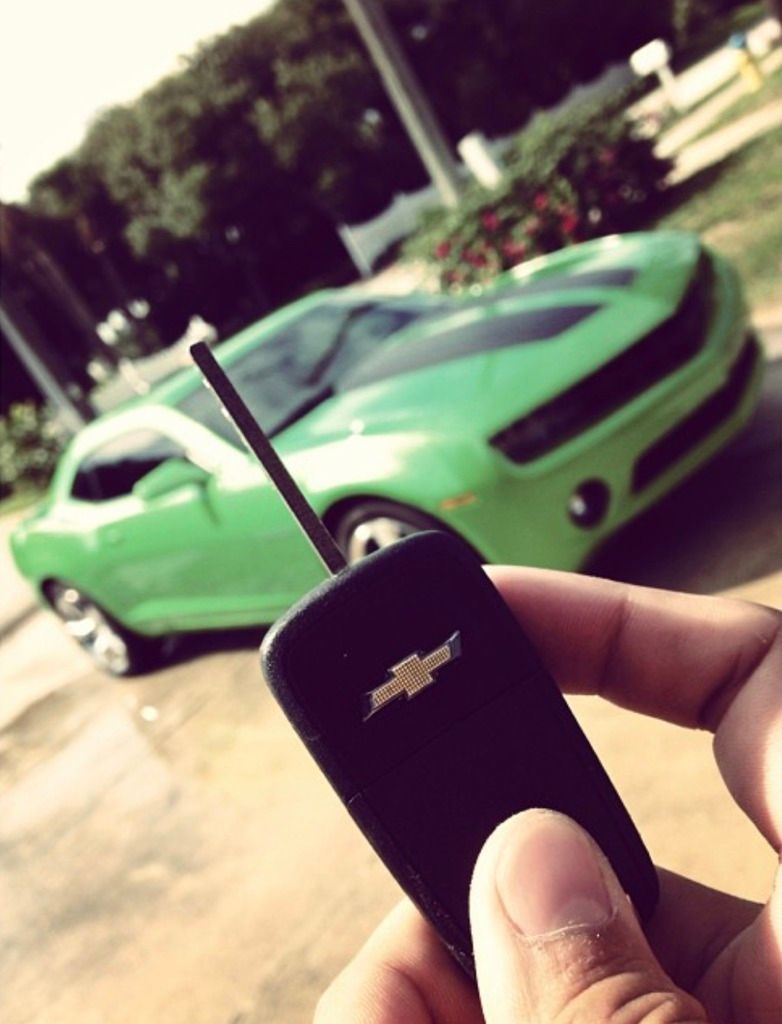 My friend had just bought a brand new 2013 ZL1 and I was crazy about the aggressive look of that camaro. So the first thing I did was install the Injen CAI.
I was still on the stock wheels so I decided to plastic-dip them black because I wasn't crazy about chrome.
The next thing I knew that I had to do was close up the wheel gap some so I ordered a set of BMR 1.25" lowering springs, and a set of ZL1 gloss black 10-spoke wheels with a more aggressive width (20x10 and 20x11) from phastek performance.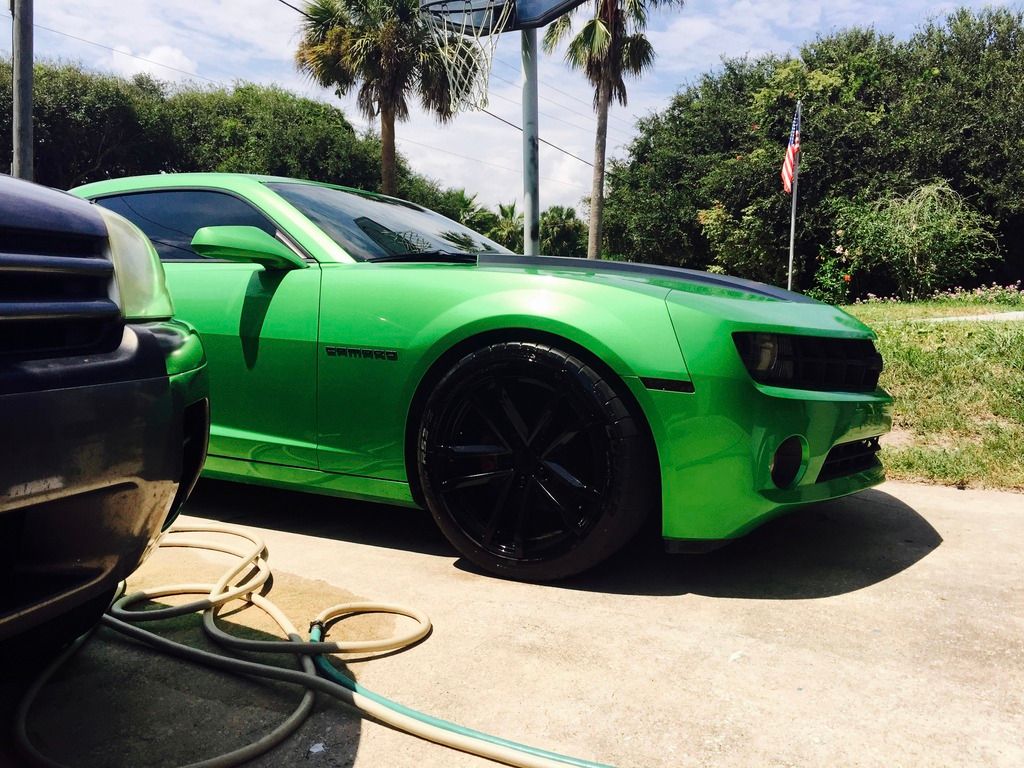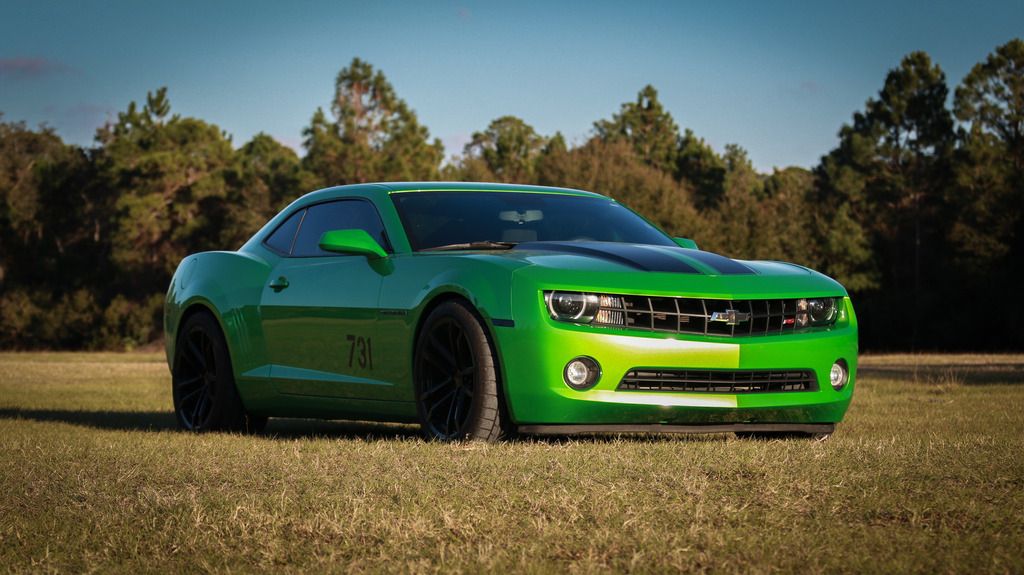 At this point I was pretty happy with the exterior of the car so I moved to the interior. One of the biggest flaws in my opinion is the stock shift knob so I ordered a suede shift knob and boot from Gen5diy, and that was a super easy and quick install. At this point I was thinking about auto crossing so I went back to Phastek Performance and ordered a Cipher Auto harness bar and found some green 4 point cam-lock harnesses.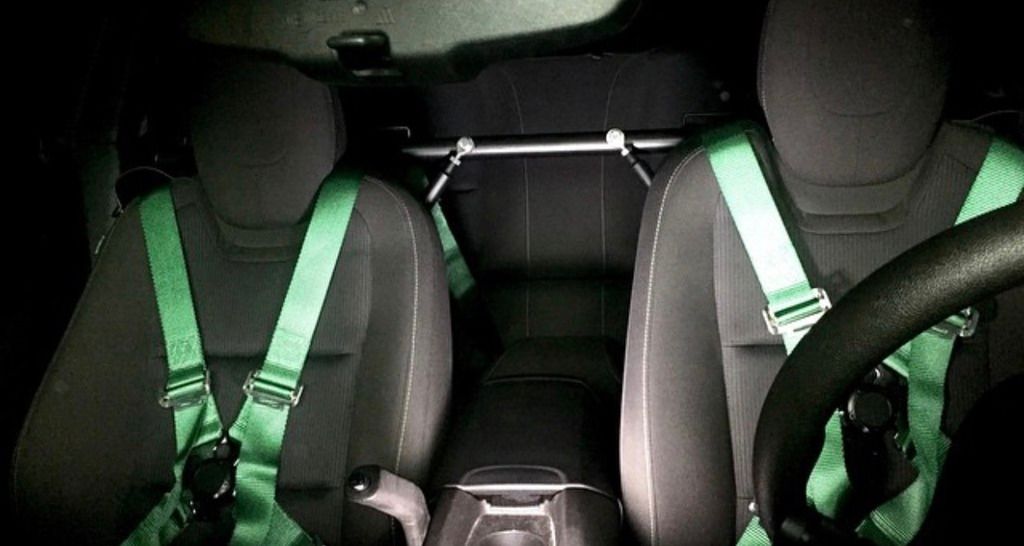 Before my first autocross event, I had my mufflers taken off and put some 3.5" quad-tips on with a new quad-tipped diffuser as well. After a while one of my taillights had gone out so when I was changing the bulb it was a perfect excuse to paint the taillight bezels matte black. I also for the time being had plastic-dipped the Oem spoiler matte black. A year went by without any mods. Around August 2015 I started to want to change everything up again so I ordered a Zl1 grille, and a ZL1 spoiler. While installing the grille I thought it was the perfect time to wrap my front bowtie in carbon fiber! I also had the spoiler painted gloss metallic black.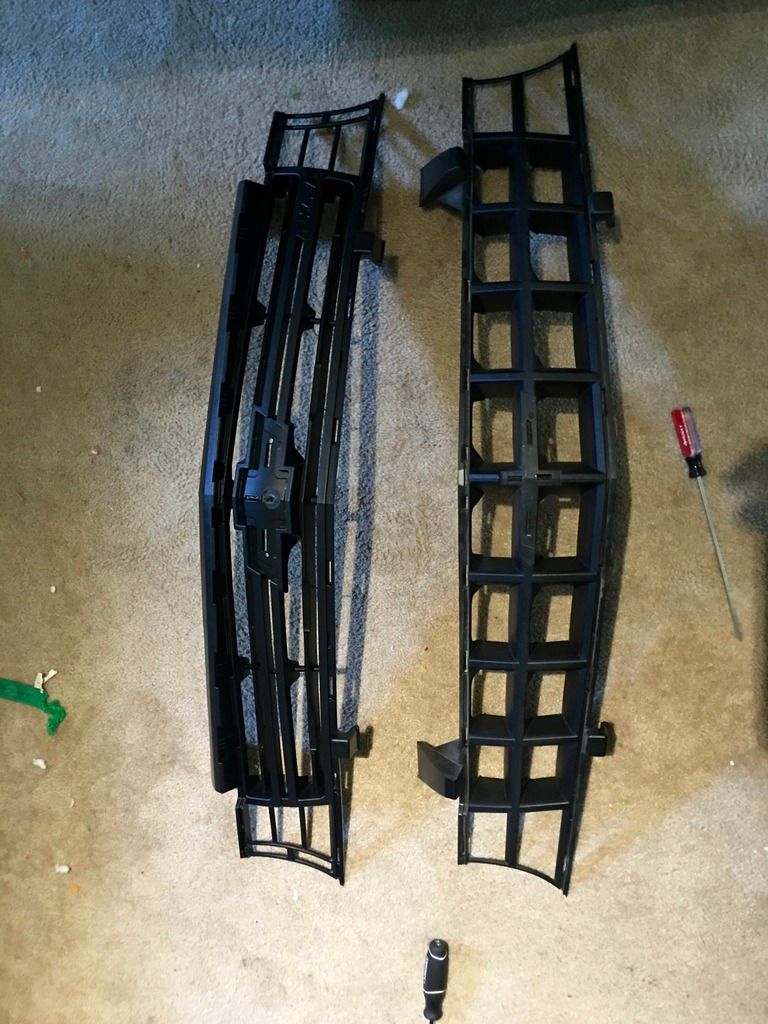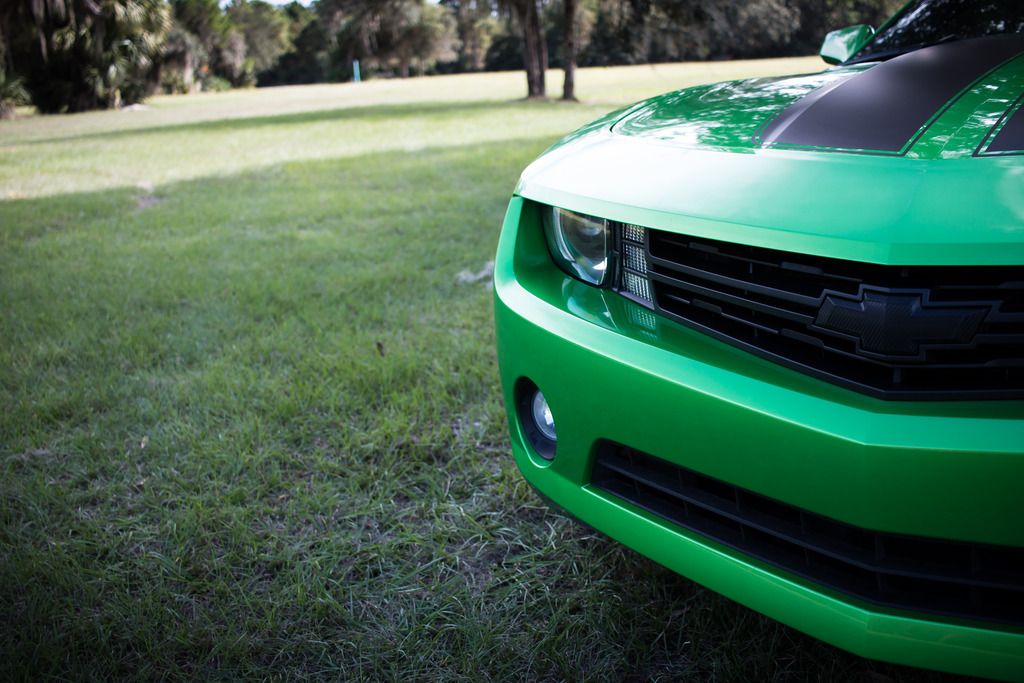 For this Christmas my girlfriend surprised me with getting me a Matte black 'Lowered Lifestyle' window banner.
Everything was going great and than all of a sudden I lost all of the compression in 6th cylinder.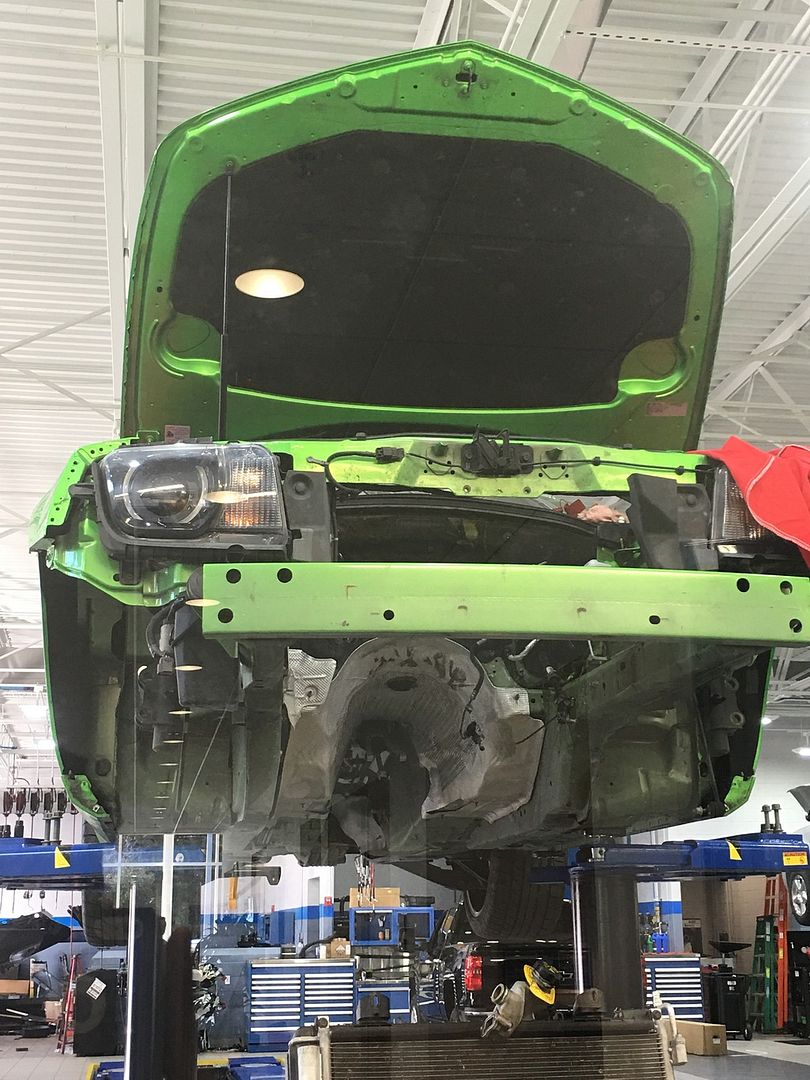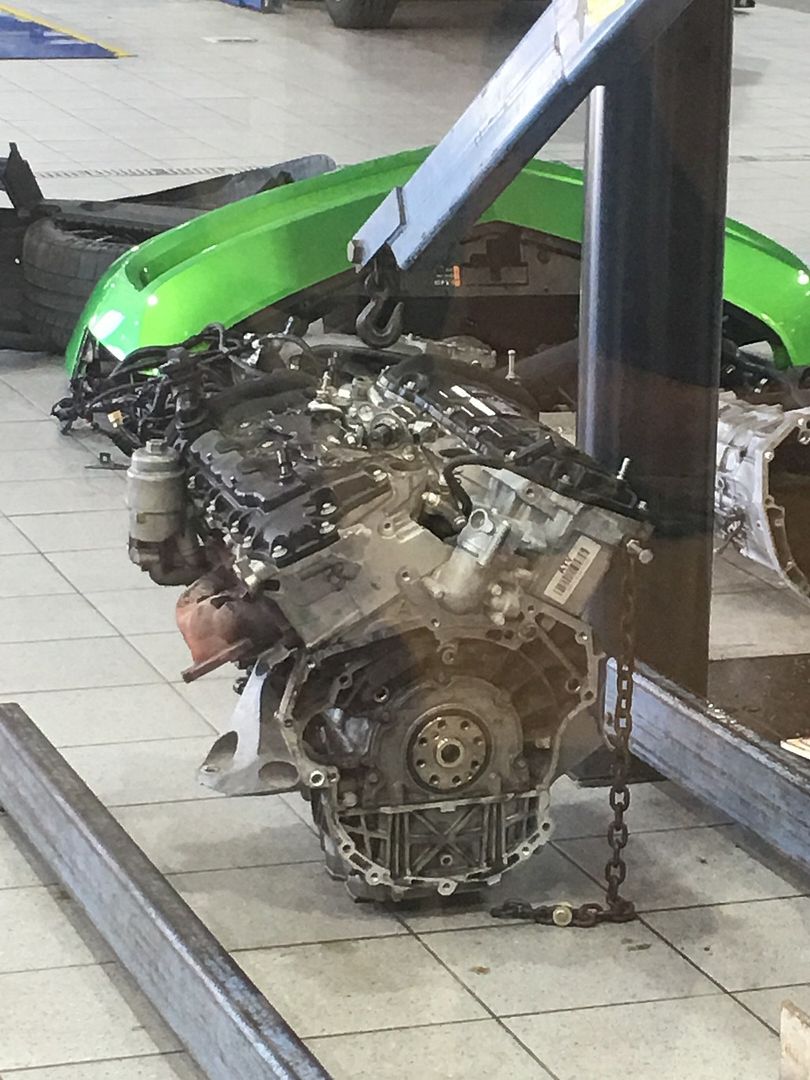 Thank God I was still under warranty! so after being amaro-less for about two weeks I finally got the call that it had a brand new 0 mile LLT engine in it! Now that I have a brand new engine I have decided that it was time to go all out with my build and to do something that was unique so I ordered a full matte black vinyl from Car Wrap Supplier, Side rockers and winglets from ACS, a ZL1 front bumper from Phastek Performance, and interior footwell lighting from Phastek as well. At this point right now I am in the middle of installing all of these things as well as wrapping the interior parts so as soon as I am done I will be updating this journal with pictures of everything!