ZL1 has a 9.9" ring gear and cast iron housing, ss has 8.6" gear and aluminum housing. For reference the venerable 12 bolt gear is 8.875", the Dana 60 is 9.75", the 14bolt semi-floater (Lingenfelter) is 9.5" and the full floater is 10.5" That puts the ZL1 rear in some good company as far as ring gear size goes. As with anything there are other factors that could make it stronger or weaker than any specific axle, but those differences can even be found within various builds of a single kind of axle, e.g. different types of Dana 60s.

Moving to a ZL1 will cost you about 4k total but based on what you see on the forums, they are one of the strongest setups you can find for these cars.
__________________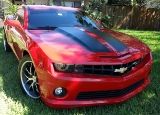 2010 SS w/LS9 cam, headers, nitrous and Blackbear tune.