Cincinnati Speed made the original ones for $150. I think that is what Phasetek was selling. The trick is the plate that pushes the bushing has to be just smaller than the ID of the bushing casing and fit over the aluminum hub. I tried to make one but ended up doing it the hard way (hammer and chisel). Some guys say you can work it out with a good air hammer, but I know my air hammer would not have been up to the task.

I would think Snap-on or MAC make one by now if you really want to use one.
__________________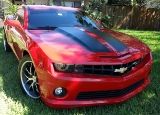 2010 SS w/LS9 cam, headers, nitrous and Blackbear tune.