Foreward: I only had a couple of hours to prepare this Ferrari for a car show, so speed was the name of the game, BUT I could not sacrifice the quality of shine.
BLACKFIRE products have always been known for their concours winning, neck-snapping, whiplash creating shine. In 2012, PBMG expanded this amazing line, offering exciting new products that featured the Wet Diamond polymer system. The combination of the All-New BLACKFIRE Total Polish & Seal and the All-New BLACKFIRE Crystal Seal offer an exciting new way to keep those heads turning.
The Wet Diamond Polymer System features three uniquely sized polymers, each carefully soured from around the world. These three polymers work together to create a unique look that is unmistakably three-dimensional and completely BLACKFIRE.
First the paint was washed using Ultima Paint Guard Wash and clayed using the Ultima Elastrofoam Paint Cleaning System. You can read about the reviews of those products here:
Ultima Paint Guard Wash Review
Ultima Elastrofoam Paint Cleaning System Review
With the paint dry and ready for polishing it was time to create the "Rapid Fire" shine of BLACKFIRE. ALL BLACKFIRE waxes and sealants utilize the Wet Diamond Polymer system. While a lot of brands will talk about how their products work together, this is true of most products on the market. It is why many people mix and match their way to a high-gloss shine. With BLACKFIRE you get a syngestic excellence that ensure that not only to they work together, but they excel together.
This thread shows some of the of the nicknames of the favorite combinations used:
BLACKFIRE WHIPLASH Combinations
Rapid Fire
Rapid Fire is the combination of two BLACKFIRE Products, both featuring the Wet Diamond Polymer System.
BLACKFIRE Total Polish And Seal-
BFTPnS (as it is known in the acronym filled world of the internet) combines the best aspects of a fine grade paint polish, paint cleanser, and paint sealant in one. The foundation of this product is the Wet Diamond Polymer System. It has enough polishing power to remove fine swirl marks and level the surface to create a brilliant, high-powered shine. As it works it leaves behind a coating of the Wet Diamond Polymers. BLACKFIRE Total Polish And Seal can be used as stand alone product or as the foundation for other BLACKFIRE products. It works equally well by hand or DA style polisher.
BLACKFIRE Crystal Seal-
BFCS is the fastest way to leave behind a high gloss coating of BLACKFIRE Wet Diamond Polymers. Some have named it the 11 minute sealant because of how fast it works. BLACKFIRE Crystal Seal is a Wipe-On/Walk-Away sealant. You simply mist it onto a foam or microfiber applicator, spread over the surface, and your done!!! The sealant will self-level on the surface and cure. No extra work needed.
Starting with BLACKFIRE Total Polish and Seal... This polish/sealant works great by hand or machine, although for maximum cleaning power it is best to use a dual-action style polisher. I chose to apply Total Polish and Seal with a FLEX 3401 and Lake Country White CCS Polishing Pad.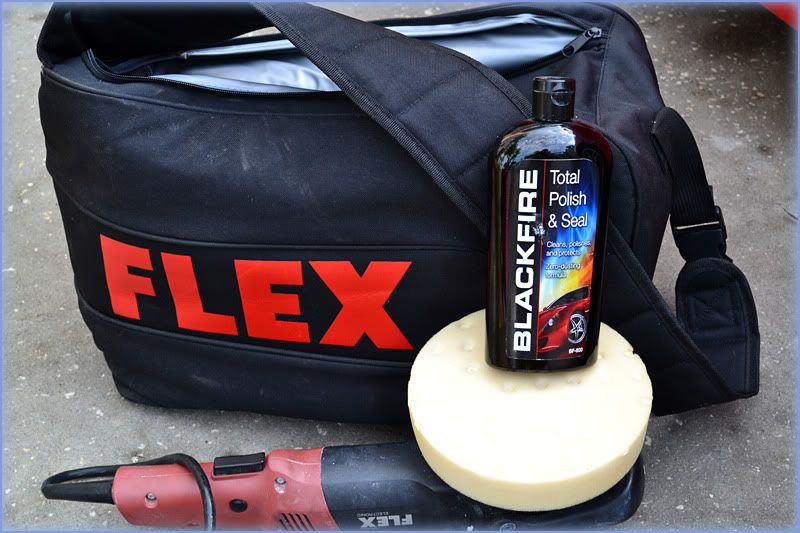 Application couldn't be easier. Simply apply three drops to foam pad and place the machine on the paint. If you are using a Porter Cable style (random orbital DA) use speed 5, if you are using the mightly FLEX, use speed 4.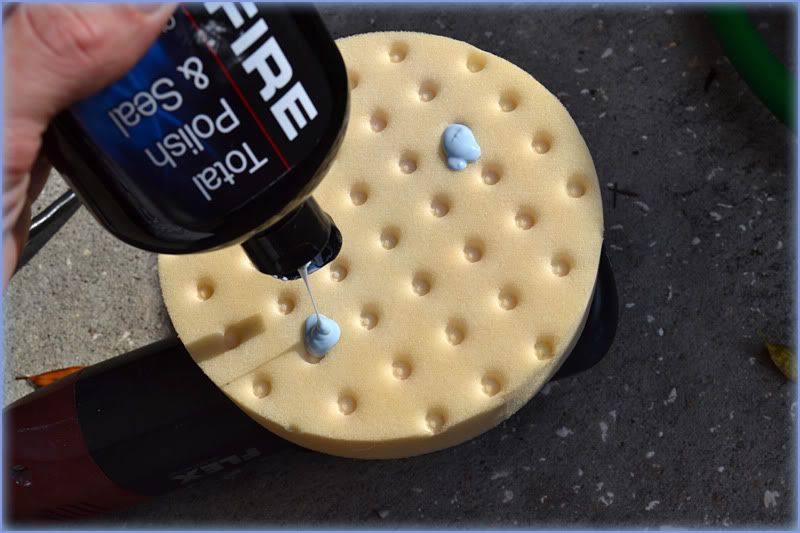 Now polish in overlapping passes using firm (not excessive pressure) over an area about 3 feet x 3 feet. Keep working until the BLACKFIRE Total Polish and Seal turns into a very light (almost invisible) film on the paint.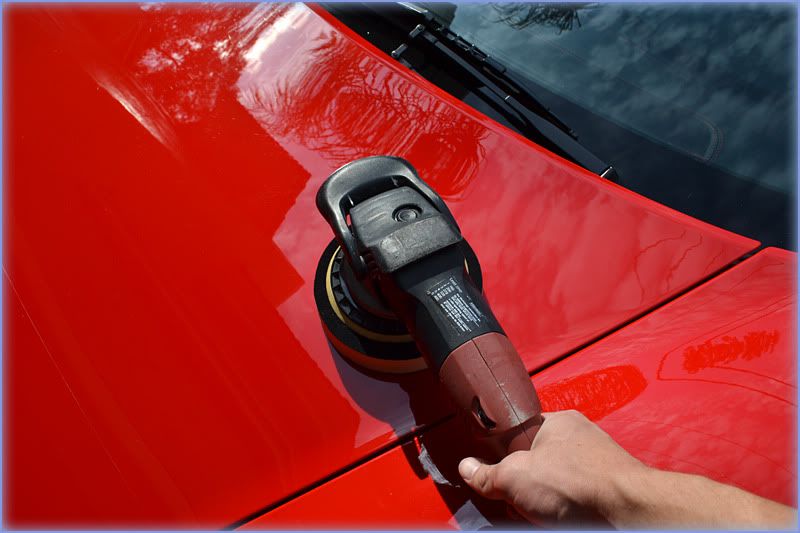 When a fine film of product is left (barely visible in the below picture) you are done.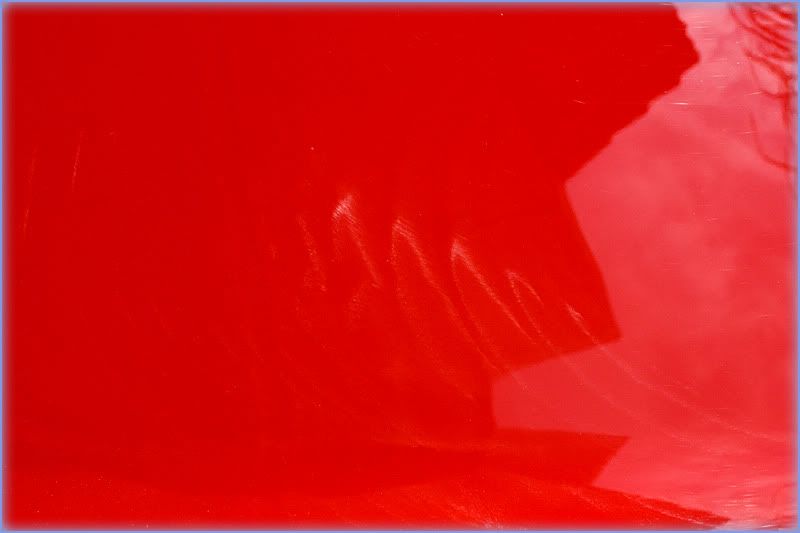 Wipe away residues using a soft microfiber towel. I used a Supreme 530.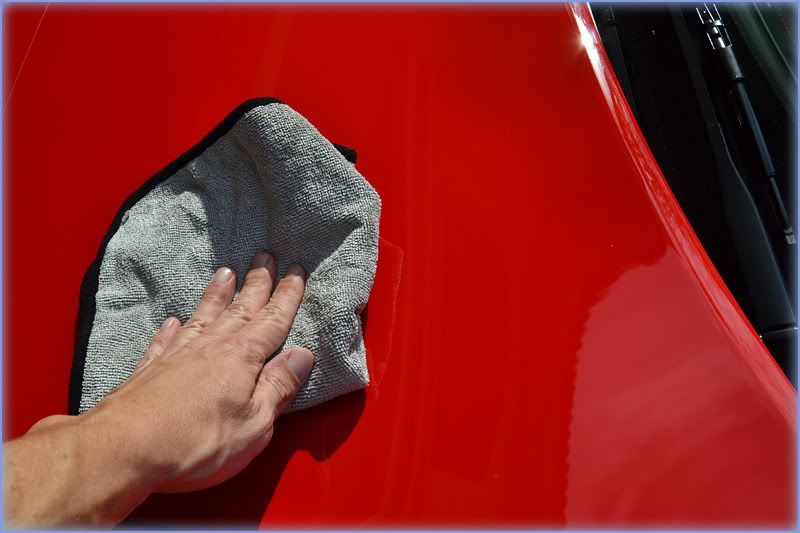 And that's it for Total Polish and Seal. Application is that easy! Apply 3 drops, work it using firm pressure until it is almost clear, then wipe off. I repeated this process, cleaning, polishing, and protecting the Ferrari's paint over the entire car. It slightly more than 1 hour to complete.
The second step in the "Rapid Fire" combination is BLACKFIRE Crystal Seal, affectionately referred to as
the 11 minute paint sealant
.
Both Totat Polish and Seal and Crystal Seal are extremely fast curing. You can begin to apply BLACKFIRE Crystal Seal as soon as you are done wiping off the final residues from TPnS.
To apply BLACKFIRE Crystal Seal (this one is EASY), start by misting the BLACKFIRE Indigo Applicator Pad with one light spray.
Using a quick sweeping motion, mist the section of paint you want to seal. Crystal seal is
extremely concentrated-
10 mists should cover an average size car with little trouble. Apply thin!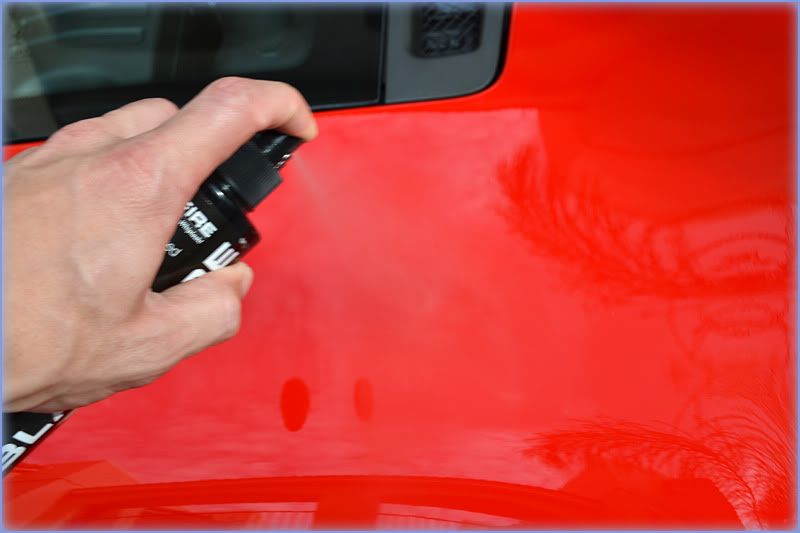 Now spread over the second into an even coat.
In the picture below you can see that at first Crystal Seal will leave a light (every light, thinner is better) oily film on the paint. However this film is actually the sealant self leveling and begining to cure (almost instantly). So the film will evaporate and you will be left with a rich, high-gloss, and deep shine.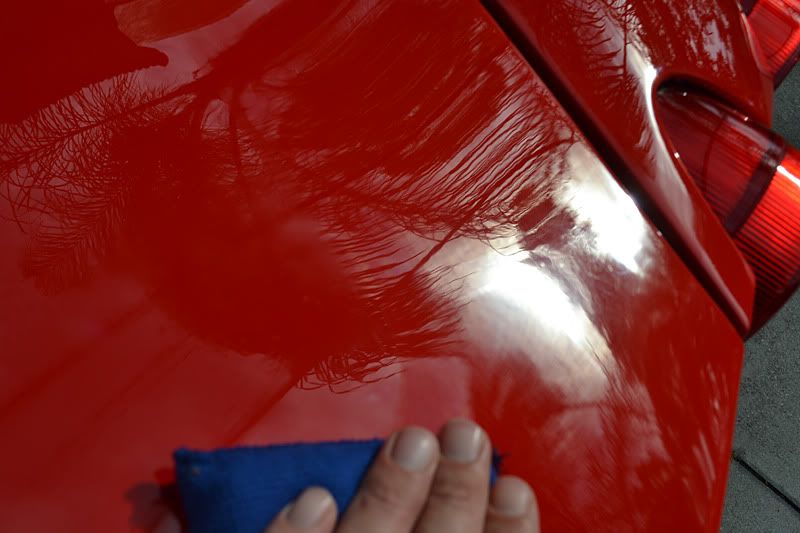 BLACKFIRE Crystal Seal works great on just about ever exterior surface except soft convertiable tops and tires. Use it on glass.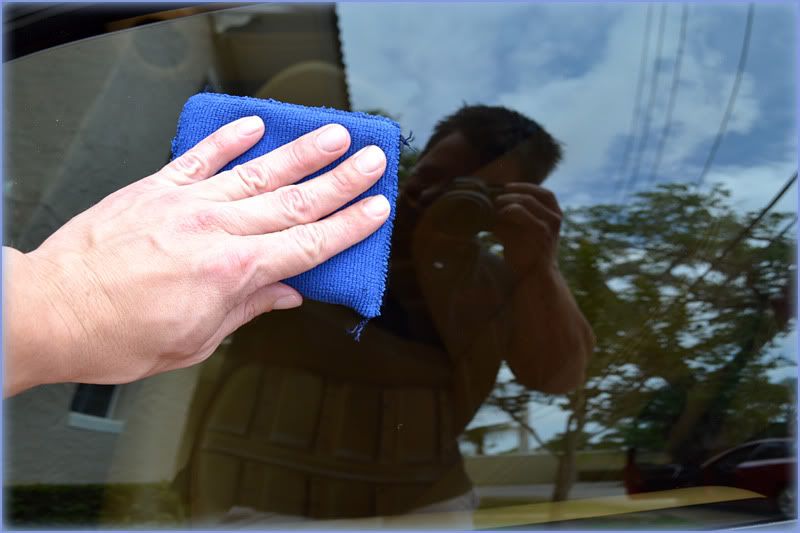 Crystal Seal is the fastest way to seal intricate wheel designs.
BLACKFIRE Crystal Seal work great of paint protection films such as Clear-Bra as well as plastics, headlight covers, and acrylics.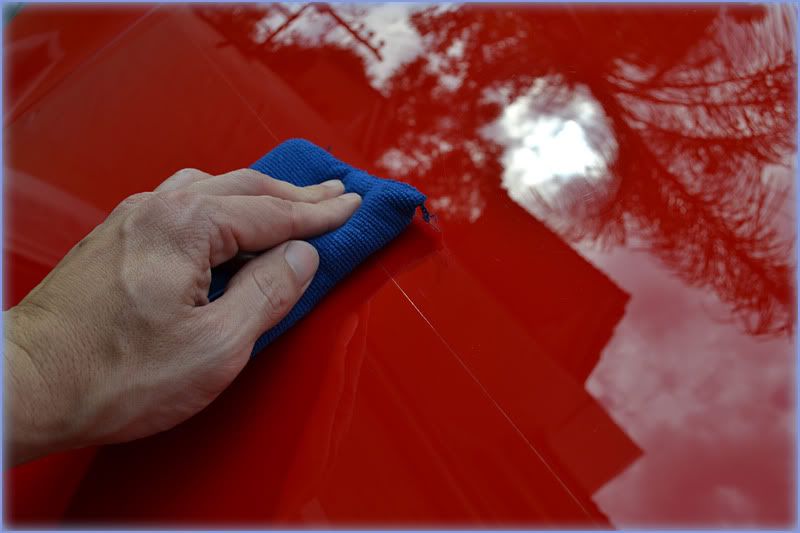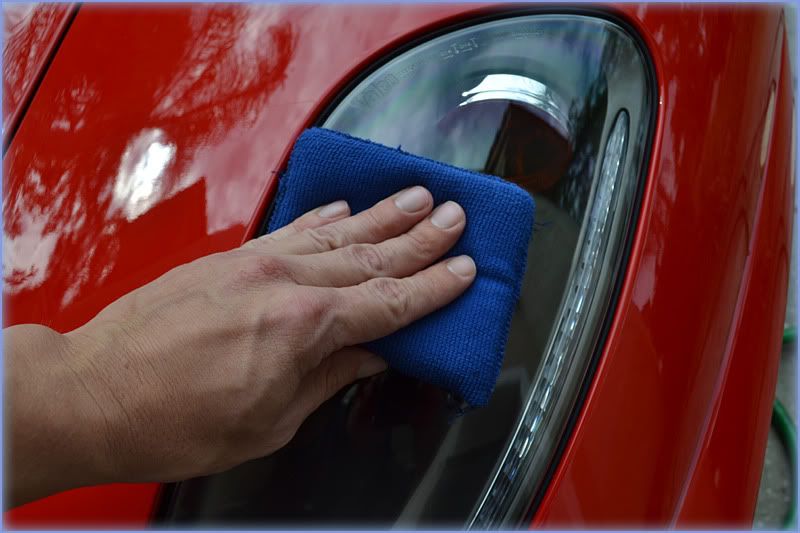 In 15 minutes the finish should be completely streak free (any streaks will be from over application, spread them out with microfiber towel and they will quickly dissipate).
The result will be a liquid wet shine....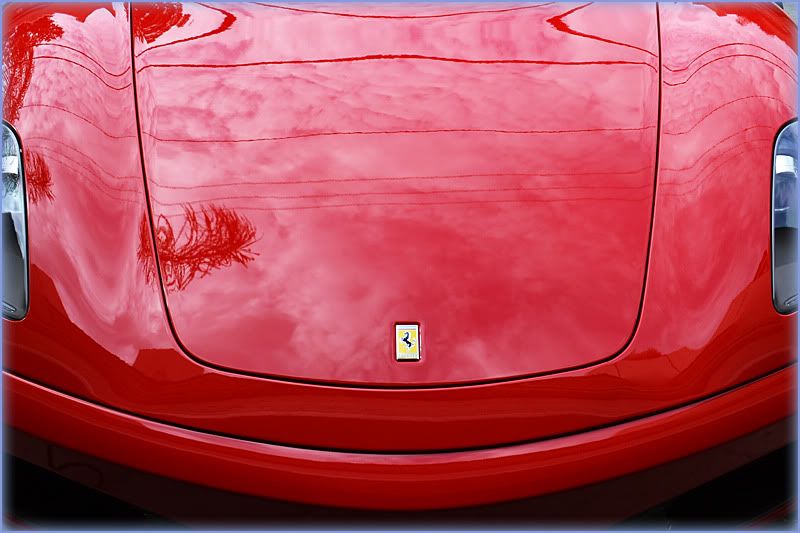 The sun was threatening to break out from the cloud cover so I wanted to finish up some final details and take some after pictures.
First I applied the excellent, water-based BLACKFIRE Total Eclipse Tire Shine Spray to the tires. The left side (starting just right of the trigger spray) is dressed, the right side isn't.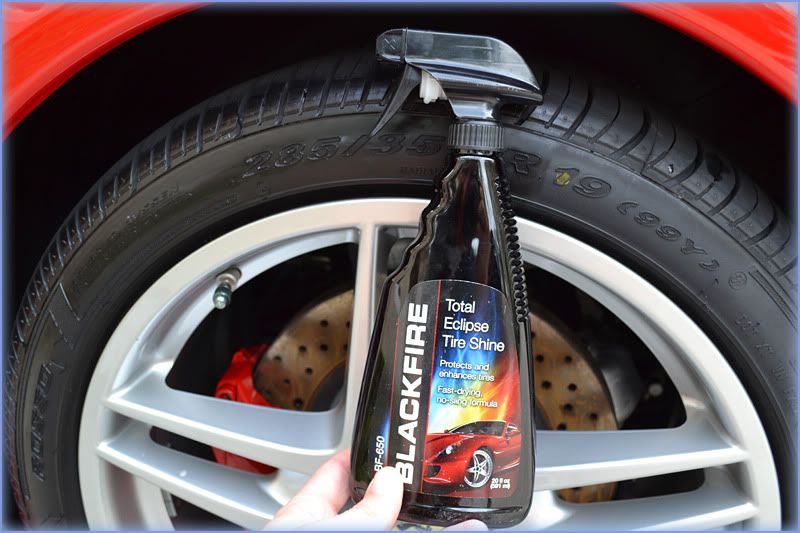 Ferrari's and boats use canvas windows which can become cloudy over time. BLACKFIRE Total Polish & Seal is a perfect solution this oxidation/fogging.
You can see the rear window is hard to see through.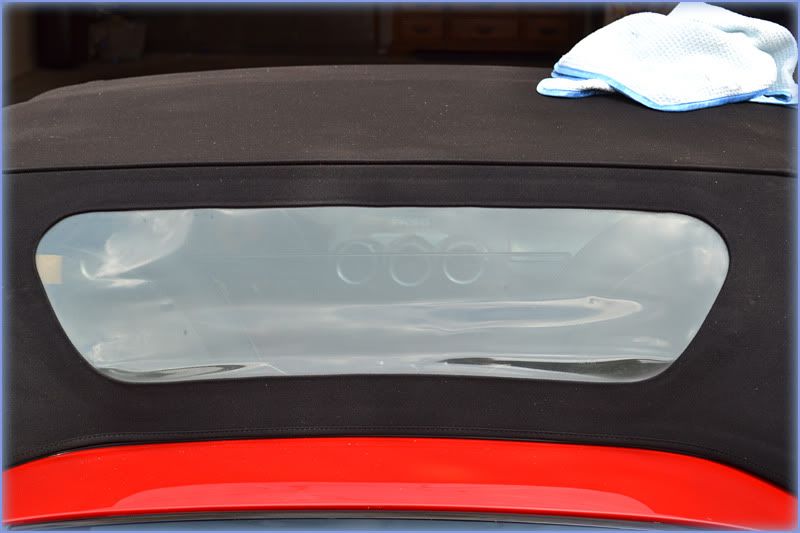 Lightly working BLACKFIRE Total Polish & Seal by hand using a soft foam applicator quickly remedied the situation. The cleaners and ultra fine polishing agents in BFTPnS restored clarity to the window, while the Wet Diamond Polymers offered considerable protection.
Left side polished.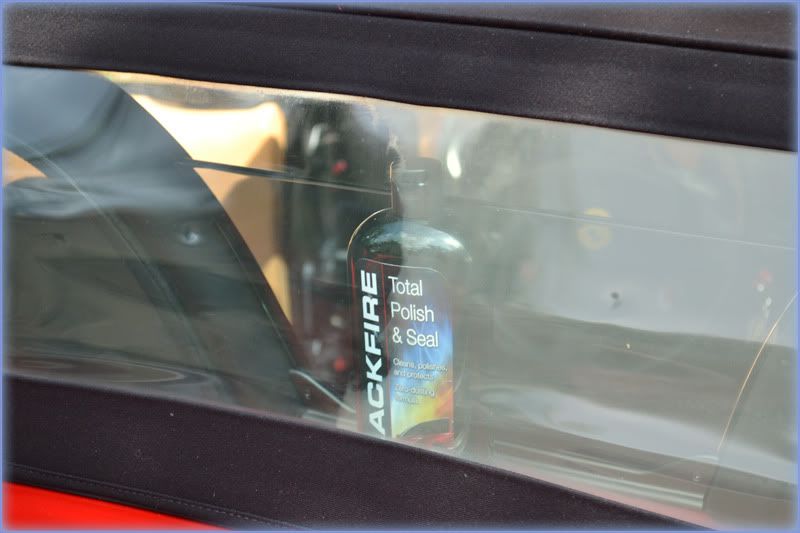 Final Pictures of "Rapid Fire".
The day in Orlando, Florida was overcast with the sun peaking out of the clouds, then hiding behind a layer, and finally, at the very end bursting out in setting the Rapid Fire Ferrari in a blaze of color. Ultimately the rapidly changing lighting conditions to the best to show the true color saturation and range of the Rapid Fire Ferrari.
Liquid wet reflections in the shade.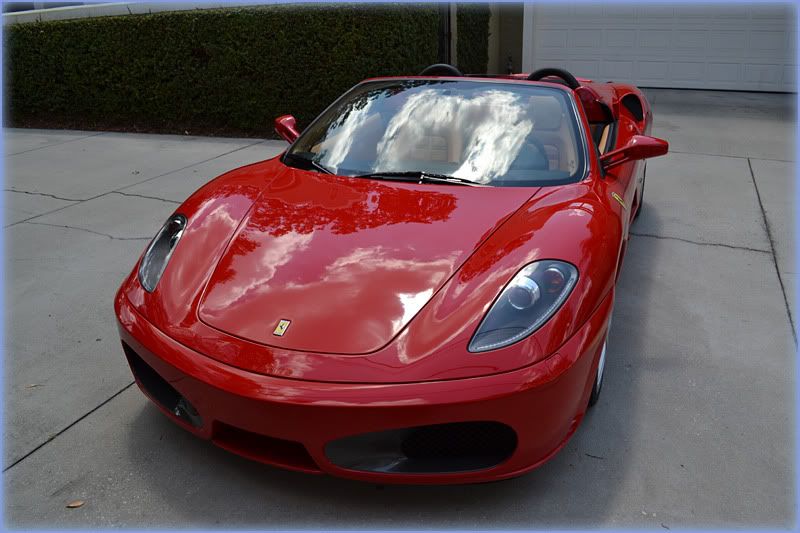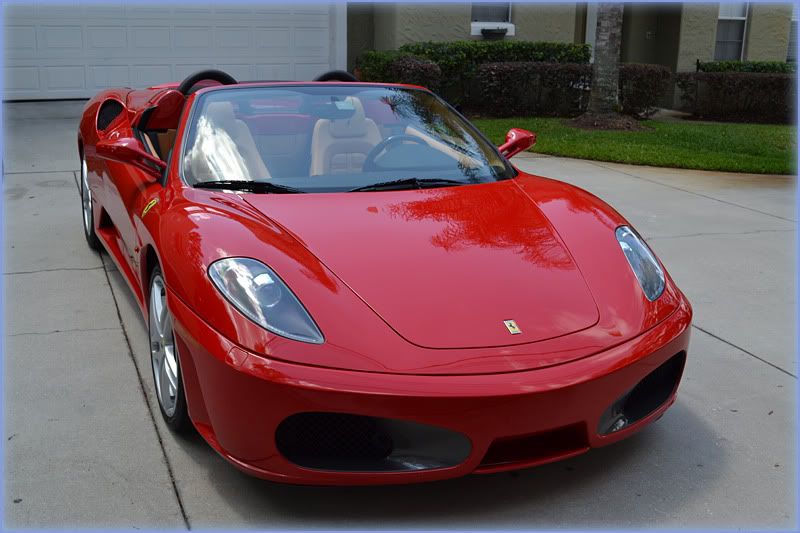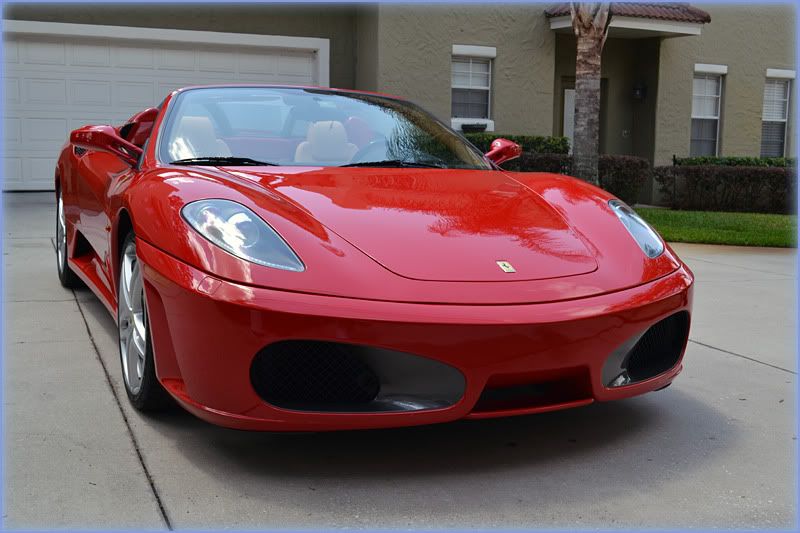 The Rosso Corsa red had a high level of color saturation as the sun began to peak out.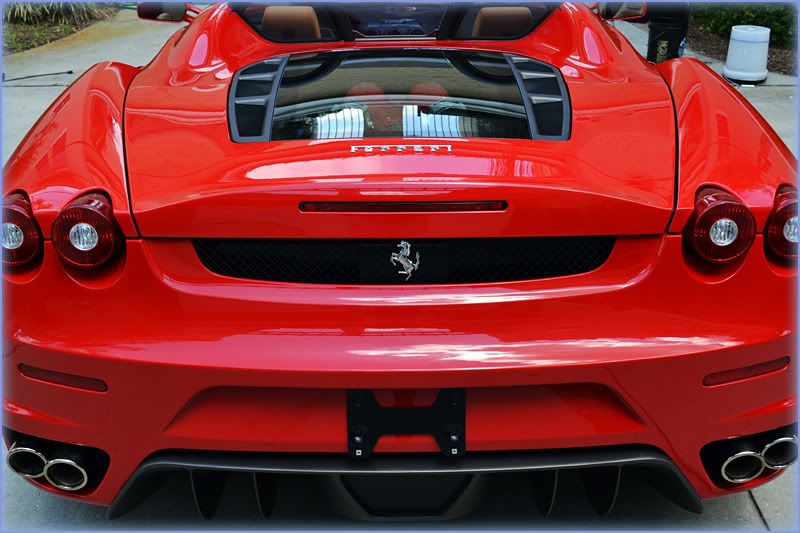 The emergence of a slight level of light really set the red on fire.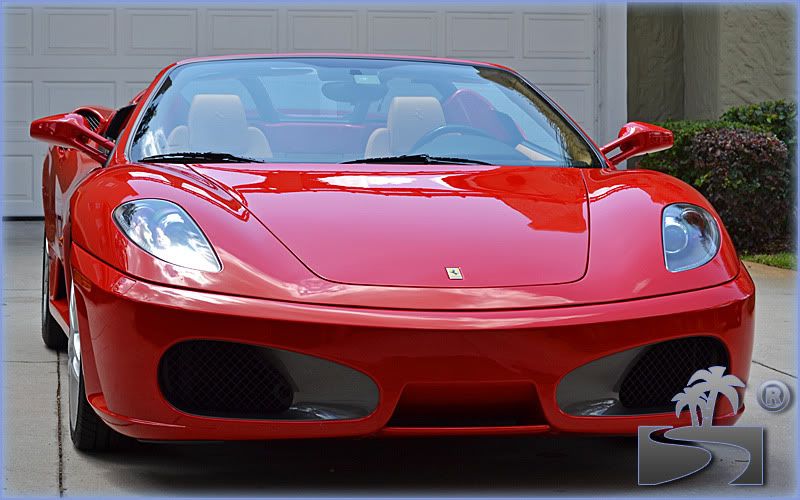 And with the sun out the full WHIPLASH creating shine was in full blaze.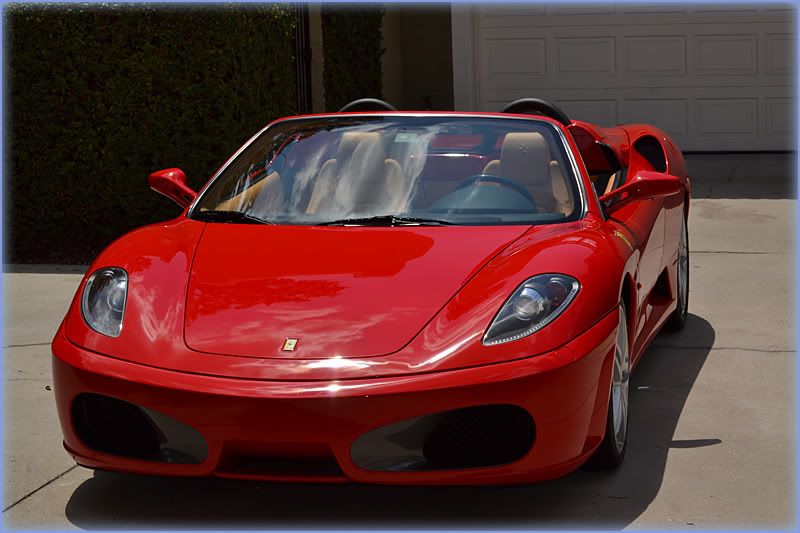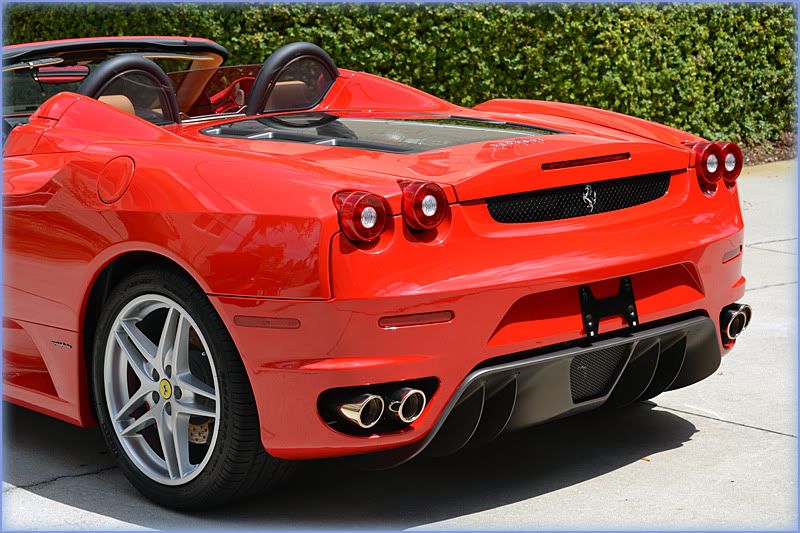 Normally creating a WHIPLASH shine take hours and hours and hours, but with BLACKFIRE's "Rapid Fire" combination of Total Polish & Seal and Crystal Seal, the total time spent polishing and sealing the paint was well under two hours!!