So hereís my review on Fastlaneís Stage4 Single Turbo Kit.
I had picked this kit over other turbo kits for the 5th gen Camaros. Looking at the kit I liked how it sat in the engine bay real nice and clean, dyno sheet showed nice steady power through the RPM range, and was told that they are a reputable shop. I called up and ordered the kit from Mike at Fastlane. From my experience with talking to a lot of the employees there, Mike was the one who always helped and returned emails. I received the kit it pieces, one box had the boost piping and exhaust piping, another had oil pluming, bov, wastegate, and injectors. Setting everything down in the shop I noticed I was missing the following: intercooler(Mike told me it was backordered and will ship asap), oil catch can and breather, or ANY hardware. I called up and told them what was missing, by that time I got the tracking number for the intercooler(very fast on getting that out), oil catch can they said they were sorry and will ship it out, and as for the hardware, well I got transferred to their guy that puts the kit together and apologized for that, Meanwhile I couldnít wait any longer for bolts and washers to be sent out, so about $80 worth of hardware I bought. Thatís where it all started going downhill. Putting the kit on the car I noticed the changes in the advertised kit in the picture below to what I actually got.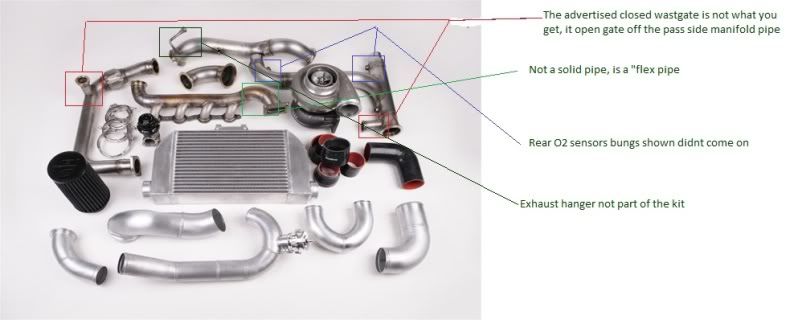 I got the kit with the understanding it wasnít an open dump wastegate setup, got the kit and itís an open dump so now I have to make piping for it to dump into the exhaust. Continuing the exhaust install I noticed that there was no rear o2 sensor bungs welded as the picture shows. They also added a flex pipe to the turbo manifold. Now getting onto the boost piping; the bracket that holds the intercooler to the car had to be fabricated to bolt onto the car no matter which way I put it. The boost piping was an extremely tight fit but is very nice on the fabrication. Now onto the fuel injectors, this is where I got extremely mad, when I ordered the kit I ordered it with 65lbs injectors, come to find out the hard way on the dyno that I had 50-55lbs injectors. I called you and never got a call back, a total of 6 messaged I had left. So after that I sent an email to Nick and Mike explaining that I spend a lot of money on this kit and nothing was like was advertised and was missing about $300+ worth of miscellaneous parts and hardware. Finally got an email back about the injectors. Spending all this money on the kit and having all these problems they told me to PAY them 550 for the 65lbs injectors that I ordered and didnít receive and will refund me the money when they get the 50lbs injectors back. I donít have that kind of money nor can I be down a car to send their wrong injectors back. After that I was told they will get back to me and 3 weeks go buy and still nothing. Iím tired of playing the tag game and using all my time to just try and get a hold of them via email or phone. After I got the kit and they got their money, customer service was terrible and trying to get a hold of anyone was a joke. I still have the turbo kit on the car and fixed all that was wrong. Will not be getting anything from them again or recommend this kit to anyone after this experience. I had bought a bolt on kit and it turned into more finding my once hardware and adding what wasnít on the kit.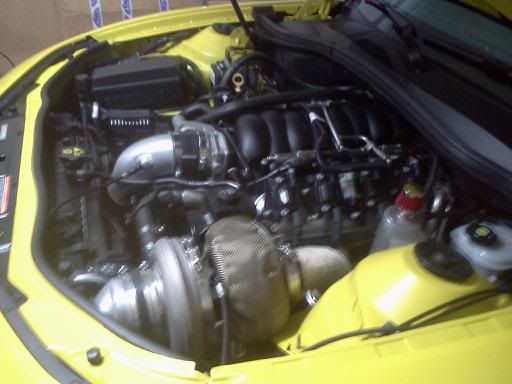 __________________
Daily Driver - 2003 Chevy ZR5 S-10 4DR
Race Car - 2010 Chevy Camaro SS BUILT 376 With Go-Fast Goodies

Originally Posted by speedmon
But I would let Bumblebee install a Turbo on my car any day.....
So BB if you want to come to CA for a vacation, I gotta air-conditioned garage, a pool, Barbque, bar with fridge and I know some chicks who will absolutely destroy you....