Figured Id post this here so you guys that have more experience can tear me up and spit me back out
. Keep in mind this is only the third time Iv had this car to the track and only the fourth time Iv ever taken anything down the track myself so any and all kinds of advice is welcome.
I tried putting them in order since their printer was wack and cut off most of the time, however the first two slips are flip flopped and the rest is in order.
Basically a stock SS M6 on stock tires (CAI, Hurst STS and a catback)
Car #271 (#251 on one of the slips)
First pass
-I missed second gear, was able to recover from it half decently.
Second pass
-I spun it in first and got a bit sideways before short shifting to second
*lowered my rear air pressure to 26psi and started doing slight burn out to clean the tires off*
Third pass
-bogged at the start, killing my 60'. Check out that RT though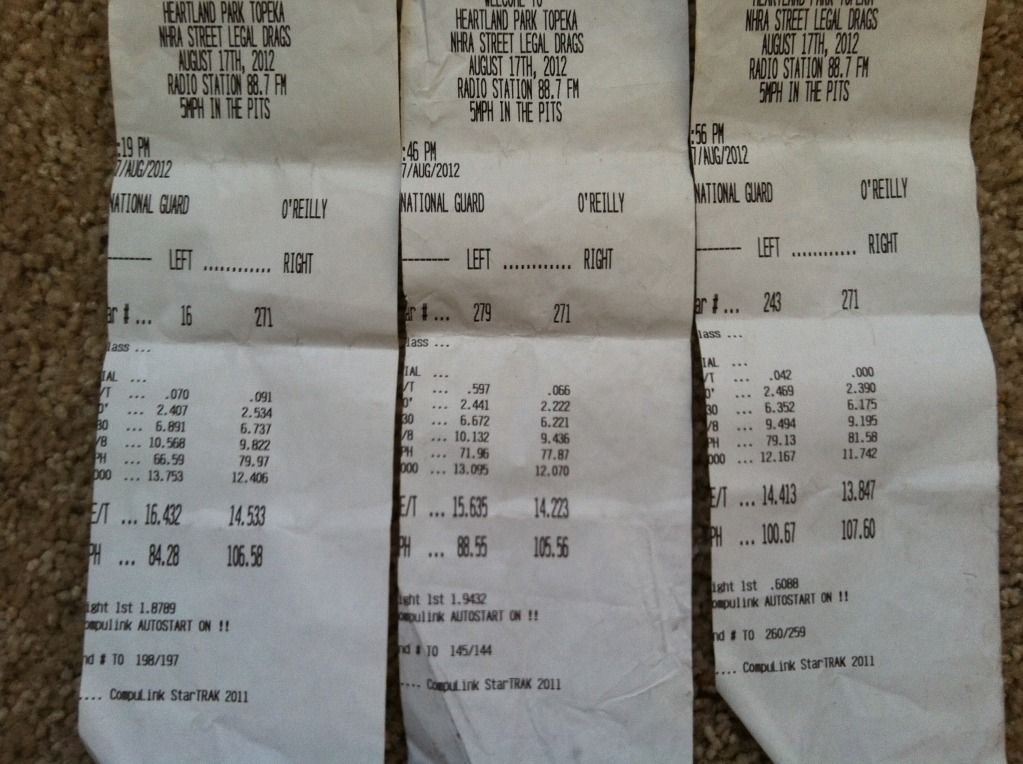 Fourth pass
- Snoozed a little at the light(compared to the rest of the night) but it went a lot better then all the prior passes, although I had some grinding going into 2nd and 3rd. The other car was a 5.0.

Fifth pass
-Jumped the light ever so slightly but a damn near identical pass, only zero grinding going into 2nd and 3rd. Personal best so far, even though its probably some of your guys' personal worst

Sixth pass
-Jumped the gun again and had slight wheel spin and then out of no where I had some real nasty wheel hop when I shifted to 3rd

. Other car was the same 5.0 from my 4th pass, I had to fallow him back to the staging lane and give him some props before I headed home after that run.
If you ain't red lighting, you ain't trying hard enough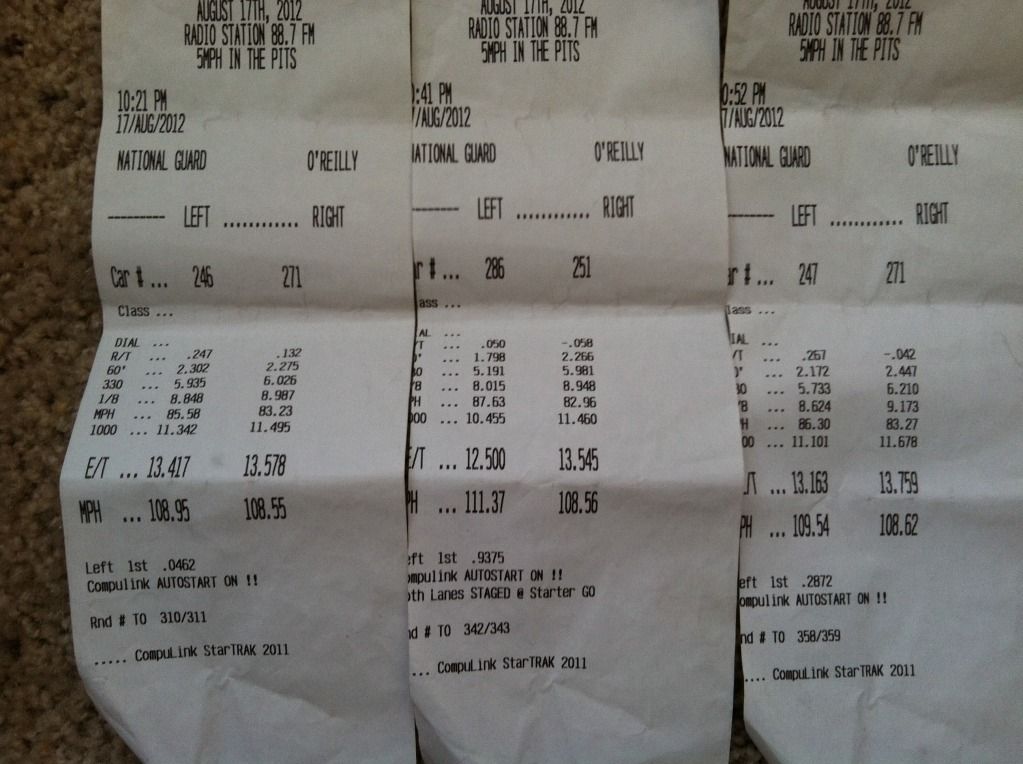 Overall, I had some fun and met some awesome guys with some wicked cars. And glad that I am still improving each time I hit the track. Before friday night, my RT's were usually around .2xx-.3xx+. Took someones advice I read on here and just tunnel visioned on that third amber light and that really helped my RT's so damn much and got me my first perfect light. And I know my shifting needs work too, but im just not sure what im doing wrong.
I can't seem to find the sweet spot where I don't bog and I don't spin at the start. Track prep for 'Test & Tune' of course isn't that great anyways. I've been leaving the light at ~ 2300-2400rpm(based off sound, I should set a camera up to see what I actually leave at), seems like if I leave any higher then that its spin city. So maybe I should try hitting up the track for some bracket racing and see if I can get some better traction then

. Or should I try to feather out the clutch a little bit more the higher rpm I leave at? My goal is to atleast get faster then a 13.300 by the end of fall, and I sure in hell can't do that with my 60' times.
Criticism is what im looking for here, be as brutal as you can