Patriot Performance Gold Valve Spring Kit for LS3 Engine #8401 :: 2010-2012 Camaro SS
[img]http://www.phastekperformance.com/v/vspfiles/photos/PATRIOT-CAMARO-459LS10651-16-2.jpg[.img]
2010, 2011, 2012 Camaro SS Gold Valve Spring Kit for LS3 Engine by Patriot Performance
Patriot Performance's legendary Gold spring kit is probably the most used "drop-in" LS dual spring kit in the LS community. These complete spring consists of 16 Patriot Gold dual springs, 16 titanium retainers, 32 Super 7 Machined locks, 16 .505" ID machined spring bases, and 16 viton rubber seals. This kit will work with both stock and aftermarket rocker arms. No cutting or machining of the stock spring pocket is needed.
*1 kit required per pair of heads.
Technical Specs:
Install Height: 1.800"
Max. Valve Spring Lift: 0.650"
Spring Pressure Closed: 135 lbs. @ 1.800"
Spring Pressure Open: 375 lbs. @ 1.150"
Coil Bind: 1.090"
Retainer Material: Titanium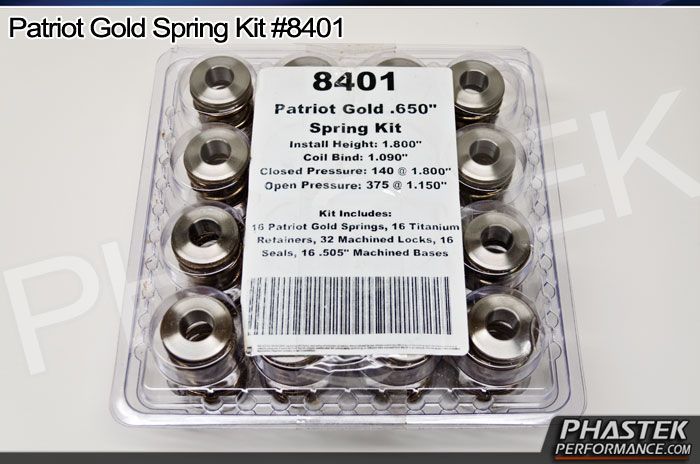 Place your orders at www.PhastekPerformance.com