Quote:
Originally Posted by
Tee-Bone

Looking to lower my camaro about 1.5 inches. Any recommendation. And besides springs is there any other parts need to do it.
+1 to what everyone is saying about not going more than 1-1.25" drop.
Check out our LSR springs, they offer an approximate 1" (F) and 1.25" (R) drop which essentially levels the car. They are made in the USA and feature a
lifetime warranty
. They also have a great ride quality and will improve handling (lowering the center of gravity and by using a stiffer spring rate). And they're on sale!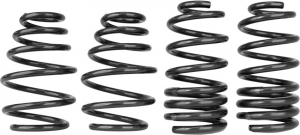 You can check out our thread on these here (where folks posted reviews as well as photos with their drop):
http://www.camaro5.com/forums/showthread.php?t=238654
I can't mention price as per forum rules but shoot me a PM, I'd be glad to help!