Our latest upgrade to our product line..
31 Spline axles.
Yep, we have made a major improvement that will soon be available on Gforce axles.
You might have seen us talking about out 33 spline Outlaw axles in a few big power high end builds.
The problem with the huge 33 spline axles was the cv joint was huge and you had to clearance the control arms to get them to fit properly.
What we needed was a larger axle bar that would fit in a standard 930 style cv housing.
There were a couple options available from a couple sources but we didn't like the fact that they were based on a standard cv star and sacrificed strength as the axle bar got larger.
So what we did was we designed and manufactured our own.
We used FEM modeling to show us where the weak areas were on the standard cv stars and then we added material to every aspect of the cv star to make it stronger, added over a 1/4" of spline engagement area and also made the new cv stars out of a really strong aerospace material that has even better impact shock load ratings then 300m.
We will also be coating our new cv stars in a special Maganese coating that you find on high end firearms to give it better surface lubricating properties.
Our new cv stars will be machined right here in house on our cnc machines.
Take a look at how our new cv stars dwarfs the standard 28 spline and even the 30 spline cv stars.
(28 spline on left, 30 spline in middle and our new 31 spline on right)
(28 spline on left, 30 spline in middle and our new 31 spline on right)
Here is a photo showing the stock axle on the left, a 28 spline axle, a 30 spline axle and then our new 31 spline axle on the right.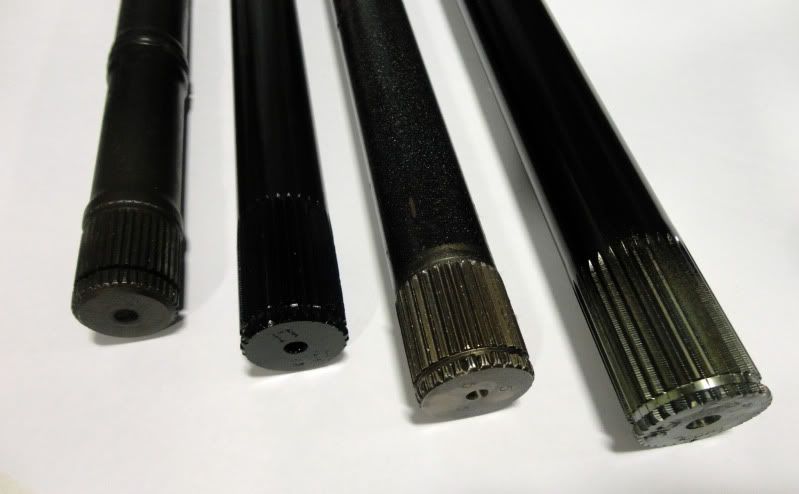 By designing a larger splined cv joint, it allows us to use a considerably larger and stronger axle bar.
Our new 31 spline axle bar is HUGE!
Preliminary testing has been done on these axles in our shop car.
We will be also testing the new axles in a couple of Camaro's over the next few weeks.
Production is in full swing so start looking for our new 31 spline axles being available in the next few weeks.
We can also add our 300m cages to this combination to make a bullit proof combination.
Give us a call if you have any questions.
Thanks
Chris