Auto Finesse is now back in stock - some new items are now available.

New from Auto Finesse in 2013
We are proud to present you with the latest detailing products to the line for 2013. We're sure some of our more avid followers will already be aware of some of the new additions from all our teaser shots around the web, but here's the official images and specs on what we have coming soon:

Illusion – Show Wax
This is an exciting product for us, after months of working at this and testing and trailing endless variations we believe we have nailed it on the front of an out and out show wax. The levels of depth and gloss are the highest in our range with durability around 2-3 months, usability is always something we strive to deliver and Illusion really is a leap forward in our wax range. Its oily nature makes it spread incredibly far with ease, removal is equally as simple, you can apply to the whole car then come back and buff back off, removal of the cured wax is still incredibly easy when left for 1-2 or even up to three hours, we have left it on complete cars over night and removed it the following day with no problem (obviously this is only advised if your working in the correct environment) so here it is in all its glory: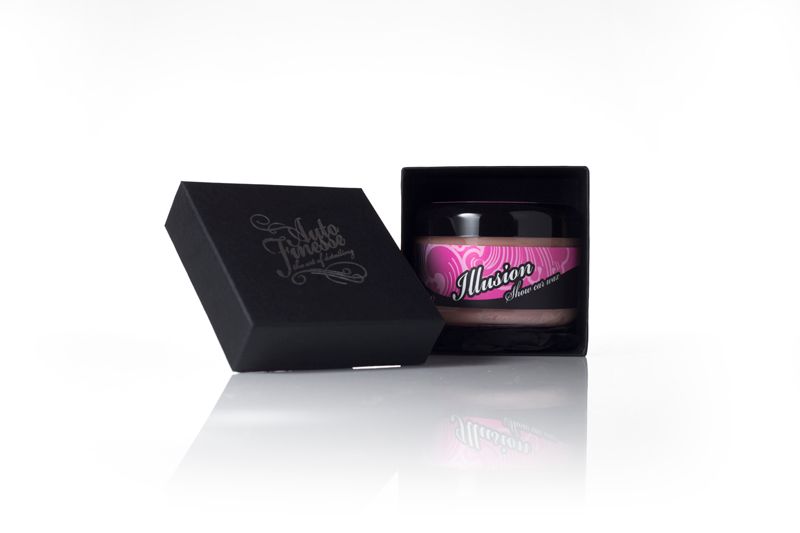 Illusion 200ml

Hog hair detailing brushes
These luxury detailing brushes are hand crafted in the UK, with fully balanced solid wood handle, epoxy set chopped Hog hair bristles that are up to 75% longer than the industry standard, enabling them to clean deep spoke designs easier and safer, the no metal construction makes them incredibly durable too.
Supplied as pair 25mm detail brush and 35mm wheel brush set:
Revitalise paint correction system
The Revitalise system has been developed to provide beginners and enthusiasts to the world of machine polishing a simplistic uncomplicated system to correct swirls and restore vibrance and colour to automotive finishes at home. The kit comprises of three compounds and three accompanying pads, all conveniently colour coded and numbered to indicate their place in the procedure, masking tape, pad prime, microfiber towels, pad conditioning brush and pull out instructions. Developed extensively in conjunction with own in house detailing services the compound polishes have been formulated for use on dual action/random orbital machine polishers. Restoring compound (No:1) is our heavy hitting cutting compound capable of taking care of the most neglected finishes. Polishing compound (No:2) is our all rounder, capable of restoring average swirling and paint dullness. Refining compound (No:3) has been developed to produce an ultra crisp clear finish, all the the above have accompanying pads with foam types chosen to compliment its twinned compound.
Available as a kit.

Click here to check out the Auto Finesse Line @ Detailers Domain