Below is a picture from solo comparing the stock exhaust to one of their cat backs. If all you have done is put on a axle back then you should still have the h-pipe joining the two sides in the middle. (by the "78lbs" comment)
Should you replace the h-pipe with a res-X, the system would look similar to the solo system with the larger muffler towards the front.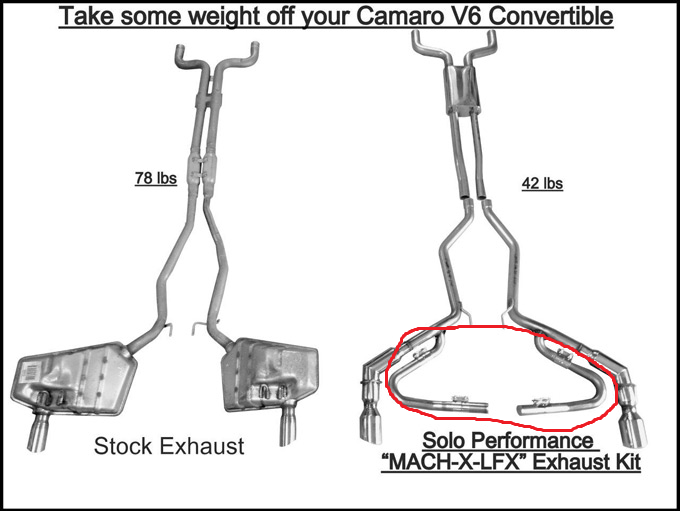 If you have drone I would HIGHLY recommend the j pipes(circled in red). Solo puts them on most of their systems but you can also order just the pipes if you call/email.
I have them on mine and before doing it the drone would drive you insane. Now its basically gone.
__________________
Performance: CAI Intake, WW Relocation and Apex Air Scoop, VMAX ported throttle body, JacFab Intake and Spacer, VTC Throttle Controller, ARH Catless Downpipes, Magnaflow Res-X, Stock Resonator Delete, MRT V1 Axle Back, Solo J-Pipes, E85 flex fuel, MRR 228 20x10 and 20x11 wrapped in MPSS, OverKill Tuned

Cosmetic: 15% Tint on side Windows 5% on back, LED fogs, SS bumper conversion, de-badged, Z28 front grill, Eagle Eye headlights, HID conversion, VIS terminator hood, Red LED sidemarkers with 5% tint.

Soon to be -> SS brake lines, line lock, and SS master cyliner