no dyno time yet.. i am hoping to get on the dyno to get some more tuning done before Atlanta this weekend.. race weight is 4450 with me in it.
The cars only issue right now is blower heat but im working on that... it needs a intercooler tank for the staging lanes and burnout time...the IATs after a run are in the 160s.. not terrible, but not great either..on the street its fine because the car is moving and cools right down but at the track when the cars sitting in the staging lanes and doing the burnout, no air is oving so a bigger exchanger is not the solution, it would help. but the car just needs more capacity and ice.. Rick from Livernoise said his record time on 20s is 10.10, so thats the new goal..then after 10.10, you know whats next
__________________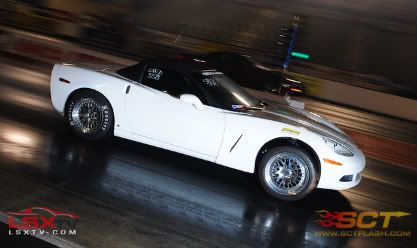 2011 cts-v coupe (pinky) wifes car.. ls9 cam c.a.i. 11.44
2007 corvette vert ..retired..
2013 zl1 stock blower stock ci 20" wheels 10.36 135...so far..