Overkill Tuning
is included with each supercharger system. Most supercharger companies outsource their tuning to provide a prepackaged tune and a delivery system, and you're on your own if you want further customization, or need tuning tech support. By comparison, tuning is what Overkill does! With Overkill tuning, you get a service that allows you to get a custom tune for your vehicle included with this supercharger, without incurring extra expense. Available in both an Autocal handheld or HP Tuner suite option, you get both the hardware and the tuning support behind it. Custom tuning to your modifications, and revisions based on providing driving scans using your tuning device are included.


Optional and highly recommended is a rental "wideband" O2 sensor kit. A wideband O2 sensor is accurate at reading air/fuel mixtures under heavy throttle, unlike the factory sensor which is only accurate at air/fuel ratios at light throttle acceleration and cruising. An insert pipe containing the sensor gets put into the tailpipe, you plug into vehicle power inside the cabin and into your tuning device, and your driving scans now include true air/fuel readings just like a dyno tune, allowing Overkill to dial in your custom tune with more accuracy and better results. The wideband kit is a deposit only, fully refundable when you return the equipment in good order.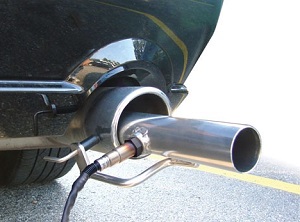 Our
Signature Catch Can System
is included with each supercharger system. Unlike a generic catch-can, this setup is specifically designed for this supercharger setup. The 3 port catch can connects into the "dirty" side of the PCV system at the rear of the passenger valve cover and uses intake manifold vacuum for non-boost operation, with a 3rd connection into the supercharger inlet that provides evacuation suction when in boost, and also has a "clean" side separator, which replaces the typical breather tube from your air intake. Dual billet check valves always default to the strongest evacuation suction source. Let us explain why...
With a supercharger that pressurizes the intake manifold, such as this Vortech setup, a vacuum source at the intake manifold is lost at full throttle. In return, the lower crankcase of the engine can become pressurized, and create blow-back through the PCV "clean" side inlet stream, where a generic catch-can does not tie into. This can create a real mess, as it can carry oil and oil vapors with it. The Signature Series catch can corrects this in two ways. First, the "clean" side separator does as you imagine, separating oil vapors and now allowing them to vent in reverse and out the inlet stream into the supercharger. Second, when vacuum is not available in the intake manifold, it uses a one way check valve to prevent the catch can from pressurizing, and uses an alternate line to just in front of the supercharger to actually use the suction force of the inlet of the supercharger to create a vacuum in the can and continue to draw air out of the crankcase and through the catch can.
The entire system means that oil will stay out of the supercharger inlet, out of the intake manifold, out of the intercooler, and reduces blowby at the piston rings, all of which improves engine safety, supercharger lifespan, and overall performance.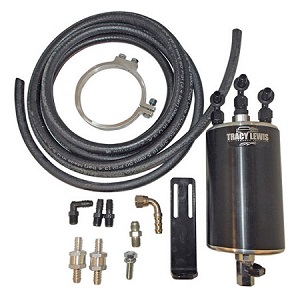 Amsoil air filter is included with each supercharger system. This is a top of the line air filter which uses a dry nanofibre media as a filter. All the wonderful technical aspects you can read on the Amsoil website but the bottom line is that this filter uses a media fibre that is very thin and woven tight in a predictable pattern rather than just a random natural mesh; this creates a media with good surface area for flow but also with small pores which will capture small dust and dirt particles at a very high efficiency rate. Less dirt in your engine and supercharger of course mean a longer life span. The other nice thing about the media being oil-less is cleaning, a simple vacuum will often suffice but when heavier cleaning is required you simply wash the filter with woolite laundry detergent and warm water in a bucket, rinse from the inside out, and let it air dry for several hours.
Also included is a prefilter sock. Because the filter dips into the fenderwell for a fresh air source, it can get dirty and wet. The prefilter has hydrophobic properties, meaning water won't absorb into the material; this means it's extremely unlikely for the filter media to get wet, and would require the entire filter submerged in water to suck any water into and through the filter. The prefilter keeps the filter itself much cleaner, is easily wiped off with a damp cloth from time to time to clean, and prolongs its life of the filter itself considerably.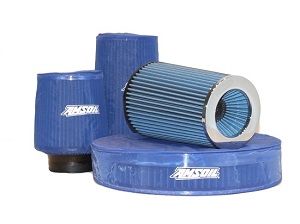 Power Steering Relocation Kit is included. This was a source of issue on previous brand kits, as the reservoir must be relocated from its factory position. Poor quality fittings and hoses can leak, poor fitment of reservoir and hoses can lead to oil supply issues to the pump, causing the pump to whine. Our relocation kit uses a new different OEM fluid reservoir and mounts it up by the brake fluid reservoir. The feed hose to the pump inlet is a reinforced rubber hose which will not collapse under suction, and resists kinking, so you won't get any power steering pump whine. The pump connection fitting is 1 piece aluminum for no leaks. All hoses are rated for oil transfer.
The location of the reservoir means easy access, even with a strut tower bar installed, and the system is completely out of the way of the supercharger and its belts.