Hi Guys,
First post. Great community here. I'm impressed with the depth of knowledge and the relatively small amount of bickering and flaming. I like you guys (and a few girls even).
First Muscle Car. Bought totally stock as far as mechanicals, but it had some dress-up parts on it. 45k miles.
I'm leaning on Ted at Jannetty Racing for tuning, right now, due to the overwhelming positive feedback on this forum. So far - I'm with Ted - read on and you'll see why.
I've done a lot of tuning with imports and I was shocked that an email tune could be this good - with no datalogs exchanged.
Bone Stock made 380.5wrhp 382wtq (comparison image later)
385.8whp (+5whp) and 392wtq (+10wtq) with just the SCT X4 Canned Tune. I didn't manage to talk Ted out of a JRE stock flash and a CAI/Scoop/Washer flash, but Ted said 5whp is to be expected with his stock tune and the SCT delivered that. The SCT Canned tune was rich - 11.8 A/F as measured after cats.
393.2whp (+13whp) and 393.9wtq (+11wtq) with Jannetty Racing Tune, CAI, Rotofab Washer Bottle and JRE Scoop. The email tune A/Fs came in at 12.5 with a wideband after cats - which is nearly perfect with a little safety room.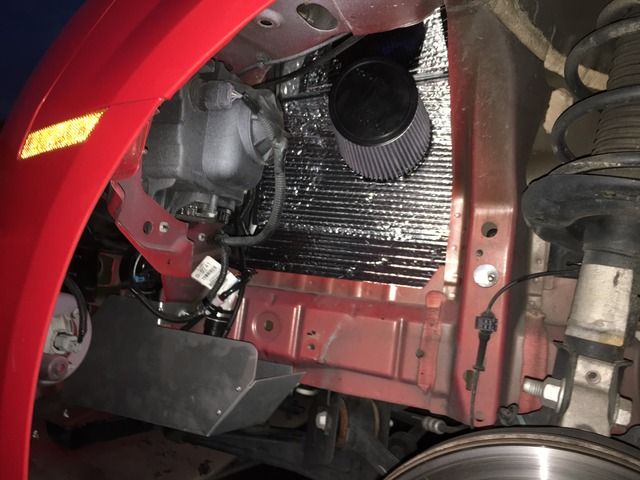 Bone stock to present modes comparison (pardon the screen pic). I'll get a scan in when I visit the dyno again. It looks like a wash before 3200rpm, but then there's a solid gain under the curve all the way to redline.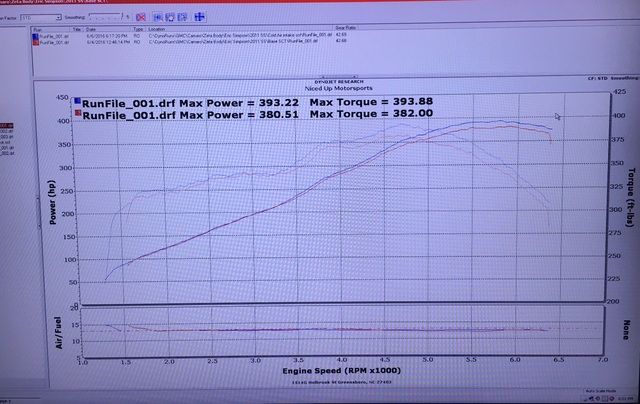 I have an AEM wideband going in with Texas-Speed 2" primary headers and high-flow cats, and 3.91 gears. I'm trying to talk Ted into getting me a LT Header tune without the gears, and with, so that I can dyno with just the CAI/LTs stock tune, then CAI/LTs with just Ted's JRE CAI tune, then CAI/LTs with Ted's JRE CAI/LT tune - BEFORE the gears - since they'll change the results going forward due to the different ratio.