1995 Camaro Z/28 that is truly unique. Came from the factory black with graphite leather interior. Pretty much every option available is on this Camaro, including t-tops to let in the sun.
But it's what we did to it that makes it stand out. The hood is an aftermarket functional ram air hood based on the 1997 Firehawk. Air flows through a special box that uses a huge Corvette air filter, we have a high flow Holley air filter in there. The hood was painted by Bernie's Custom Auto in the style of the special 2002 Camaro Anniversary Editions, except we had it painted in shades of blue. The hatch and spoiler were painted at the same time to match. 17" C5 Corvette Z06 wheels in Chrome are mounted with Falken tires.
The standard throttle body was replaced with a dual 52mm assembly, it has chrome valve covers, and a lot of other appearance upgrades in the engine compartment.
Other performance modifications include Hooker headers, a high flow catalytic converter, and Borla exhaust. A Crane Cams Hi-6 ignition box and matching coil work with the 8mm spark plug wires to give better spark (for both improved performance and mileage). Lower trailing arms, an improved panhard rod, and an aluminum driveshaft are included
Inside the stock stereo was fully replaced. Now a Pioneer DEH-F6800MP(AM/FM/CD/CD Changer Controller )runs through upgraded speakers in the doors and back seat area. There is a powered subwoofer in the hatch area. Instead of a CD Changer we have it hooked up for an MP3 player.
This Camaro runs and drives great. For the full price I will include a Hypertech Programmer.
Asking $8000.00 Call 360-894-4590 or email me at
fastzhawk@hpiv.net
Engine Compartment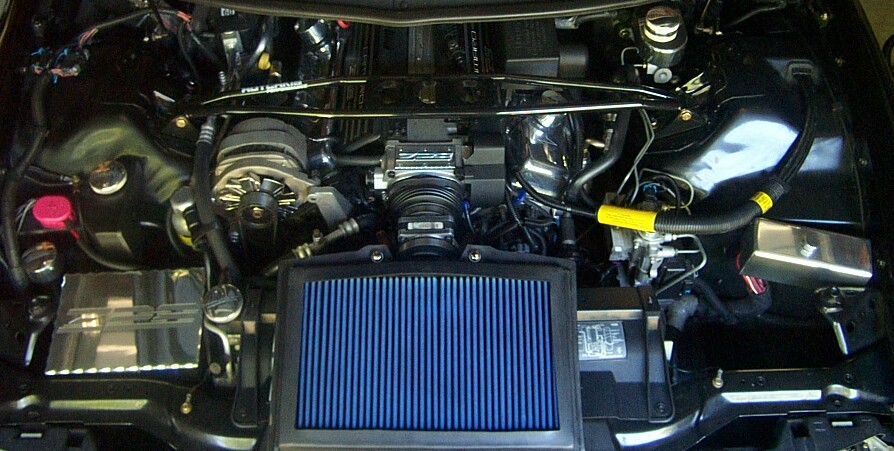 hood's paint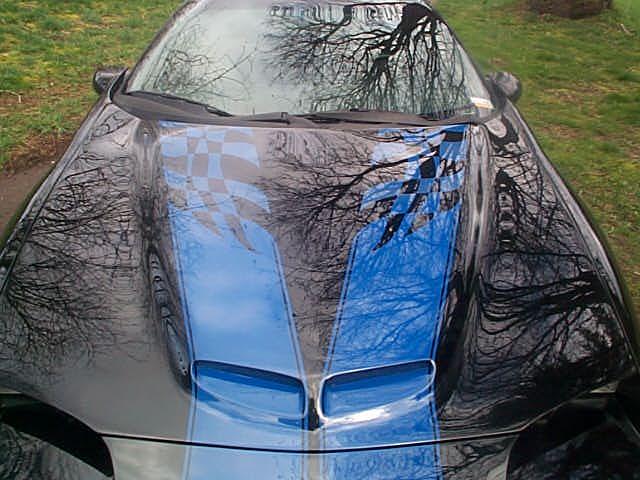 Side view