Hi Guys and Gals!
We're here to give the V6 folks some love!!!! We're going to offer this group buy from 12/3-12/25! If you purchase the system between now and 12/7 you'll also be entered into our on going Give-A-Way where JDP/MagnaflowPlus will pay for 100% of 1 lucky customers order! The winner will be announced on 12/7 at 6 PM MST!
The Airaid LT V6 intake is IMHO the best intake on the market hands down! Below is a list of features including great performance gains, unmatched fit and finish and of course the Lifetime "No Hassel" Warranty! Don't settle for a thrown together Metal Intake that is prone to HEAT SOAK and CEL's! Get the best performance form the Air Induction Experts at Airaid!!!!
Part # 250-242
2010 Camaro 3.6L V6 Airaid Intake System
Airaid Cold Air Intake System for the 2010 Camaro 3.6L V6 includes a Modular Intake Tube, Air Dam and Highflow Air Filter. Easy to Install with Basic Hand Tools.

Click on Image for more Information!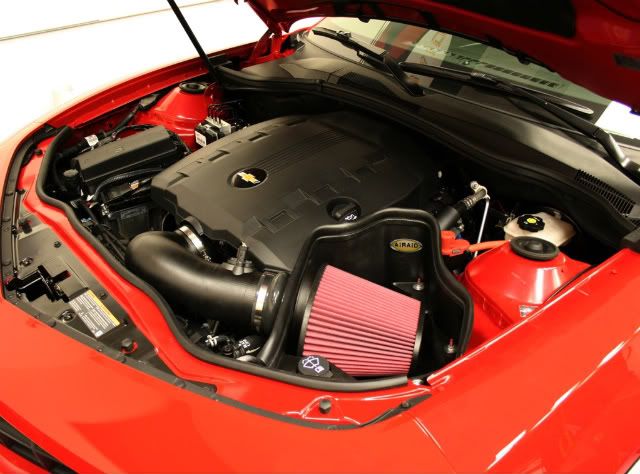 AIRAID Intake System For 2010 3.6L V6 Camaro Features :
* High Flow Washable & Reusable Air Filter
* Massive 4" Modular Intake Tube
* Easy Bolt-On Installation
* Exclusive Lifetime "No-Hassle" Warranty!
*
Adds +11HP & +14 Ft.lbs/Torque over the factory air induction system!
AIRAIDŽ Intake Systems are computer designed to give your engine maximum air flow, which means more horsepower, torque and improved performance. Every AIRAID intake system is dyno tested and tuned to provide maximum performance and efficiency. By utilizing computer-aided design, AIRAID Intake Systems offer unmatched fit, finish and lifetime warranty. Each AIRAIDŽ intake provides superior air filtration, since it comes with an AIRAID Premium Filter featuring our exclusive filter technology.
AIRAIDŽ Premium Filters are constructed using the finest materials available today. All AIRAIDŽ Premium Filters utilize a hand-poured urethane body that won't crack, curl or shrink like other rubber or plastisol units used by our competitors. Filtration performance is second to none, and at No Extra Cost, thanks to the combination of our proprietary material and multiple cotton gauze layers. All AIRAIDŽ Premium Filters are 100% washable, reusable and feature our Lifetime "No-Hassle" Warranty.
The Coupon code is
Special2
! If you have any questions please feel free to call or email us anytime! We appreciate everyone support and happy motoring!

Call, email or PM me for the price! Too low to publish!
Kind regards,