Well after 5 months and 5 days our 25 wedding ann. gift to ourselves finally came in. Although I hate posting crappy pics, this is all I have right now until we take it out this coming weekend.
Originally we wanted a blue car with white stripes, but after seeing the white ones starting to roll off the line, we changed our minds. The white really show off the lines of the car, all it's muscle, and I think it is both classic, classy and timeless.
As you can see we got the orange interior to give the car some pop and stripes to hold us over until we can afford an aftermarket hood
(the Nickey Chicago Stinger)
. The only other option on this car is the RS package and we kept the midnight wheels, which I really like with the white. And we had the dealer
(Classic in Grapevine Texas, hey EricSS)
install ceramic window tint.
For the gear-heads out there, yes it is a stick.
I guess in the long run, getting the Camaro instead of going to Italy to celebrate our anniversary was the better bang for our buck. Although it would have been cool riding Ducatis around the Italian countyside, that would only have left us with fading memories. With the Camaro we can go for a drive any day well into the future.
Pickup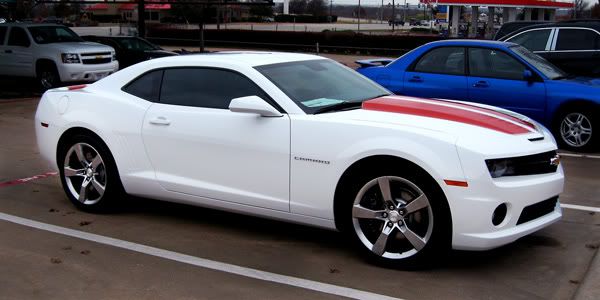 Home