The LSR cold air intake will be available shortly and everyone has seen the amazing gains with this intake. Now is your chance to take advantage of an amazing package deal with a handheld programmer. Gains of 35-4RW0HP and 35-45RWTQ with the package
SCT Handheld Programmer MSRP - $479.00 (Our Retail is $379)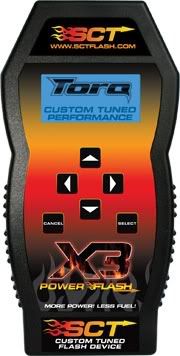 LSR Performance Cold Air Intake - $429.95 (Our current retail is $389.95)
At FULL RETAIL this package would be $908.95 and our current pricing $768.95. We are running a promotion and offering great discounts to Camaro5 members.
LSR Intake + SCT Handheld Programmer with 3 CUSTOM MAIL ORDER TORQ TUNES: $699.95 a SAVINGS OF $69 or OVER 10% OFF
SCT X3 benefits:
- Stores 3 custom tunes at once plus the stock tune
- Adjustable parameters (rev limit, spark, fan temperatures, wheel/tire, gears, etc)
- Read and clear diagnostic trouble codes
- Datalogging on screen or on device
- Dual analog inputs (EGT, AFR, etc)
Custom Tune Benefits:
- Increased throttle response
- Torque Management Calibration
- L99 TCM Calibration
- L99 VVT Calibration
- Cooler operating temperatures
- Increased HP/TQ (10+rwhp/12+rwtq peak and 15-20hp/tq in the mid range)
- Skip Shift/CAGS elimination
- 100% improvement in drive-ability
When you first receive the device you will read your stock files and email them to us. We will then send you back our TRUE CUSTOM TUNES calibrated to your EXACT combination.
Here are additional benefits of using the PowerFlash tuner-
1. Exact calibration for the CAI you are using. We will continue to build our database as new CAI's are released for a dead on tune for every type.
2. Custom calibrations for nitrous systems. No need to swap ECM's or drive all of the time with a nitrous calibration even when you are not using it.
3. Read and clear diagnostic trouble codes
5. Data logging ability with laptop and on device
6. Free updates for life. If we ever have an updated calibration, we will e-mail it to you. If you add Long Tubes or other modifications we send you a new tune at NO CHARGE

LSR Intake Benefits:
LSR Performance's new Cold Air Intake System takes the 2010 Camaro SS to a whole new Level! Designed and manufactured in house with our state of the art CNC equipment and advanced engineering team, this kit will leave all other Cold airs sucking hot air.
LSR Performance's cold air intake has been dyno proven to give you HUGE gains to the tires! Dyno proven to add a remarkable 42hp and 48ftlbs to the rear wheels during mid-range rpms. During peak power we saw a remarkable 36hp and 39 ftlbs of torque at higher rpm!
It's designed to seal against the underside of the hood and use the factory lower intake tube for directing cool air into the LSR air box. The air box is also powdercoated for durability and great looks. It incorporates a billet velocity stack and mass air flow sensor that is made in house from billet 6061 aluminum.
A high flow "million plus mile" air filter is used for longevity. Lastly, like all LSR Performance parts, this Cold Air Kit features a life time warranty and is made in the USA. So what are you waiting for?
Note: This cold air intake kit requires a performance tune. Click Here for more info.
Product Features
* Most HP and Torque gains of ANY other CAI on the market today!
* Life Time Warranty
* Designed, and Manufactured in the USA