Circuit Motorsports is proud to provide the Camaro club with BC Racing Coilovers!
We are the only
Authorized Dealer
to carry these awesome coilovers right now, and we are one of BCR's biggest North American dealers. We have ordered the first shipment of kits and they are on their way, it will be a first-come-first-serve-basis once these arrive and then we will start a list for the next shipment. We are taking Pre-Orders now for the first kits that will arrive. Delivery date is set for Mid-March, So act quick!
Being an authorized dealer we know the BCR suspensions very well, we don't just ship 'em out and forget it. If you have any questions about setup, spring rates, useage, or the ideal settings and rates for your application just ask us. We have committed and continued service to our customers and if you have any questions about setup after your install we are always here to help
On to the Coilover specs and pics!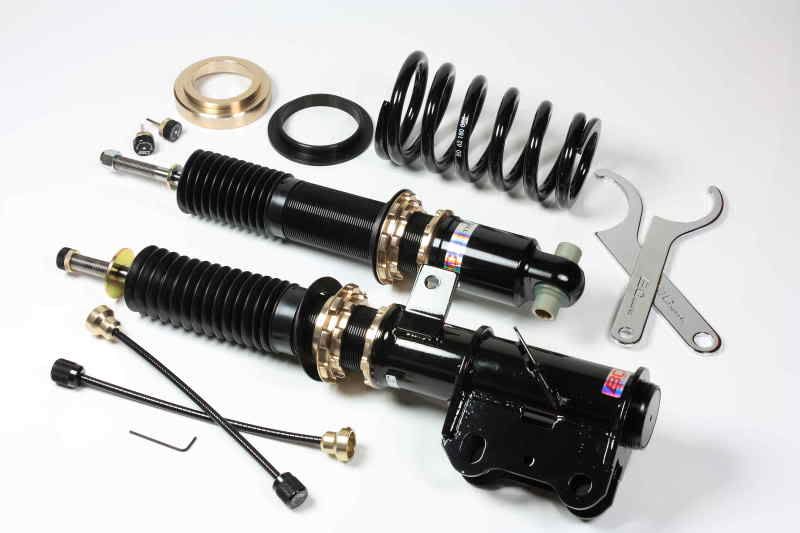 Installed on 6liters car:
BC Racing BR series coilovers are perfect for street driving, drag racing, and occasional road course duty. These coilovers will dramatically improve your Camaros handling over the soft stock springs and shocks. With easily accessible adjustment knobs for fine tuning your compression/rebound and separately adjustable ride height, having a performance coilover system couldn't be any easier. You choose how low or high you want your vehicle, no preset ride height here, and the patented concave lower locking ring keeps it locked in. They are dual-height adjustable, which means you don't sacrifice shock travel when you lower the car, since spring preload is completely separate from ride height. We can provide them with the OTS spring rates, or you can choose a softer or stiffer setup, it's up to you. We make it extremely easy for you to customize your suspension for your car!
Here are the specs:
-Mono-tube shock design
-30 levels of damping force adjustment
-Separate Full length height adjustable
-One year warranty
-Coilovers use 46mm pistons and 53mm shock housings, the enlarged shock cartridges with specially designed pistons and rods provide a wide range of damping force.
-Valves are constructed of special spring steel, which outperforms stainless steels and produces longer valve life. Valve stacks use a patented deflective system to provide more precise control.
-Patented concave lower locking ring, to prevent unseating
-Springs are made of SAE9254 high strength, durable steel. Compression tested at over 500,000 times with less than 5% deformation
-T6061 Aluminum utilized in spring locks and seats for high strength and lightweight
-Piston rods are constructed of highly polished steel to lengthen oil seal life and prevent leaking
-High pressure inner rod guide seals ensure a perfect fit for consistent fade resistant damping and long shock life.
-2 step coating process utilizing nickel and chromium plating to prevent corrosion
-Newly developed lubricant oil in all shock cartridges minimizes aeration and cavitation.
-Each BC damper is individually dyno tested before leaving the factory, making sure each damper is matched to within 5%, ensuring an equal balance in handling. OEM standards are 13% in comparison.
-Very easy "Rebuilding" process and support, here in the U.S.
~These will fit both the V6 and V8 models. They include a full set of coilovers front and rear with 8k/10k springrates.
We beleive in "Affordable Performance", so we are giving these to you guys at an
Awesome Price
plus the
rear extenders
* will be included for
FREE
and we
ship for free
. These are a great deal at this pricepoint and you can't get this kind of quality coilover with these features anywhere else.
PM us for the best deal on these coilovers!
If you find a price lower than our quoted sale, We will BEAT that price GUARANTEED!
If we can't beat the price, then your kit is FREE!
*Extenders are the cable extensions that allow you to poke a hole in your trunk liner and extend the cable through so you can adjust the damping knobs in your trunk, making front and rear adjustments super easy!