Ok, I added the AAC Style LED HALO's to the DRLs today - they are the AAC LED DRLs.
Total install was about 1 1/2 hours - not including a 2 hour dry time for the silicone of the lens back to the housing. They are NOT connected to a power source yet. I ordered the wireless DRL controller so I can control the DRLs and the DRL HALOs separately. I cut the lens off the housing with a Dremel. I took my time and it went very smoothly with no issues. You just follow the gap between the housing and the lens.
The bumper after the housing & DRL housing removed. Only the top 2 and bottom left holes are used. Not sure what the other hole is for.
The outside DRL housing. It was a PITA to get out! there are 5 clips and you have to keep it pulled out as you go along from the inside else it reconnects the tabs!
I marked the lens to housing before I cut it off with a Dremel so I could line it back up. here the hols is already drilled on the bottom for the HALO wire to go through. You can see the 3M adhesive strips on the HALO, but there really isn't Anywhere to attach to!
Hole drilled and cleaned and ready for the HALO to be attached:
Test fit. The bottom stays fixed pretty good with the hole being just a tad bigger than the wires.
I used LocTite cement to attach the HALO ring with locations on the top and the bottom.
LocTite Power Grab. The red dot is the top of the housing.
Quick grip clamps. They are great! ONE note to self: when using a clamp, protect the surface you are clamping to! There was a small abrasion on both lens tops. Now, they are covered with a tint shield, so i didn't actually scratch the lens.
Both housings silicone sealed and clamped. I also silicone sealed the holes with the wires coming through.
You can see a little too much silicone was used on the left lens, right top. You don't need to much, so just spread it with your fingers to cover and don't let too much gather on the inside edge of the housing. outside edge is fine since you can wipe it off after you put the cover back on.
A lighter shot - they are connected to a Sears DieHard Power Sports battery. I use that to test all the 12V electronics

And to power a trolling motor.
this is the passenger side housing from the inside. The DRL socket is connected with 3 push pins and the DRL housing is inserted with 5 tabs. The LED DRL bulb is plugged in already:
Closeup shot. For now, the HALOs will just have the wires hanging down.
I tested them again with the Sears DieHard battery. Passenger's side with just HALO on
Passenger's side with DRL also on
Driver's side with just HALO on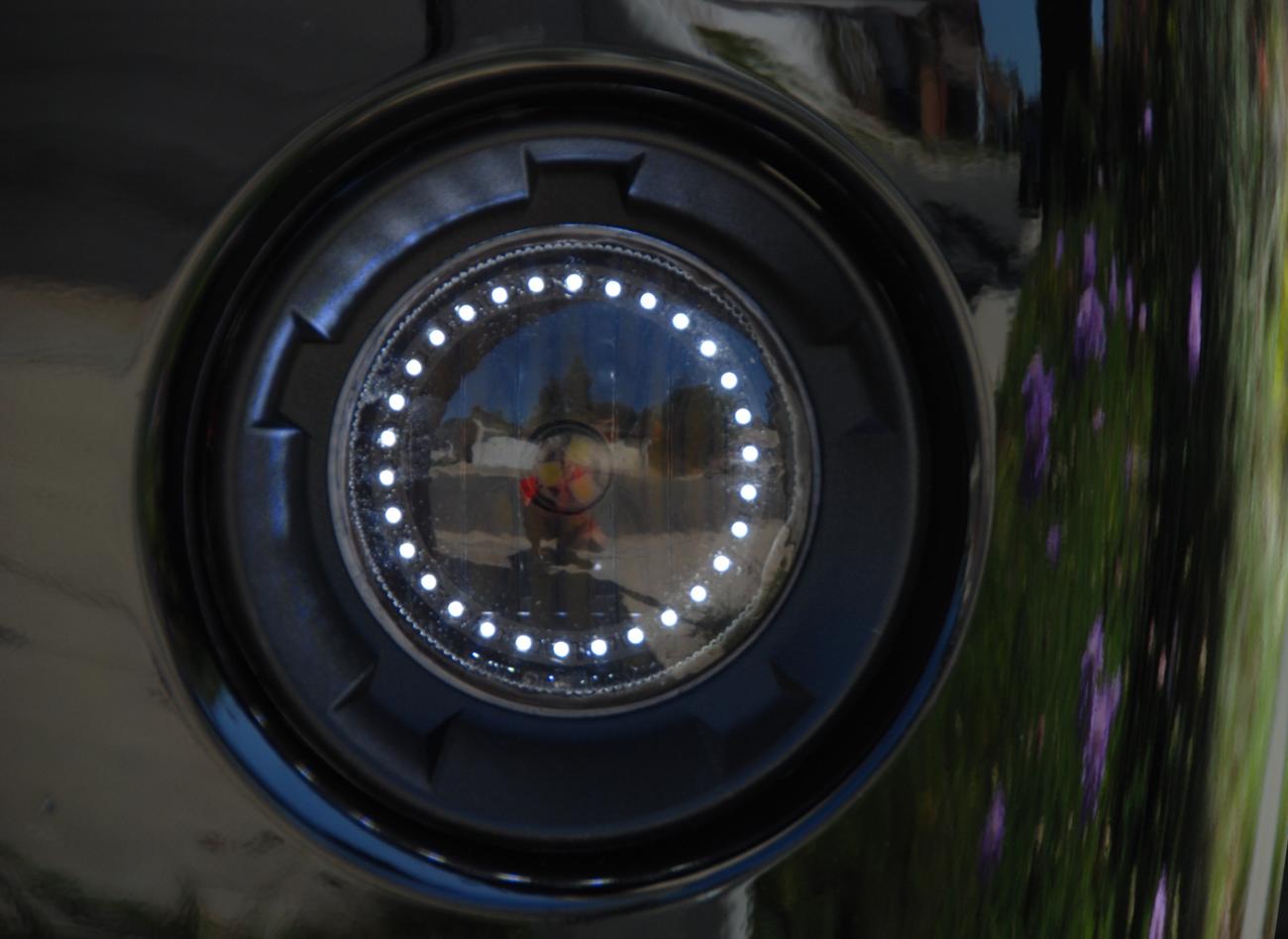 Driver's side with DRL also on