Which Cover is Right For You? That's a good question!
Ready-fit, custom-fit, Noah, Evolution, WeatherShield HD, WeatherShield HP, Reflec'Tect, Dustop, mirror pockets, antenna grommets, colors, tie downs...How's a person to figure this all out?
Here are the information on our Car Cover's for your review: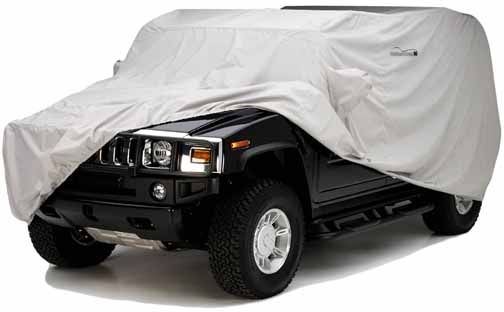 Q: WEATHERSHIELD HD:
A: This fabric was designed for the RV market where vehicles may have sharp edges and are stored outdoors for long periods of time. We like to describe WEATHERSHIELD HD as being almost bulletproof. It's overkill for most car cover applications but
it's perfect for long term, outdoor storage in high UV conditions (i.e. Florida, Texas, Arizona, Hawaii, etc,) because the material is solution dyed making it extremely fade resistant.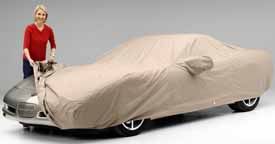 Q: WEATHERSHIELD HP:
A: Our all around best cover material. WEATHERSHIELD HP sheds water on contact, has excellent UV resistance and is by far the easiest cover material to install and remove. Even if you want an indoor cover that might
be used outdoors only occasionally, we would still recommend WEATHERSHIELD HP because of this material's excellent dust resistance. WEATHERSHIELD HP covers are fully breathable, pack up tightly for vehicles with small trunks (Corvettes!), can be machine washed at home in a home-sized washer and dryer and are available in 8 colors. This is the perfect every day use cover.
Q: REFLEC'TECT:
A: Reflec'Tect was designed for hot and sunny climates. The unique silver coating reflects sun to keep your car cooler than it
it normally would be. Plus, the material is a very lightweight making it easy to manage and stores in a small bundle.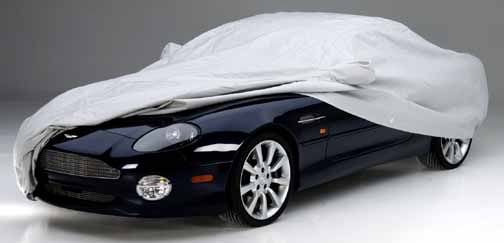 Q: NOAH:
A: We like to think of NOAH and EVOLUTION as the "Best Value" twins. Both are in what we call the mid-price range and both are typically $100. less than a WEATHERSHIELD HP cover.
Each material has different strengths. NOAH has a better moisture barrier which gives it better water resistance and is a lighter, more flexible fabric. It's easier to put on and remove than an EVOLUTION cover but not close to the ease-of-use of WEATHERSHIELD HP. In a nutshell, for most men and women, a great value, use-every-day cover.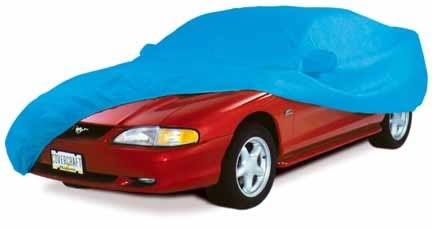 Q: EVOLUTION:
A: Originally designed in 1983 this material was the industry's first non-woven car cover material and was king-of-the hill for nearly a decade. It has been upgraded recently with additional UV inhibitors and is now one of our "Best Value" twins.
The Evolution is an extremely tough, hard-to-tear material which cushions against scuffs and bumps, parking dings and punctures from small animals (small cats, birds, lizards and squirrels). Again we have to state that no cover is "critter proof" and damage from animals scratching or climbing on the fabric is not covered under warranty. EVOLUTION is more breathable than NOAH allowing for more rapid evaporation of trapped moisture (condensation) and now has a higher UV resistance than NOAH. Because this is a 4-layer material, it is heavier (especially when wet) and bulkier than NOAH making it harder to put on, remove and store. We recommend EVOLUTION as an occasional use cover or extended storage cover. If you're going to be storing a vehicle outdoors (especially in the sunbelt) for weeks at a time (not months), EVOLUTION is an excellent choice.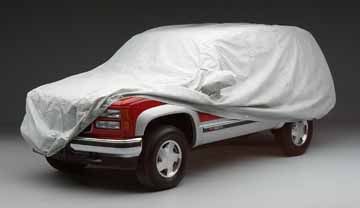 Q: BLOCK-IT 200:
A: Previously called Sentrex, this is our budget priced, three-layer material for good, basic protection against dew, frost and rain. It's a good indoor cover and can still be used outdoors occasionally. We have customers
that need a cover for two to six months while a house is being finished or remodeled and don't want to invest a lot of money in a cover that will ultimately be discarded. BLOCK-IT 200 is perfect for that application. While we understand the limitations of this material, it is still head and shoulders better in fabric quality, construction quality and fit than the Chinese-made cover you'll find at mass-market and chain auto parts stores

Q: FORM-FIT:
A: This is our best, top-of-the-line, indoor only material. It's more like lingerie for your car. These covers are sexy! We use a polyester knit with a Lycra/Spandex added to the yarn. It's like a soft, fleece robe yet it follows the lines and contours of the car. This approach requires us to make all new patterns so applications are limited to selected collector, exotic and enthusiast cars.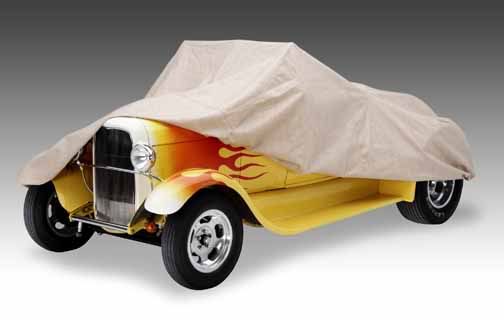 Q: DUSTOP:
A: This is our best value in an indoor only fabric. It's a 4-layer non-woven composite, ultrasonically laminated to provide a high degree of dust protection. It actually offers over 4 times the dust protection of woven flannels yet is breathable to allow for moisture evaporation. The DUSTOP
fabric is lighter, stronger, and easier to handle than woven flannel yet pampers your car's finish. This is the cover most enthusiasts use for indoor only storage.
Q: Will covers fade?
A: Yes, all covers, especially those of dark colors, will fade over time. WEATHERSHIELD HD is our most fade-resistant material. On other fabrics, silver or gray is the most fade-resistant color. Fading is one reason it was introduced the WEATHERSHIELD MULTI-COLOR.
If the car is stored outdoors, the top of the cover will fade first because it gets the most sun exposure. Instead of making the entire cover in red, black, green or blue, do the top in silver and the sides in the color of your choice. The two tones look great together and the silver top doesn't show fading. There is a small surcharge for doing two tone covers because we have to bring over and lay out two different fabrics for cutting.
Q: Are these covers water resistant or waterproof?
A: All of our covers are highly water resistant. They are not waterproof. The fact is, you do not want a waterproof cover because it would not allow moisture to evaporate. Let me explain. Depending on temperature and humidity conditions it is normal for condensation to form on the vehicle's surface just like dew on the morning grass. Our fabrics are breathable to allow this moisture to evaporate. If the cover were 100% waterproof, when the sun comes out it would super heat the water droplets on the finish and etch water spots into the paint.
Q: How do I care for my car cover?
A: WEATHERSHIELD HP, WEATHERSHIELD HD and FORM-FIT covers can be washed at home in a home-sized washer and dryer by adding 1/2 cup of powder detergent to the wash water.
Other covers can be hosed off while they are on the car and allowed to air dry. To remove a stain, spray the cover with water, spot mist with Fantastik All-Purpose Cleaner, lightly sponge, thoroughly rinse and allow to air dry on the vehicle. Covers can also be cleaned by a commercial Laundromat. Wash using 1/4 cup of Fantastik in warm or cold water in the "Normal" or "Permanent Press" setting. Wash in a machine without an agitator. DO NOT WASH IN HOT WATER. Do not use bleach or fabric softeners. Air dry only. DO NOT put cover in an automatic dryer. DO NOT DRY CLEAN.
I hope this helps any of our forum members is looking for a car cover for their Camaro.
Any help, you can find me at the Vendor Section and PM me there.