Sometimes soap and water will usually not remove baked-on brake dust and road grime. Unfortunately, strong acid and alkaline cleaners can stain some wheel finishes. We do offer a range of cleaners from very safe, pH-balanced cleaners to stronger alkaline and acid-based cleaners. After cleaning, applying a quick coat of car wax will help protect the wheel's finish and make future cleaning easier.
One of the best and recommended by many automakers is P21S Wheel Cleaners. P21S is a safe, pH-controlled, non-acid, non-lye based detergent that provides terrific cleaning and guarantees not to damage any type of wheel: painted, clear-coated, polished or anodized.
P21S Wheel Cleaners are available in two formulas:
Regular Formula P21S - for normally soiled wheels that typically receive frequent cleaning. Spray on, lightly brush or sponge the surface and rinse off with a sharp stream of water.
Gel Formula P21S - for wheels that tend to soil heavily due to higher braking speeds, softer brake pads or infrequent cleaning. Spray on, allow to stand up to two hours, lightly brush or sponge the surface and rinse off with a sharp stream of water. Gel composition clings to vertical surfaces to provide increased cleaning effect.
On brushes with carry many and one of new type of brushes that many around the world want is the Eimann Fabrik Lambs Wool Wheel Woolies.
Eimann Fabrik Lambs Wool Wheel Woolies for Any Opening Size Wheel.
Eimann Fabrik Lambs Wool Wheel Woolies are the perfect tool for getting into those tight areas of your wheels, front grill, door jambs, and just about any other tight spot. Busting knuckles trying to clean your wheels is a thing of the past. Reach the far side of the deepest wheel around.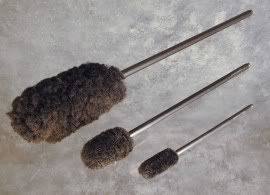 The lambs wool head on the Wheel Woolies will clean the toughest dirt and grime. Just add your cleaner, or dip it into your wash bucket.
Eimann Fabrik Lambs Wool Wheel Woolies come in three different sizes. The longest Large Wheel Woolie is 19" long and has a 3" diameter wool head. Use this long handled Wheel Woolie to reach deep in the wheels or clean the wheel wells of any vehicle, from cars to motor homes.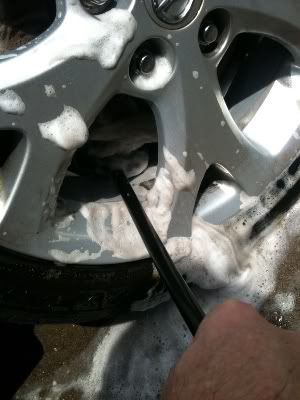 The Medium Wheel Woolie is over 12" long with a 2" diameter wool head. This one is great for smaller wheel gaps, air diffusers, door jams, engine areas, etc.
For smaller gaps like grills, the Small Wheel Woolie isn't just for wheels. This one is 8" long and 1" in diameter, but like the others, will shrink into a much smaller gap.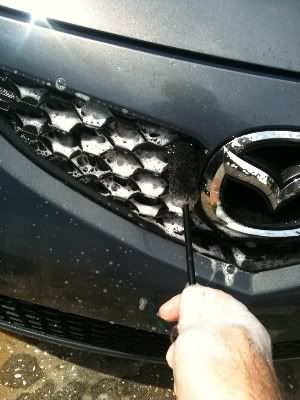 I can't begin to get a wash mitt or sponge into the gaps of my grill. This Small Wheel Woolie is the perfect size to get into the front grill opens to get the bugs and grime completely washed away.
Use Eimann Fabrik Wheel Woolies with any Eimann Fabrik cleaner, such as Eimann Fabrik Tire Cleaner, Eimann Fabrik Engine Degreaser, with just Eimann Fabrik Gentle Shampoo, or with your favorites like P21S Wheel Cleaner.
Wheel Woolies are available individually or in a package of all three.
Only from
ProperAutoCare
!...........