This setup was built for my higher altitude and 91 octane, and was a auto, and now a geared auto. These things were limitations presented to Andy the Great, and would cost us some power, as a tune for 93 Octane and/or better meant Andy the Adonis would have added more timing, and made more power. Also as everyone knows, auto's dyno lower, and a geared one even lower.
With that said Andy the magnificent blew us away.... He did this entire build in 2 days, kept the car for a 3rd day breaking the engine/gears in, ensuring no leaks or issues, as well as street tuning and data logging..
Chantilly gave me these numbers, looking at the graph you will see the pre dyno numbers and the post, notice the car now redlines at 6800rpm and notice the new hp at redline as oppose to the pre redline hp number: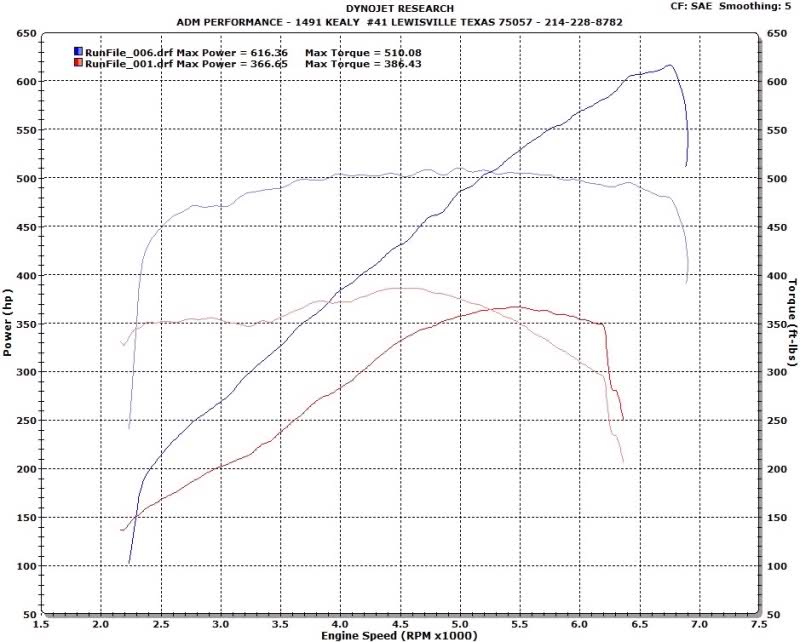 Now Chantilly roams around hunting her prey, the only clue might be her fat 11 inch rear wheels with 315's, other then that, she looks normal, especially with the stock exhaust on, yeah Andy the Musician fixed that ugly sound..