We recently had a customer order a complete Havoc leather kit and then get an offer on his car he couldn't refuse during the two-week production lead time on this kit. Not having the vehicle, and with a buyer that didn't want it, we took the leather kit back for him, but we can't sell it as new.
Never been installed, everything is in new condition, just had the box and packaging open. We're selling this one kit at a one-time sale price of $700 for the complete Havoc interior leather kit in Red and Black to try and not lose every penny on it.
This Havoc interior leather kit is a unique design that provides your Camaro a unique, eye-catching, stylish interior appearance. Manufactured out of top quality leather, this trim kit replaces your existing seat and interior coverings. This kit is made from black leather with red accent and trim. Kit includes Front and Rear Seats, Stitched Headrests without the Havoc emblem embroidered, Center Console Lid Wrap, LH/RH Door Insert Wrap, and IP Trim Wrap. Kit comes Ready to install. Installation should be handled by a local upholsterer.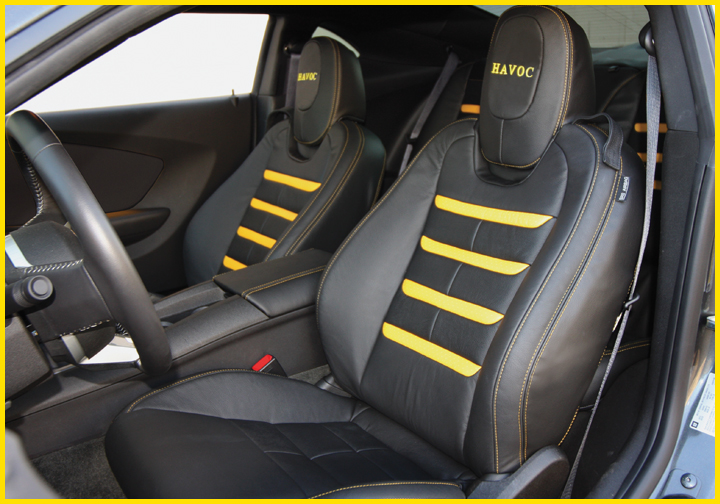 Finished look with this kit is absolutely gorgeous. The feel of the leather is soft and luxurious, and the aggressive styling will really set your Camaro apart.
Again, this is a one-time sale. We have just one kit available at this price. If you've been thinking of upgrading your Camaro interior and are a fan of the Havoc kit look, this is the perfect time to buy it. You'll never see one at this price again.
Photo is in yellow and black, but the set we have available has red trim in place of the yellow.
Please call us at (770)919-1433 or PM us to process this order. Only available for a limited time with a quantity of one.
Thanks,
Matt