Custom ECU Tuning & Programming for your 2010, 2011, 2012 Camaro SS via email
MAXIMIZE YOUR PERFORMANCE GAINS FROM YOUR COLD AIR INTAKE, HEADERS, EXHAUST, AND OTHER MODS
GAIN LOW-END TORQUE, QUICKER THROTTLE RESPONSE, ELIMINATE THE FACTORY TORQUE-MANAGEMENT
REDUCE YOUR 1/4 MILE TIMES BY UP TO .3 SECONDS!
FOR LS3/L99 CAMAROS WITH BASIC BOLT-ONS
For custom builds, forced induction (superchargers and turbo setups), and big power setups, please contact us for more info
Provided by mail-order (DiabloSport Predator or Trinity T-1000 is required to transfer your custom tune file to your car)
Send in your stock tune file to
support@phastekperformance.com
, and we will update you with a custom tune to match your specific mods.
NO DYNO NEEDED FOR MAIL-ORDER TUNES - data logging may be required (an updated tune file will be provided at no extra cost).
To see our full testing please go
here.
353 Horsepower, 373 Torque - TO THE TIRES!
2010 Camaro SS - L99 Automatic with Intake, Headers & Exhaust
(Dyno tested on a loaded DynoJet)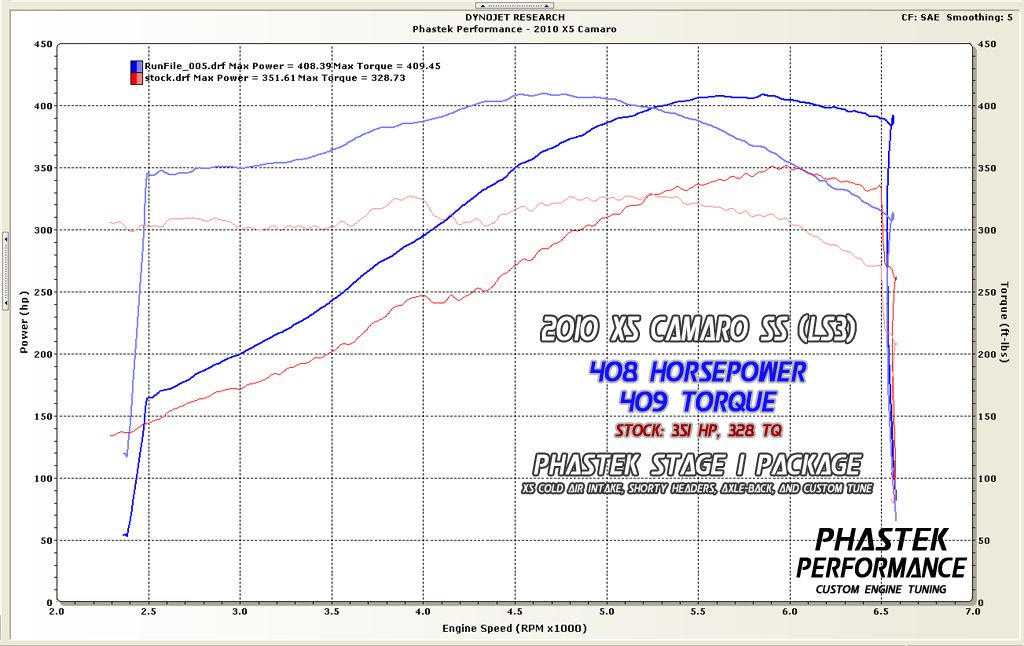 408 rear wheel Horsepower, 409 rear wheel Torque! - TO THE TIRES (480 HP, 485 TQ at the Engine)
Stock 6.2L 378ci 2010 V8 Camaro makes 426 Horsepower@5,900RPM, 420 Torque@4,600RPM - AT THE ENGINE (360 HP, 335 TQ at the tires)
Place orders at
www.PhastekPerformance.com