OK. So I had some time tonight .. well not really I should have been getting ready for my work trip to Ottawa and detailed my Camaro! .. but my wife was at work so I decided I would get out the clay and my new toy.
My PT has sat in that same spot since at least Nov 2012. This is my winter beater that I basically let sit. I am not sure if I am going to sell it or keep it. I want an old truck as a winter beater. Something a kin to a rat rod truck. So the PT is my paint correction test lab.
First I used the 3M light treatment on my headlights. The pictures really don't do it justice. They were in MUCH worse condition in real life and they look 95% of brand new in real life. Not sure if the picture do it justice or not. That took me about 45 to do both. It comes in a kit with sanding pads and some buffer pads. Just follow the instructions and take your time. CHANGE the sanding pads frequently. If you start leaving plastic over burn on the headlights its time to change pads. I really recommend just splitting the 500/800 grit pads into two a pile for left and pile for right. use them all and you will get the best results. If you try and cheap out and do more then 1 car, trust me it will only be 50% as good. Boom head lights done.
Gave the Pt a bath with water and Dawn ultra.
Now the clay. The clay I used was the only clay bar kit I could find in my area that was not over $60. Sorry but **** that I am not spending $60 on clay for my PT cruiser and my first time with clay. I used Simonizer clay bar kit. It's junk! The kit came with 2 bars, detail spray and a microfibre towel for $22. I have used their detail spray a long time ago. Its mostly water, not something I would ever use on my car, I am pretty sure I gave it away. Its just lube so I used it. It was VERY VERY stiff and was more like a combo of rubber and stale clay. It was very hard to fold. Once you got it wet enough, it was so so. But by the end of the PT claying, the clay was a soaking pile of goo. Just barely enough left to get through the car. Not like anyone here would use that shit. but I did. I used one bar in the kit for the whole car, if this was my camaro i would have used both bars. well honestly this clay would never touch my clear coat!
This is my practice run with my polisher and I just could not bring myself to play with a polisher without at least claying the car first. The clay did a decent job of getting the clear coat clean, it just felt cheap and fell apart. Maybe all clay is like this, I don't know. But I would clay a section until it felt slick and smooth. I would give it one more once over and then use a glad bag method Junkman uses before I moved on. The trunk was the longest and for some reason the passenger side door just had more junk and took at least 3-4 times longer then every other section. I would say it took me about 2 hours to clay the car. I did not rush this. I was not trying to "speed" clay, but I was pretty confident that i got every inch as clean from the clay as i could.
Now on to the Meguiar's polisher. I used their pads and again the only polishing compound i could find was meguiar;s #9 compound and meguiar's #1 polish. I got the compounds from the Napa store. The pads i used were black and then their yellow and came with the polisher.
I was not happy with any of the compounds or the pads.
The medium cut #9 (professional series) I giwas basically a thick liquid. And this was slinging product all over the place and I used 5 dots, then pressed it into the hood, and used detail spray on the pad. STARTED the polisher while it was ON the hood, and it still slung product all over. Sure I would expect some cause I am a noob, but it seemed like a LOT. I am going to take this shit back and get my money back. The next part could be my fault, it did not cut at all. It seemed more like a POLISH then a cut. I tried to do my best to follow junkman's technique. It seemed to just take out very minor swirls. Again. this could be my noobness.
Next was the #1 polish. its hard to say how this worked because I was so unimpressed with the medium cut. The only good news was this was more like the paste consistency I expected. tried to give it a good go, but I did not really notice any major pop to the paint from the medium #9 cut.
I will say that I was happy with the preformance of the polisher itself it seemed very high quailty and it was easy to control. I felt comfortable with it, I did not fell like I had to fight it to much. I am sure with more time behind me this will only get better.
below are my pictures.
1. Dirty and blind! No wash, no headlight treatment!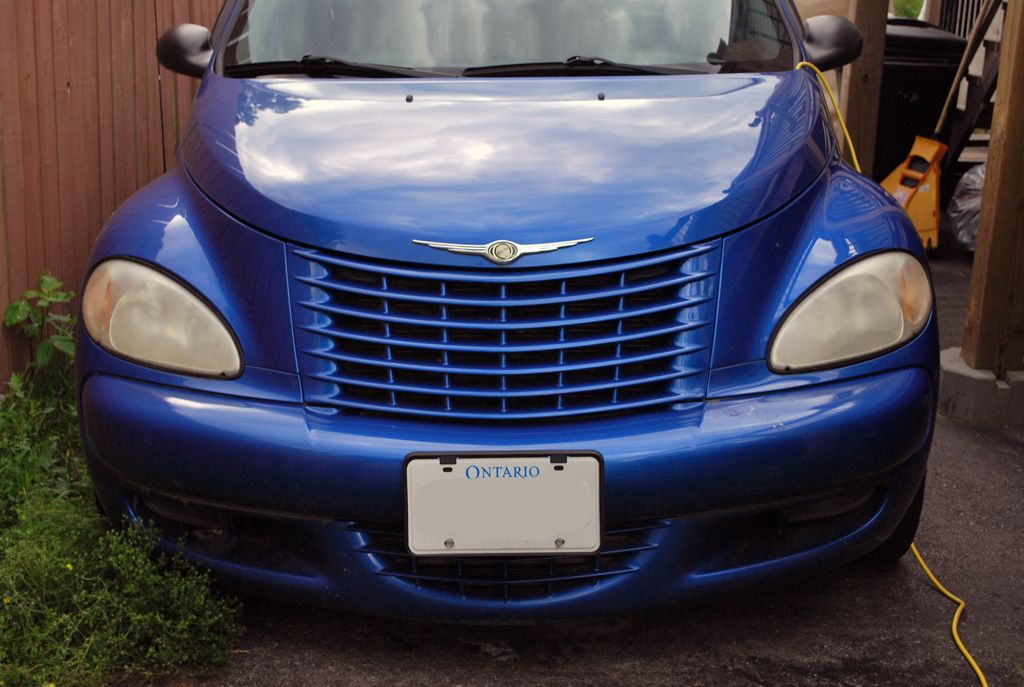 2. Passenger side treated and finished. Driver side left o'natural!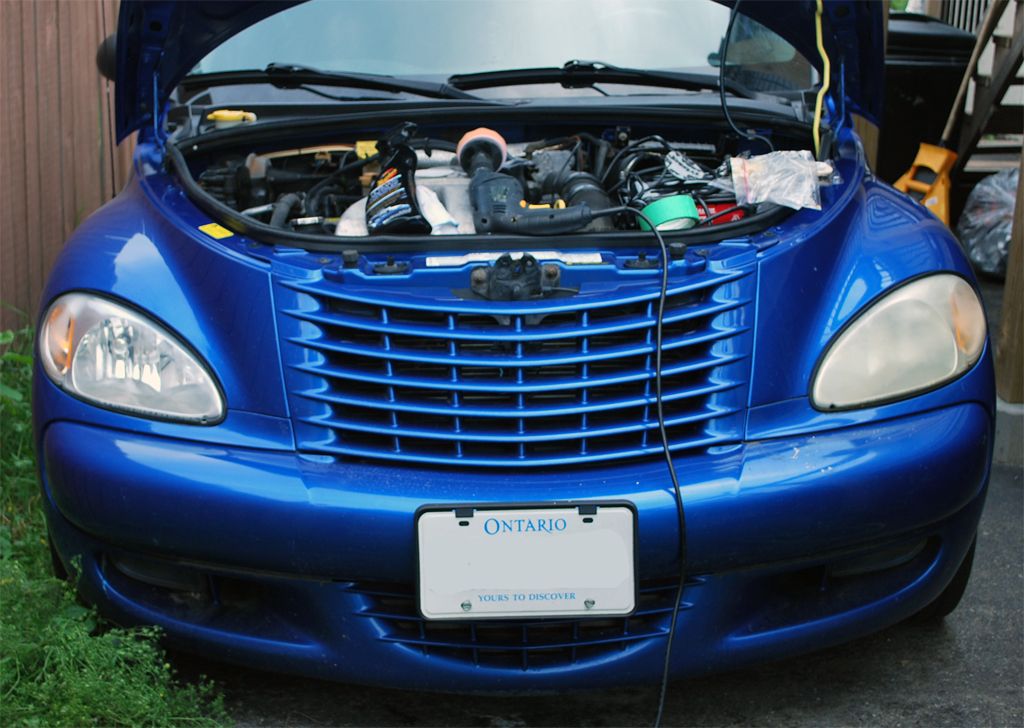 3. Close up of the passenger side.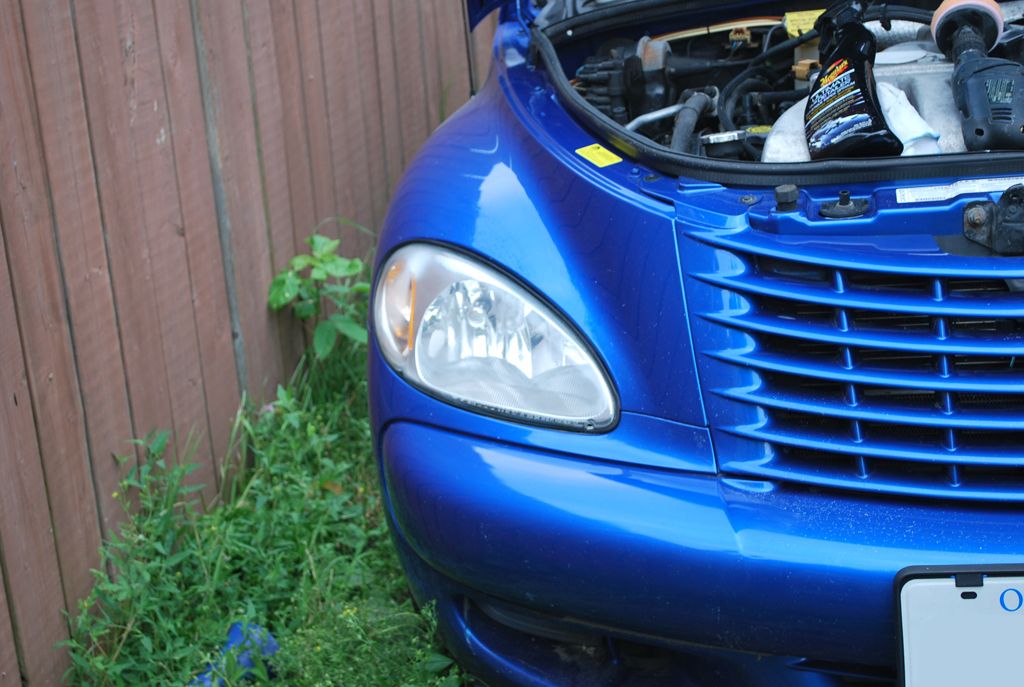 4. Headlights done, washed, dried and clayed!
5. Cut, polished and detail quick sprayed