"The only titanium Exhaust system available for 2010 and up Camaro. The 2010 and up Camaro is a true performance car with great handling braking and power. This titanium axel back exhaust was engineered to increase all areas of performance by reducing weight, and increasing horse power and torque, all while giving your Camaro a more agressive and exotic sounding exhaust note. The axle back design can be used with your stock exhaust or added to aftermarket cat-back pipes that have stock exit points. " –Litespeed Racing
http://litespeed-racing.myshopify.co...tanium-exhaust
(Website if you would like to order after review)
SYSTEM IS CURRENTLY ON SALE!!!!
This will be my review of the titanium exhaust system. I have just recently installed the new titanium exhaust by Litespeed Racing, this exhaust I personally have to say it's the best I ever had on my car. I've had a lot of exhausts on my car and this by far is the best sounding, looking and can you say WOW! on the weight of it. I did not weight it before I put it on my car but the box it came in said 17lbs and I was able to put it under my arm and carry it with one arm. I could not say that with my other exhausts even the lightest one I had (SLP Loudmouth 1).
Starting with the feel and look of it I have to say the blue burnt tips were not my absolute favorite when I opened the box since my car is red and black, but after install it does personally give it an aggressive look to the back of my car with the other mods installed (Havoc rear diffuser and High Rise spoiler). After installing I brought my car out to my friends to get their honest opinion, I got the same results from them as I was thinking, It just fits the Camaro it fits the look and style by giving it a nice sound and look.
How it sounds. I have installed just the axle-back exhaust but after I break it in I will be installing and writing a review of the full cat-back exhaust by Litespeed Racing. The sound I would have to say is the best sound for me. I can explain it by saying it is what an American muscle car should sound like, it just makes my car sound so nice and not loud and annoying like some import exhaust yet not quiet or subtle like the stock exhaust or the Gm performance exhaust I had on my car previously. The problem with the previous exhaust I had on my car that it was to loud and had to much drone for me I couldn't have a conversation in my car when I was pressing the gas and as a daily driver it really gets to you. (Slp Loudmouth I) straight pipes and not worth the money I rather take it to meineke and get a custom 3" exhaust put in and save myself $200 since it is to much drone for me as a DD. Compare that with my other exhaust the GM performance no drone in the car, lighter then the big trashcans of the stock and has a little more umph to the sound then the stock. The Gm is still not the best out there I rather buy a Borla since it is made by them. This exhaust by Litespeed Racing I personally have to say it is a mix of both of these exhaust no drone when your on cruise but when you step on it then you can really hear it but not to loud where you cant even have a conversation with a passenger enjoying the ride. The titanium exhaust is an awesome upgrade for me and I do not regret getting this exhaust on my car it sounds mean, looks aggressive with the blue tips but it still holds its own within the car (noise level) and outside the car (not a cop pulling exhaust).
Will update this thread when I install the full catback (V6 no engine mods done only CAI intake)
Will also be installing in v8 Camaro to display the difference side by side
Photos:
http://instagram.com/p/cWj95OpYBb/
(On this instagram I will be posting pics and video clips of the exhaust in action and at shows to see peoples reactions and so forth so please follow and support for more details to come)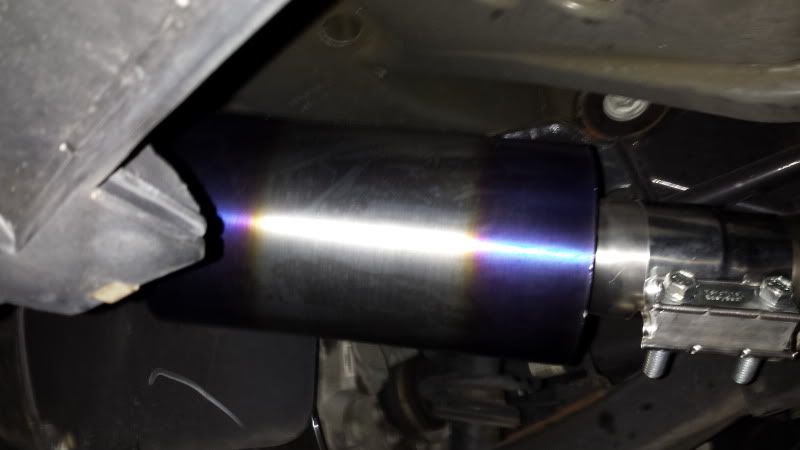 Video Below
Will post my own soon with both camaros lined up to hear the difference