Well this is definitely a first for me. So my truck I was trying to sell needed a oil change yesterday so I went to my dealer to get it tip top for the next owner and just for the hell of it, I went up to look and see what trim level Camaros they had.... couple v6's, a regular 2SS and a beautiful black Z/28 sitting outside. I thought "crap they don't have what I'm looking for but I'll go talk to a sales person to see what they might be able to find me.
So I walk into the showroom and there is a shiny new 2015 SIM 1SS 1LE. before I realized it, I'm signing papers and driving off the lot.
Basically, I went in for a oil change and bought a new 1LE, granted not the one I would've ordered but I got a great price and if I would've placed a order for one, it would have been thousands of dollars more so all in all I'm super happy to be back in one of my favorite cars of all time.
I still have a bunch of parts from my old 2013 AGM. I will be going to baseline this one tomorrow on my buddy's dynojet and then use all these parts I have laying around and get some updated numbers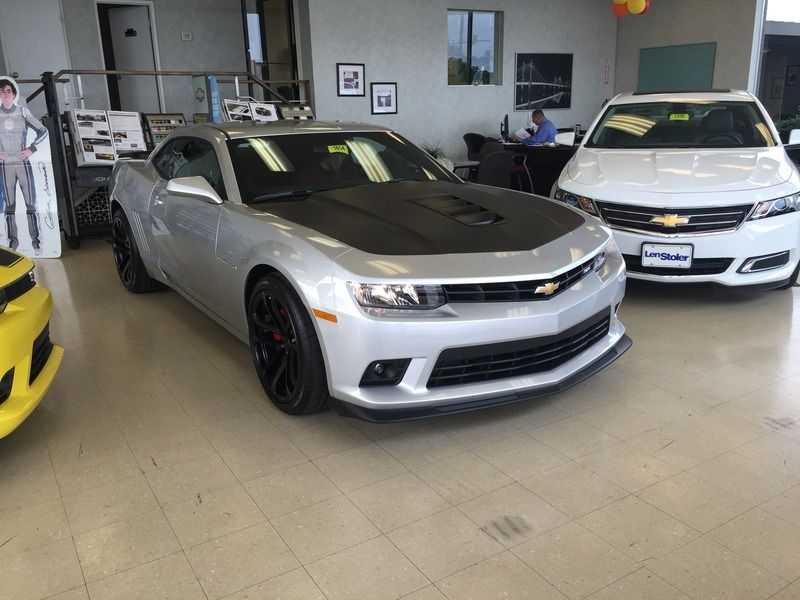 Current Mods
------------------------------
Engine
Kooks Stepped Headers
Kooks 3" CatBack w/Cats (soon to be catless)
RotoFab Intake
Granatelli 85000 Volt Coil Packs
Granatelli Plug Wires
NGK TR6 Plugs
SLP 160* Thermostat
TSP 235/239 .627"/.624" 112 LSA Cam
TSP Chromoly Push Rods
PAC .660 Springs
PRC Titanium Retainers
PRC Valve Seals
PEP Spring Seats
LS2 Cam Gear & ARP Cam Gear Bolts
ARP Crank Bolt
Suspension
BMR 1.25" Springs
Pedders Aggressive Street Alignment
Exterior
ZL1 Rockers
ZL1 Air Deflectors
GM Rock Gaurds
EmblemPros 1LE Badges
Interior
EmblemPros Grid Pedals
Rear Seat Delete
Stripped Trunk
As it sits now